Us Airways Center Tickets
Load More
Us Airways Center is one of the most popular venues in the country. If you plan on attending an event at this famous venue, then go through the Us Airways Center Seating Chart. You can take a Virtual tour of the Us Airways Center to get an interactive seat view. Go through the Us Airways Center seating map, and check the Us Airways Center parking prices, if available.

Us Airways Center Seating Chart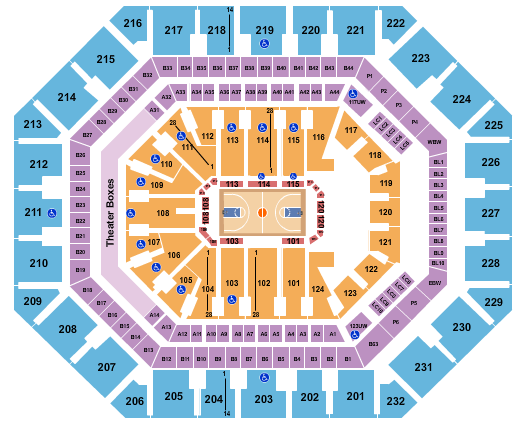 Footprint Center Tickets Related Questions
Who will play at Footprint Center today?
To check Footprint Center for today, all you have to do is visit our website and check event listings along with available tickets. Right now, following events are happening at Footprint Center:
Chris Rock & Dave Chappelle
How many seats are available in Footprint Center?
The seating capacity of Footprint Center is 160478.
Can you buy event tickets at Footprint Center?
Yes, you can buy tickets at Footprint Center provided if they are available.
What are the best seats available at Footprint Center?
Just like every other venue, there are different levels at Footprint Center as well. The entire seating plan is available on our website, and you can book tickets for the section you like.
How many events are taking place at Footprint Center this week?
You can check the complete list of events taking place at Footprint Center this week and beyond by simply logging on to the venue's page on our website.Top selling event of the week is Andre Rieu.
US Airways Center, the flexible indoor/outdoor venue, is not great as a sports venue, but is also considered ideal for watching a live concert and other entertainment events. The arena is not only loved and appreciated by the guests that visit it, but also by the performers and players who have been housed here. This is evident by the 1994 USA Today survey results, when the players voted for it as the best arena in the league. Home to the Phoenix Suns and the Rattlers, and also to some of the top-notch artists, the tickets to US Airways Center are always in great demand. Grab your US Airways Center Tickets today, and explore this magnificent arena all for yourself!

The popular multi-purpose, sports and entertainment facility, located in Phoenix, Arizona, USA, is none other than the US Airways Center. The arena is home to AFL's Arizona Rattlers; NBA's Phoenix Suns; WNBA's Phoenix Mercury; ECHL's Phoenix RoadRunners; and CISL's Arizona Sandsharks. Many top-caliber artists and performers have, and still do perform live at the Center. Concerts of Green Day and Gwen Stefani have also been hosted here, and events including Disney on Ice shows, and rodeos, along with other touring events, are also hused by the arena. However, almost every night, the US Airways Center experiences some high flying sports action taking place here.

This multipurpose facility opened as the America West Arena, back in 1992, on June 1st, whereas, the construction started in 1988. A total of 90 million U.S. dollars were spent on its construction. The basic purpose behind building this arena was due to the need felt by the owner of the Suns, to replace Arizona Veterans Memorial Coliseum. The official inauguration game was played between The Phoenix Suns and The Los Angeles Clippers in 1993.

In 2005, after the merger between the America West and the US Airways, it had been announced that America West Arena would be renamed to US Airways Center. However, the name-change took place in January 2006. Thus, the US Airways is the corporate sponsor of the arena, and it is operated by the Phoenix Arena Development, L.P.

The architect behind the beautiful design and construction of the US Airways Center is Ellerbe Becket. The venue has the capacity to seat about 19,000 guests, and it is host to a variety of nearly two-hundred events year-round. Millions fly to the US Airways Center just to visit it, and watch their favorites live in action, while sitting in and experiencing an extravagant atmosphere. It is often nicknamed as The Purple Palace, but during the Rattlers' season it is called The Snake Pit.

The arena is host to a wide range of sporting events, including basketball, ice-hockey, and professional wrestling. The arena hosted the famous WWE event called SummerSlam in 2003, and many others as well, over the years. Numerous concerts and other performances and shows, like ice shows, have also been one of the permanents here.

If you want to dwell yourself into an amazing atmosphere and watch your favorite artist perform, or your favorite team play live, right before your eyes, then do not waste any more of your time! Just hurry up and book your US Airways Center Tickets now!
US Airways Center
was rated 
Who to contact to get 2022 u s airways coupon code?
To get our exclusive promo code for 2022 US Airways Center tickets, just contact our livehelp representative and save BIG on your purchases!
Are you sure disney on ice phoenix arizona tickets will be delivered in time?
Yes, we are certified by trusted authorities and allow the exchange of Us Airways Center Tickets in a secure environment.
Do you offer any discount on your tickets? I need cheap us airways center tickets!
We offer very cheap US Airways Center tickets to all our valued customers! Get them now!
Do you have a seating chart for disney on ice in los angeles?
US Airways Center tickets inventory is where you will find the seating chart from.
Are you affiliated with usairwayscenter site, the official site?
Ticket Luck is in no way associated with US Airways Center ticket selling site.
When do lady gaga phx tickets go on sale?
Lady Gaga Phoenix tickets are now up for grabs.
Will judds tickets phx.be fun?
US Airways Center Tickets will be great fun.
how can i get tickets for disney on ice seating u s airways arena???
Grab your tickets from www.ticketluck.com.