United Center Tickets
Load More
United Center is one of the most popular venues in the country. If you plan on attending an event at this famous venue, then go through the United Center Seating Chart. You can take a Virtual tour of the United Center to get an interactive seat view. Go through the United Center seating map, and check the United Center parking prices, if available.

United Center 2024 TICKETS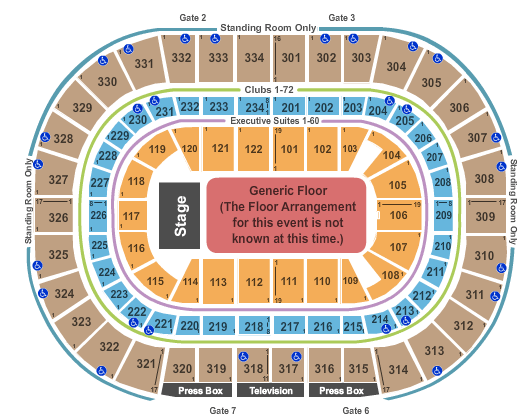 United Center Tickets Related Questions
Who will play at United Center today?
To check United Center for today, all you have to do is visit our website and check event listings along with available tickets. Right now, following events are happening at United Center:
State Farm Champions Classic: Kansas vs. Kentucky & Michigan State vs. Duke
How many seats are available in United Center?
The seating capacity of United Center is 6422.
Can you buy event tickets at United Center?
Yes, you can buy tickets at United Center provided if they are available.
What are the best seats available at United Center?
Just like every other venue, there are different levels at United Center as well. The entire seating plan is available on our website, and you can book tickets for the section you like.
How many events are taking place at United Center this week?
You can check the complete list of events taking place at United Center this week and beyond by simply logging on to the venue's page on our website.
The United Center is one of the most iconic and beloved venues in Chicago. Home to both the Chicago Bulls and Blackhawks, it's been a staple of sports entertainment for over two decades. From its massive size to its cutting-edge technology, there are countless reasons why people love the United Center. Whether you're attending a game or just taking a tour, here's what makes this venue such an incredible experience—from the moment you step inside until after the final buzzer has sounded!
Best Seats to Buy at the United Center
The United Center, home to the Chicago Bulls and Blackhawks, offers some of the best seats in the city. Here is a list of the best seats to buy at the United Center:
100 Level Seats: The 100 level seats offer an up close and personal experience with the players and action. Located directly along the sideline or baseline, these premium seats are close enough to be able to read what plays are being called out by the coaches.
200 Level Seats: For those looking for a full view of court action without sacrificing comfort, 200 level seats are perfect. These seats offer some amazing sight lines from high above the court so you don't miss any of the action.
300 Level Seats: If you're looking for a great deal on tickets but still want a good view, then 300 level seats should be your go-to. These lower priced tickets will give you a good view of all that's happening on court while still providing excellent value for money.
400 Level Seats: For true budget seekers, or those who just want to get as close as possible to the game day atmosphere, 400 level seats provide an affordable option with good sightlines. You'll still feel like part of the arena with these great value tickets!
No matter which seating option you choose at United Center, there is something for everyone! Each have their own pros and cons, but ultimately it comes down to personal preference and budget when deciding which would be best for each individual fan. With such a variety available, everyone can find something that fits their needs perfectly!
Upcoming United Center Live Events Tickets 2023
The famous United Center will host another series of epic events in 2023. Here are some of the major events scheduled to take place there during the year:
Chicago Bulls games.
Chicago Blackhawks games.
Madonna (The Celebration Tour).
Thomas Rhett and Cole Swindell (Home Team Tour 2023).
Stevie Nicks Live in Concert.
Places to Stay Near the United Center
The United Center is one of Chicago's most iconic sports and entertainment venues. If you're planning a trip to the Windy City to take in a Blackhawks or Bulls game, there are plenty of great lodging options nearby. Here is a list of some of the top hotels and accommodations close to the United Center:
Hilton Chicago/Magnificent Mile Suites: The Hilton Chicago/Magnificent Mile Suites are located just steps away from the United Center, making it an ideal hotel for anyone attending a game or show at the venue. The hotel features comfortable rooms, an on-site fitness center, and a modern restaurant that serves breakfast and lunch.
Hyatt Place Chicago/River North: This upscale hotel offers guests luxurious amenities such as plush bedding, complimentary Wi-Fi, and flat-screen TVs with streaming services. It is also conveniently located just minutes away from the United Center, ensuring easy access to all your entertainment needs.
Holiday Inn & Suites Chicago O'Hare Rosemont: This family-friendly hotel provides guests with quality service and amenities such as free shuttle service to O'Hare International Airport and convenient proximity to local attractions like the United Center. Guests can also enjoy delicious meals at their on-site restaurant or relax in their heated indoor pool after a long day of exploring the city.
Cambria Hotel & Suites Downtown Loop: Located in downtown Chicago, this boutique hotel is perfect for travelers looking for convenience without sacrificing style or luxury. Guests can enjoy spacious rooms with modern furnishings, complimentary Wi-Fi, and easy access to public transportation making it easy to get around town or head over to nearby attractions such as the United Center.
Best Western Grant Park Hotel: Situated near downtown Chicago's Grant Park neighborhood, this pet-friendly hotel provides an excellent experience for both business and leisure travelers alike with its modern rooms complete with plush bedding and cozy seating areas. Plus it's only about 15 minutes away from the United Center making it an ideal choice for those looking for lodging near the arena or stadium complex.
United Center Entrances
The United Center is packed with different entrances for fans to access the stadium. Here are a few of the most popular:
Main Entrance: The Main Entrance, located on Madison Street, is one of the most convenient entrances for fans attending games and events at the United Center. This entrance also provides access to public transportation, as well as parking lots surrounding the arena.
Gate 3 & 4 Entrances: Located on either side of Gate 4 on Damen Avenue, these two entrances are closest to many downtown parking lots and can be easily accessed by foot or car. These entrances provide easy access to the upper levels of both arenas and offer great viewing points for sports games.
Gate 10 Entrance: Located on Warren Boulevard, Gate 10 is known as being one of the more unique entrances to enter through; it features a large balcony overlooking portions of both arenas, allowing visitors to get a glimpse of what they can expect inside. The gate also offers easy access to ground level suites in both arenas.
Gate 14 Entrance: Just off West Washington Boulevard sits Gate 14 - an entrance specifically designed for wheelchair-bound guests who wish to attend events without having accessibility issues. This entrance offers direct access into various sections that accommodate wheelchair seating throughout both arenas.
South Lot Entry: On South Wood Street sits this entry point - ideal for those visitors who plan on driving their vehicle directly into the facility's parking lot. This entry point also has quick access to public transportation lines near the area and provides great views from outside its large glass windows.
Disabled Facilities at the United Center
The United Center provides extensive accessibility features to ensure that all guests can enjoy their experience. All entrances are equipped with automatic doors, wide access aisles and sign language interpreters for hearing impaired guests.
Wheelchair and disabled seating are available at every entrance on the main concourse level. There are multiple wheelchair accessible ramps located near each entrance, as well as elevators and ramps in the parking lots. All restrooms throughout the arena have wheelchair-accessible stalls and accessible handrails.
In addition, the United Center has installed Braille signage on restroom doors, as well as directional signs throughout the arena to help visually impaired guests navigate the facility easily. Guests can also make use of assistive listening devices provided by Guest Services in order to better hear announcements during events.
For guests with mobility issues, wheelchairs, scooters, and other mobility aids may be rented from Mobility Plus located on Level 1 near Section 109B inside Gate 4 or from any of the Guest Services locations throughout the facility. The staff at these locations will provide assistance in getting you to your seat or event area.
Food and Drinks at the United Center
The United Center is a frequent destination for sports fans around the world, the United Center also offers a variety of food and beverage options for those looking to take a break during their experience.
Concession Stands: Food choices range from classic concession stand fare such as hot dogs and popcorn to local favorites like Chicago-style deep dish pizza and Italian beef sandwiches.
Gourmet Food: For those looking for something more unique to try, the United Center also has gourmet cream puffs and porchetta sandwiches made with locally sourced ingredients. For dessert, there are creamy gelato bars and decadent caramel apples.
Drinks: Beer lovers will appreciate the wide selection of craft brews on tap or by the bottle that can be found at any of the arena's concessions stands.
Fine Dining: If you're looking for an even finer dining experience while at the United Center, head over to The Stadium Club. Here you can enjoy a sit-down meal with dishes including steak au poivre or pan seared salmon accompanied by grilled vegetables, mashed potatoes or risotto.
They also offer an all-inclusive buffet with carved meats, salads, entrée selections and desserts sure to please every palette. With its stylish atmosphere and traditional American cuisine served up family style, The Stadium Club makes a great spot for groups or individuals seeking a less chaotic environment than the one found in sections around them.
Suggested Events
Frequently Asked Questions (FAQs)
can i will call united center tickets?
Yes, you sure can. Just add Special Instructions to your order stating that you would prefer Will Call. Your United Center tickets will then be available for local pick-up.
Man ive been waiting for that event for such a long time, and its finally here but im currently looking for a new job so I would really appreciate some cheap miley cyrus november 18th tickets
Right here, is the perfect place for you, when looking for cheap Miley Cyrus tickets. Please browse through our inventory of tickets, to get what youre looking for. Thanks
Where do i look for a promo code for dallas stars vs detroit pistons tickets?
Please contact our Livehelp Representative who should be able to provide you with our exclusive discount code for your Dallas Stars Vs Detroit Pistons Tickets.
What information do I have to provide the website to get Sade tickets Chicago?
Simply fill out the special instruction box given on the website, make sure you give in your correct number so that our ticket broker can contact you timely.
We are looking for 4 blackhawks tickets 5/7 to cheer on our favorite team. Do you have them?
Yes, we have a huge inventory for Blackhawks tickets. Take a look through our inventory to buy tickets of your choice and enjoy our discount prices!
How much for the best chicago bulls tickets vs washington wizards?
Please click on the Chicago Bulls vs. Washington Wizards tickets you would like to inquire about and all details including price will be displayed.
Where can I get the fleetwood mac seating chart chicago event?
The entire seating chart is available on our website. Please go through it in detail and book your United Center Tickets as per the seats you want.
How can i get cheap united center tickets?
We are offering United Center Tickets on comparatively cheap rates with special discount codes. Use them and get the discount codes right away.
My Sade ticket Chicago got stolen from my office desk this morning. Please issue me a new one.
As per policy,United Center Tickets cannot be re-issued under any scenario. However, you can still purchase a new ticket as they are in stock.
How do i get hold of a single united center ticket master ticket?
Please browse our inventory to reserve single tickets for all ongoing and upcoming events at United Center and avail our discount!
Hey im planning to take my brother to the next ACDC concert in our town, so tell me where can i get affordable ac dc united center chicago tickets?
Youve come to the right place for your Cheap ACDC tickets. Please browse through our inventory of ACDC tickets, and save lots.
Do you have any james taylor tickets chicago lucky tickets? I mean are you giving them for free to lucky winners?
TicketLuck does offer a discount on all James Taylor Chicago tickets but as of present, we are not giving away free tickets.
Do you have cheap tickets to back steet boys in chicago?
Yes, we are offering United Center Tickets ion comparatively cheaper rates.Check the price list online nad make the order.
Do you have backstreet boys new kids on the block nashville tickets available at cheaper rates?
Yes, we are offering United Center Tickets at cheaper rates. Check the price list online and place the order.
Hi, my uncle asked me to find cheap boston celtics legends tickets online, could you help me?
Certainly. Please browse through our inventory to get cheap tickets for all Boston Celtics Legends events.
Hey, the black eyed peas united center discount tickets ticket luck! Tickets available?
Yes, tickets to The Black Eyed Peas United Center are available at TicketLuck on discount. Order them!
I cant see any tickets for Miley Cyrus New York city november 18th concerts. Am I looking at the wrong venue?
Yes, you are looking at wrong venue. Miley is performing at Nassau Coliseum on the November 18, 09.
How do I get ac dc united center chicago tickets?
You can get ACDC tickets from Ticket Luck right now.Go buy them now and get great discounts.
Are sade and john legend tickets in chicago refundable?
No, United Center Tickets are not refundable. Sales once made are considered to be final.
Where will I get a seating chart for backstreet boys tickets in san jose from?
United Center Tickets seating chart is on our tickets page so go there and check it out.
are there any taxes on united center tickets?
the price of United Center Tickets published online is inclusive of all taxes.
You guys have got the chicago illinois john mayer tour dates?
Kindly see our John Mayer section for Illinois tour details.
When do chicago vs utah united center tickets go on sale?
Chicago vs Utah United Center tickets are now up for grabs.