Toyota Center Tx Tickets
Load More
Toyota Center Tx is one of the most popular venues in the country. If you plan on attending an event at this famous venue, then go through the Toyota Center Tx Seating Chart. You can take a Virtual tour of the Toyota Center Tx to get an interactive seat view. Go through the Toyota Center Tx seating map, and check the Toyota Center Tx parking prices, if available.

Toyota Center Tx Seating Chart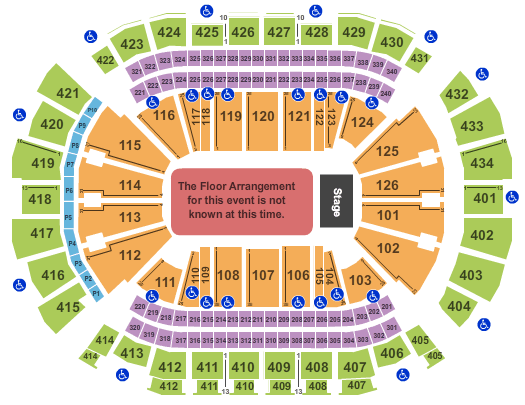 Located in Downtown Houston, Toyota Center – TX is the center of attraction for all those who're looking for quality sporting and live entertainment with the city and its surrounding regions as well. Since the facility's opening back in 2003, the Toyota Center has been the hub of sporting and live entertainment, and it has set new standards when it comes to hosting live events as such. The venue is also home to National Basketball Association's Houston Rockets and it has also been hosting top notch touring shows and live music concerts at the same time as well.
For its state of the art innovative design and construction, Toyota Center has also claimed the Central Houston's Allen Award for Civic Enhancement back in 2003. Apart from that, the Center also happened to be the finalist for the Best New Concert Venue Award by the Pollstar Magazine. Since its opening in 2003, the facility has welcomed hundreds and thousands of patrons within its walls, with over 1.5 million fans making their way to the venue in its first year only. In 2006, the facility also played host to the NBA All Star Game which was followed by Latin Grammy Awards ceremony later in 2008. This year's lineup of exciting events are nothing to be missed as well, so grab your Toyota Center – TX tickets before the stock runs out.
Over its decade long history, Toyota Center has played host to a multitude of events. The very first event that took place within the facility was a live concert by Fleetwood Mac back on October 6, 2003. Houston Rockets played their first ever game at the venue against Denver Nuggets in the same year on October 30. Toyota Center also set its current attendance record back in 2008 when Metallica played a sold out concert during their Death Magnetic Tour.
Toyota Center has also played host to the live concert of Destiny's Child back in 2005, which has been since followed by numerous live performances by Beyonce as a solo artist while on her The Beyonce Experience, I Am… World Tour and The Mrs. Carter Show World Tour. Previously, the venue has also hosted special events such as 9th Annual Latin Grammy Awards which were held on November 13, 2008. The following year, WWE Hall of Fame induction ceremony also took place at the venue which was then followed by WrestleMania XXV the very next day at the Reliant Stadium. Toyota Center has also hosted WWE Vengeance, No Mercy, and TLC: Tables, Ladders & Chairs. Apart from all that, the venue has hosted live concerts of acts such as Roger Waters, Madonna, Aerosmith, The Rolling Stones, Taylor Swift and several others. This year's lineup of sporting events and live concerts is amazing to say the least so grab your Toyota Center – TX tickets and enjoy a host of events at this world-class facility.
Toyota Center opened in 2003 and that was the start where it set off as one of the most popular venues for all the different kinds of sports and entertainment events. The venue has set a new standard for providing quality entertainment opportunities in the most pleasant and suitable environment. In a very short time, it has reached a level where it is counted among the top venues of the nation. Situated on a vast land area, the arena is home to Houston Rockets of the NBA and Houston Aeros of AHL. Apart from holding the home games of these two teams, the venue also holds major concerts and other touring shows. Toyota Center tickets are popular with all kinds of people as the venue has something to give to everyone.  
 
In 2003, only its first year, Central Houston awarded Toyota Center the Allen Award for Civic Enhancement and managed to bring in over 1.5 million people to attend events here through the year. In 2004, The Harlem Globetrotters called Toyota Center "Rookie of the Year". The three big events to be held here over the years are the NBA All Star Game in 2006, UFC 69 in 2007 and the Latin Grammys in 2008. Another big achievement came Toyota Center's way in the form of Silver Certification for Leadership in Energy and Environmental Design, becoming the first professional sports arena in Texas to achieve that. The arena saw its highest attendance in 2008 at the concert of Metallica which was a part of their Death Magnetic Tour. Fleetwood Mac's concert was the first ever event to be held at Toyota Center whereas the first game of Rockets at the venue was played against Denver Nuggets.
 
The architecture of Toyota Center is state-of-the-art whose design has been contributed by none other than the owner of Rockets, Leslie Alexander. Probably the best highlight of this venue is the large windows which make it look more spacious. Moreover, the seating here is the most comfortable with a capacity to seat 19,000 people for a concert, over 17,000 for ice hockey and more than 18,000 for basketball. Toyota Center also has the largest lowest level than any other arena in the country, set around 32-feet below street level.  
 
Toyota Center is famous also because it is surrounded by some really classy spots like Jack Daniel's Bar, Woodforest Club, Lexus Lounge and Red and White Bistro so that everyone coming here can have a perfect eating time after they have had a fulfilling experience watching a game or a concert. The place is one of the hottest spot in Houston and people visiting here make it a point of spending an evening or two there. It is not every day that one gets to have a chance of attending an event at an award winning venue and when one such opportunity comes up, people who like Toyota Center knows better than to miss out on it and grab Toyota Center tickets with enthusiasm.  
Toyota Center Tx
was rated 
Can you please give me nice discount on kings of leon toyota center tickets?
Kindly contact our Live Help Service to get discount on these tickets. Leave the note for sara@ticketluck.com if the service is unavailable right now.
Is it a good idea to book my cirque du soleil houston tx 2020 tickets in advance?
Toyota Center TX Tickets should be booked in advance as these tickets are always in demand its good to book them in advance and be safe.
ive been waiting for that matchup for quite some time, but since im a bit low on cash ill be needing cheap houston rockets vs boston celtics tickets
no problem at all, just go through our inventory of Toyota Center tickets to find the rates youre looking for. Thanks.
Do you offer extremely cheap Vicente Fernandez tickets for the Toyota Center?
Yes, of course we do! Please book your desired tickets only at Ticket Luck and get great discounts!
Where can I get a look at the cirque du soleil houston tx 2020 seating chart from?
Toyota Center TX Tickets inventory is where you can catch a look over the seating chart.