Prudential Center Tickets
Load More
Prudential Center is one of the most popular venues in the country. If you plan on attending an event at this famous venue, then go through the Prudential Center Seating Chart. You can take a Virtual tour of the Prudential Center to get an interactive seat view. Go through the Prudential Center seating map, and check the Prudential Center parking prices, if available.

Prudential Center Seating Chart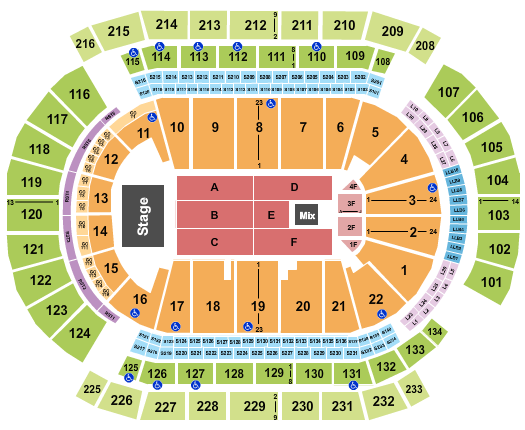 Prudential Center Tickets Related Questions
Who will play at Prudential Center today?
No event is happening in Prudential Center tonight.
How many seats are available in Prudential Center?
The seating capacity of Prudential Center is 5497.
Can you buy event tickets at Prudential Center?
Yes, you can buy tickets at Prudential Center provided if they are available.
What are the best seats available at Prudential Center?
Just like every other venue, there are different levels at Prudential Center as well. The entire seating plan is available on our website, and you can book tickets for the section you like.
How many events are taking place at Prudential Center this week?
You can check the complete list of events taking place at Prudential Center this week and beyond by simply logging on to the venue's page on our website.
Nestled in the heart of downtown Newark, New Jersey, the Prudential Center stands as an iconic symbol of the city's revitalization and resurgence. Since its grand opening in 2007, "The Rock," as it's affectionately known by locals, has played host to a dazzling array of world-class events, attracting millions of visitors annually.
As the bustling home of the NHL's New Jersey Devils, Seton Hall University's men's basketball team, and countless concerts, family shows, and sporting events, the Prudential Center has transformed the Brick City into a thriving hub for entertainment and culture.
Factors to Consider When Selecting the Best Seats at the Prudential Center
With a wide variety of seating options available, it's essential to consider several factors to ensure you make the most of your visit. Here are some crucial aspects to keep in mind:
Event Type: The nature of the event you're attending plays a vital role in determining the best seats. For sporting events, center-ice or center-court seats offer a balanced view, while for concerts, seats closer to the stage provide an immersive experience.
Budget: Prudential Center offers a range of pricing options for various seating sections. Determine your budget and explore available seats within your price range, considering the trade-offs between cost and view.
Seating Levels: The arena is divided into four main levels: Lower Level, Club Level, Suite Level, and Upper Level. Each level has its advantages, such as better views from the Lower Level or exclusive amenities in the Club Level.
View: Evaluate the sightlines from different sections to find the best perspective for your event. Keep in mind that while some seats may offer a more unobstructed view, they might be further from the action.
Accessibility: If you have mobility issues or require accessible seating, make sure to inquire about ADA-compliant seating options, which the Prudential Center provides in various sections.
Amenities: Premium seating options, such as club seats and suites, offer added perks like private restrooms, comfortable seating, and exclusive food and beverage options. If these amenities are important to you, consider upgrading your ticket.
Crowd: Some sections may be livelier than others, depending on the event and the fans in attendance. If you prefer a more relaxed atmosphere, opt for seats further from the most enthusiastic fans, typically found in the lower level sections.
By taking these factors into account, you'll be well-equipped to select the best seats at the Prudential Center, ensuring an unforgettable experience at your chosen event.
Best Seats at the Prudential Center
The best seats at the Prudential Center can vary based on the type of event and personal preferences. However, some seating options generally stand out as offering an excellent view and overall experience:
Lower Level Center: For most events, including concerts and sports, sections 7-9 and 18-20 provide an ideal combination of proximity and a central view. These sections offer a clear and unobstructed perspective of the action, whether it's the stage or the rink.
Club Seats: Located on the Club Level, sections 107-109 and 118-120 provide a more elevated view with the added bonus of exclusive amenities. You can enjoy comfortable seating, access to private lounges, and premium food and beverage options.
Lower Level Corner/End: For a unique vantage point at sporting events, sections 1-4 and 12-15 offer a corner view, while sections 5-6 and 16-17 provide an end view. These seats still offer great proximity to the action and may be more affordable than the center sections.
Upper Level Center: For budget-conscious visitors, sections 213-214 and 228-229 in the Upper Level provide a central view of the event from a higher elevation. Though farther from the action, these seats still allow you to take in the overall atmosphere and enjoy the event.
Suites: For those seeking a luxury experience, private suites offer an exclusive space to enjoy the event with a group of friends, family, or business associates. Suites are equipped with comfortable seating, private restrooms, and in-suite food and beverage service.
Ultimately, the best seats at the Prudential Center depend on the event type, your personal preferences, and budget. Be sure to carefully consider these factors when selecting your ideal seating option.
Upcoming Events at the Prudential Center
New Jersey Devils games.
Anuel AA.
Cirque du Soleil – Corteo.
3ICE Hockey.
Shinedown, Papa Roach & Spiritbox.
Marco Antonio Solis.
Lauren Daigle.
Aerosmith & The Black Crowes.
Places and Accommodations Near the Prudential Center
Whether you're visiting Newark for a Prudential Center event or exploring the city, there are several convenient accommodations and notable places nearby to enhance your experience. Here are some options to consider:
Hotels
Hotel Indigo Newark Downtown: Located within walking distance of the Prudential Center, this boutique hotel offers stylish accommodations and amenities such as a fitness center, business center, and on-site restaurant and bar.
Courtyard by Marriott Newark Downtown: Another hotel within close proximity to the arena, the Courtyard by Marriott features modern rooms, a fitness center, on-site dining, and meeting facilities.
TRYP by Wyndham Newark Downtown: This contemporary hotel, situated near the Prudential Center, offers spacious guest rooms, a fitness center, and a rooftop restaurant with panoramic views of the city.
DoubleTree by Hilton Newark Penn Station: Connected to Newark Penn Station, this hotel offers easy access to the Prudential Center and features comfortable rooms, on-site dining, and a fitness center.
Attractions
Newark Museum of Art: Just a short distance from the Prudential Center, this museum showcases a diverse collection of art, science, and history exhibits, making it a must-see for culture enthusiasts.
Branch Brook Park: This picturesque park, known for its annual cherry blossom festival, offers a serene retreat for outdoor enthusiasts, with walking paths, playgrounds, and recreational facilities.
New Jersey Performing Arts Center (NJPAC): Another premier entertainment venue in Newark, NJPAC hosts a variety of events, including concerts, theatrical productions, and dance performances.
Ironbound District: Known for its vibrant dining scene, the Ironbound District offers an array of restaurants serving a wide variety of cuisines, including Portuguese, Spanish, and Brazilian. It's an ideal destination for pre-event dining or a post-event nightcap.
Military Park: This historic park, situated near the Prudential Center, provides a peaceful spot to relax and enjoy outdoor sculptures, seasonal events, and a carousel.
These hotels and attractions near the Prudential Center offer a range of accommodations and experiences for visitors to enjoy, making your trip to Newark a memorable one.
Prudential Center Entrances
The Prudential Center offers multiple entrances for visitors, designed to provide convenient access to the arena and streamline the entry process. Here are the main entrances to the Prudential Center:
PNC Tower Entrance: Located at the corner of Mulberry Street and Edison Place, the PNC Tower Entrance is the primary entry point for general ticket holders attending events at the arena.
Ford Tower Entrance: Situated on the corner of Mulberry Street and Lafayette Street, the Ford Tower Entrance serves as an additional access point for general ticket holders.
Investors Bank Tower Entrance: Found on the corner of Mulberry Street and Market Street, this entrance is primarily used for VIP ticket holders, suite guests, and guests with premium seating, such as club seats.
ADA Entrance: The Prudential Center is committed to providing accessible facilities for guests with disabilities. The ADA Entrance is located on Edison Place near the corner of Mulberry Street, providing convenient access to designated ADA seating and facilities.
Employee Entrance: This entrance is designated for arena staff and personnel, ensuring a secure and efficient entry process for those working at the Prudential Center.
Each entrance at the Prudential Center is designed to accommodate different types of guests and ticket holders. Be sure to check your ticket or the arena's website for specific entrance details before attending an event. Additionally, remember to arrive early and allow ample time for security checks and entry procedures.
Facilities for the Disabled at the Prudential Center
The arena offers a range of facilities and services to accommodate the needs of disabled patrons:
Accessible Seating: The Prudential Center provides accessible seating options in various sections and levels throughout the arena. These seats are designed for guests with mobility issues and their companions.
ADA Entrance: The arena features a designated ADA entrance located on Edison Place near the corner of Mulberry Street, allowing for convenient access to the facility.
Elevators and Escalators: Elevators are available throughout the arena to provide easy access to different levels for guests with disabilities. Escalators can also be found in various locations, offering another means of moving between levels.
Accessible Restrooms: All public restrooms in the Prudential Center are wheelchair-accessible, and family restrooms are available for guests who need additional assistance or privacy.
Assisted Listening Devices (ALDs): For guests with hearing impairments, the Prudential Center offers complimentary ALDs on a first-come, first-served basis. Guests can request an ALD at the Guest Services desk.
Service Animals: Service animals are welcome at the Prudential Center, provided they are properly trained and leashed or harnessed.
Parking: Accessible parking spots are available in the parking lots and garages near the arena for guests with valid disability parking permits.
Wheelchair Service: Guests may request a wheelchair upon arrival at the Prudential Center. The arena provides a limited number of wheelchairs on a first-come, first-served basis.
To ensure a smooth and enjoyable experience, it's essential to contact the Prudential Center ahead of your visit to discuss any specific needs or accommodations. You can also visit the arena's website for more information on accessibility services and guidelines.
Food and Drinks at the Prudential Center
The Prudential Center offers a wide range of food and beverage options to satisfy any appetite and taste preference. Here are some of the available options for dining and refreshments:
Concession Stands: The Prudential Center features a variety of concession stands throughout the arena, serving classic arena fare such as hot dogs, pretzels, and popcorn, as well as other food options like pizza, sandwiches, and burgers.
Clubs and Lounges: Premium seating options, such as club seats and suites, provide access to exclusive clubs and lounges, offering a more upscale dining experience with a variety of food and drink options.
Specialty Stands: The arena also features specialty food and drink stands, serving unique and local cuisine, such as Jersey-style Italian hot dogs, BBQ, and craft beer.
Retail Stands: Retail stands offer snacks and beverages, including soda, water, and beer, for guests to enjoy during the event.
Kosher Food: The Prudential Center is one of the few arenas in the United States to offer a kosher food stand. The stand features kosher hot dogs, knishes, and other Jewish cuisine.
In-Seat Service: For guests in select premium seating areas, in-seat service is available, allowing you to order food and drinks from your seat.
Outside Food and Drink: The Prudential Center does not allow outside food or drinks into the arena, with the exception of medical or infant needs.
With a diverse selection of food and drink options, the Prudential Center ensures that guests can enjoy a satisfying meal or snack during their visit. Guests are encouraged to explore the different food stands and options throughout the arena and to arrive early to avoid long lines during peak event times.
Parking at the Prudential Center
The Prudential Center offers several parking options for guests attending events at the arena, including on-site parking garages and nearby lots. Here's what you need to know about parking at the Prudential Center:
On-Site Parking: The arena features two on-site parking garages, located at 25 Lafayette Street and 15 Lafayette Street, with a total of over 3,500 parking spaces. The garages are open on event days, and parking rates vary based on the event.
Off-Site Parking: Several off-site parking lots are located within a short walking distance of the Prudential Center, including the Gateway Center Garage and the Edison ParkFast lot on Edison Place.
Pre-Paid Parking: Guests can purchase pre-paid parking online through the Prudential Center's website, allowing for convenient and guaranteed parking on event days. Pre-paid parking prices vary based on the event.
Valet Parking: Valet parking is available at the arena's VIP entrance, located on Mulberry Street. The service is available on event days and provides a convenient and hassle-free parking experience.
Parking for Guests with Disabilities: Accessible parking spots are available in the parking garages and lots near the arena. Guests with valid disability parking permits can park in designated accessible spots on a first-come, first-served basis.
Drop-Off and Pick-Up Zone: A designated drop-off and pick-up zone is located on Edison Place near the ADA entrance, providing easy access for guests who require assistance or have mobility issues.
Parking at the Prudential Center can be limited on event days, so guests are encouraged to arrive early to secure a spot. Additionally, be sure to check the arena's website or contact their guest services team for the latest parking rates and availability.
Frequently Asked Questions (FAQs)
Prudential Center
was rated 
I have looked at many other websites but your deals for mylie cyrus tickets in new jersey seem much better. Only if I get more discounts on these, then I would love to buy these from you. Any luck?
You are always at luck on Ticket Luck. You can book your Miley Cyrus New Jersey tickets for cheap by using our discount codes. Get your code from our Live Help service and save instant money!
What are the cheapest prudential center nj tickets prices that you are offering?
For complete details about Prudential Center Tickets and their prices, please log on to our website or call us on our toll free number in case you need any further assistance.
I am unable to find some miley cyrus tickets in detroit on your website. Can you help me searching these?
Yes, why not. Simply press the Live Help icon on the top-left of the page and get timely help from our representative regarding Miley Cyrus concert tickets for Detroit.
What is the price range for cheap immortal tickets and prudential center?
For all the information about Prudential Center Tickets and prices, please log on to our website or call us on our toll free number for further assistance.
I am searching for miley cyrus tickets prudential center nj. Does your website have these?
Ticket Lucks huge inventory is never short on tickets. Buy the best Miley Cyrus tickets from us and enjoy the special discount price being offered!
What deals do you offer on miley cyrus tickets in new jersey?
We offer many good deals on Miley Cyrus tickets. Compare are service to other websites and you will know the difference.
What is my adamek vs gunn promo code. Can I use the code that my friend used on Ticket Luck?
You can surely use that code or as a matter of fact, any valid code of Ticket Luck as they always give you discount.
discount tickets nj prudential center needed urgently!
Our website has a detailed inventory on all the tickets in need. Please feel free to browse through and book online!
Got the anna montan at the prudential center dates?
We have got the whole schedule of Hannah Montana. Kindly browse through our Prudential Center section for details.
What if my promotional code for katy perry is lost?
Prudential Center Tickets in case of theft or damage will not be refunded. So , kindly keep them safe.
Are prudential center tickets avaialble for cheap?
Check out our Prudential Center tickets available and get the tickets that suit you the best now!
How can i get seton hall basketball coupon code?
You can take help from our live operator in getting coupon codes for Prudential Center Tickets.
Where can I get hold of prudential center discounts tickets from?
Prudential Center Tickets are available with us at discounted rates so book your deals from us.
How do I get the miley cyrus new jersey tickets for tomorrow evening?
You can Visit our Miley Cyrus page to ensure the availability of your desired tickets.
Im looking for some new jersey devils discount tickets.
if discounted New Jersey tickets are what you want, then you're at the right place.
Can I book muse tickets prudential center, newark, nj in advance?
You can book your Prudential Center tickets as soon as they become available to us.
Do you have a detailed seating chart for new jersey gevils vs detroit redwings tickets for dec 11?
Prudential Center tickets inventory will provide you with a detailed seating chart.
Where can I get a coupon code for ducks tickets?
Prudential Center Tickets inventory is where you will find the coupon code from.
When can I see miley cyrus at prudential center?
You can see Miley Cyrus concert at Prudential Center on November 07 and 08, 09.
Do you have muse tickets prudential center with you?
Sure we have them buy your deal of the Prudential Center tickets from us.
When is the miley cyrus prudential center performance going to open?
Go to our Miley Cyrus Prudential Center page for the relevant details.
When do los angeles kings vs pittsburgh penguins tickets go on sale?
Los Angeles Kings vs Pittsburgh Penguins tickets are up for grabs now!
What is the adamek vs. gunn shedule time?
Kindly contact our Live Help service and get answer to yuor question.
When is performing miley cyrus at the prudential center?
Kindly check our Prudential Center page for details.
I have 2 tickets for miley cyrus in detroit. You want to buy from me?
Sorry me only buy from authorized ticket brokers.