Fedex Forum Tickets
Load More
Fedex Forum is one of the most popular venues in the country. If you plan on attending an event at this famous venue, then go through the Fedex Forum Seating Chart. You can take a Virtual tour of the Fedex Forum to get an interactive seat view. Go through the Fedex Forum seating map, and check the Fedex Forum parking prices, if available.

Fedex Forum Seating Chart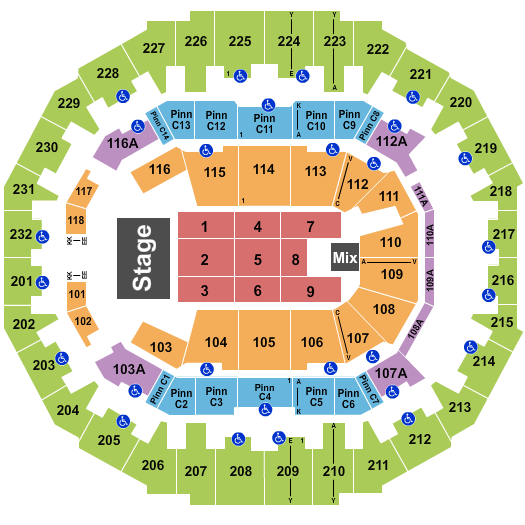 FedExForum Tickets Related Questions
Who will play at FedExForum today?
To check FedExForum for today, all you have to do is visit our website and check event listings along with available tickets. Right now, following events are happening at FedExForum:
Memphis Tigers vs. North Alabama Lions
How many seats are available in FedExForum?
The seating capacity of FedExForum is 75663.
Can you buy event tickets at FedExForum?
Yes, you can buy tickets at FedExForum provided if they are available.
What are the best seats available at FedExForum?
Just like every other venue, there are different levels at FedExForum as well. The entire seating plan is available on our website, and you can book tickets for the section you like.
How many events are taking place at FedExForum this week?
You can check the complete list of events taking place at FedExForum this week and beyond by simply logging on to the venue's page on our website.Top selling event of the week is Banda MS.
Fedexforum
Located at 191 Beale Street and Third Street, FedExForum is the largest public building construction project in Memphis history.

FedExForum is one of the National Basketball Association"s most distinctive arenas and it plays host to events ranging from sports to performing arts.

Built at a cost of $250 million, the arena"s naming rights were purchased by Memphis" most well-known business, FedEx for $92 million. The facility is managed and operated by the Memphis Grizzlies, while both the Memphis Grizzlies of the NBA and the University of Memphis Tigers basketball team.

Fedex Forum officially opened its for visitors in September 2004. Fedex Forum is in the southern part of downtown Memphis, Tennessee, located at 191 Beale Street and Third Street.

This 250 million dollar project opened in September 2004 after much debate and also an Alberta clipper wind storm in July 22, 2003. At present, the facility is the home of the Memphis Grizzlies of the NBA and the National Collegiate Athletic Association men"s basketball program of the University of Memphis (the Tigers). Both teams previously played home games at the Pyramid Arena.

The venue also has the capability of hosting ice hockey games, concerts, and family shows. FedExForum was designed with a uniquely Memphis theme by Conseco Fieldhouse.

With the fact that Memphis is the "Home of the Blues, Birthplace of Rock "n" Roll" the theme of Memphis Music was an obvious choice. The architects ensured when developing elements to showcase the theme that it would not turn FedExForum into a museum.

The Fedex Forum Arena is 805,850 ft? (75,000 m?) in size, covering 14 acres (57,000 m?). Round, with a dome, the arena"s playing floor is lower than ground level. Fedex Forum is capable of seating 18,119 for basketball and in addition to having 1,000 premiere courtside seats.

A unique theme of FedexForum arena was meant to showcase the rich history of music and demonstrate the continuing production and development of new music in the region of Memphis. Its interior pays tribute to Memphis" musical heritage, with paintings and murals depicting some of the city"s most famous artists.

As such, when you travel through the facility, you"ll see themed areas of both the Plaza and Terrace concourses. Take a stroll through Blues, Rock "n" Roll presented by International Paper, along with a Gospel Zone presented by Servicemaster, a unique Radio and Recording Zone and the Commercial Appeal Sun Studio Zone.

FedexForum plays host to major events ranging from bull riding to Cirque du Soleil. You might also like the Memphis Music Today Zone, featuring emerging artists in pop, rock, rap and hip-hop.

It also has hosted two major professional wrestling events: World Wrestling Entertainment"s Unforgiven on September 16, 2007 and the PMG Clash of Legends independent show on April 27 of that year.

An array of artists and bands have rocked the house, including the Transiberian Orchestra, Rolling Stones, Kid Rock, The Eagles, Def Leppard, and many.

Fexed Forum has scheduled a diverse range of events for the upcoming season. On January, the music arena is going to feature season"s most exciting event, AC/DC. So get your tickets, see them Live rocking the stage oft Fedex Forum.