Amway Center Tickets
Amway Center is one of the most popular venues in the country. If you plan on attending an event at this famous venue, then go through the Amway Center Seating Chart. You can take a Virtual tour of the Amway Center to get an interactive seat view. Go through the Amway Center seating map, and check the Amway Center parking prices, if available.

Amway Center Seating Chart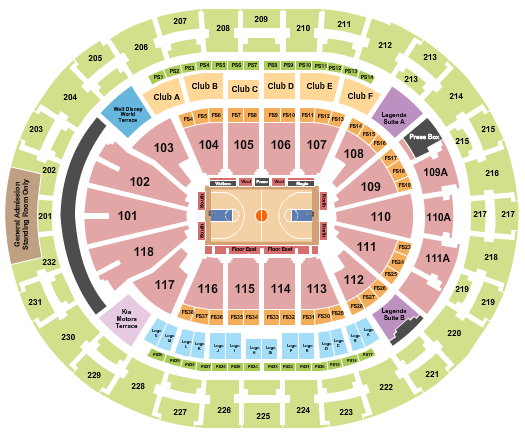 Amway Center Tickets Related Questions
Who will play at Amway Center today?
No event is happening in Amway Center tonight.
How many seats in Amway Center?
Amway Center, has 155553 seats available.
Can you buy tickets at Amway Center?
Depending upon the availability of tickets for that event, you can buy tickets on Amway Center.
What are the best seats available at Amway Center?
We have F3 for Amway Center available.
How many events are on sale for Amway Center this week?
Total 321 are taking place at Amway Center in this week.Top selling event of the week is Andre Rieu & His Johann Strauss Orchestra.
The Amway Center is one of the well known sports and entertainment venues in Florida. Its grand opening took place in 2010 and since then it has entertained audiences from across the world with a variety of events. The Amway Center has different seating capacity for ice hockey, football and basketball matches and separate for end stage and center stage concerts. The calendar of events at the venue keeps on changing every year, but there is something for everyone. So check the events' schedule and book your Amway Center tickets accordingly.

Starting off from satisfying the entertainment needs of children, the venue has scheduled three shows of Disney on Ice: Princess and Heroes. The famous Disney characters will skate on the ice and take the younger ones on a journey into their world of fantasies. They will get to meet Princess Aerial and Prince Phillip fighting against the evil Maleficent, Jasmine and Aladdin discovering a new world altogether and Cinderella making her dreams come true. The show is a successful product of Feld Entertainment and Walt Disney and performing to packed houses since the eighties.

For the sports fans, the arena will be hosting matches of Tampa Bay Lightening and St Louis Blues. The preseason ice hockey games are expected to be attended by the supporters of both the teams, anticipating jam-packed crowd. Tampa Bay Lightening is a Stanley Cup Champion whereas St Louis Blues has eight Division Championships and one President Trophy in its list of achievements. Both the teams are equally talented and fans can expect nail-biting encounter.

Theatre fans can enjoy 'The Women of Faith Believe God Can Do Anything'. This is a Christian event for women from all walks of life where chart topping music artists, Bible teachers and world class authors get together for a day and a half. The stories coming out of live experiences help in strengthening women and the praise and worship brings people closer to God. Bible Teachings can transform you to lead your everyday life in an ideal way.

Music lovers can be a part of a concert. IL Volo will take over the stage with an exciting concert. The boys will be returning to North America for a series of 17 concerts and will present their all time hit singles from the albums, 'Volvo Takes a Flight' and 'We are Love'.

Best music, theatre shows and thrilling ice hockey matches, are ready to take place at Amway Center. So sort out your work schedule and buy Amway Center tickets for events of your choice. If you hurry, you might even get some discount offers. Plan a perfect night out with your friends and family by getting tickets of your desired show. The arena will show you a great time.
Is the amway center seating chart available on your website?
Yes, the seating plan is available on our website and you can go through it in order to book Amway Center Tickets for the seats you want at some of the best prices in the market.
Does amway center ticket office sell tickets to the event's happening there?
In order to find out if Amway Center Tickets are available at the venue's ticket office, you will need to contact the arena management directly.