Philips Arena Tickets
Load More
Philips Arena is one of the most popular venues in the country. If you plan on attending an event at this famous venue, then go through the Philips Arena Seating Chart. You can take a Virtual tour of the Philips Arena to get an interactive seat view. Go through the Philips Arena seating map, and check the Philips Arena parking prices, if available.

Philips Arena Seating Chart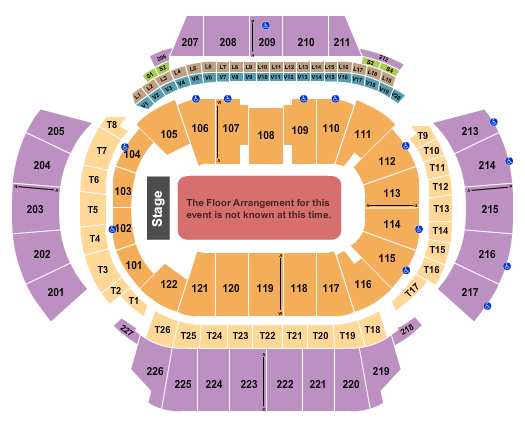 State Farm Arena - GA Tickets Related Questions
Who will play at State Farm Arena - GA today?
To check State Farm Arena - GA for today, all you have to do is visit our website and check event listings along with available tickets. Right now, following events are happening at State Farm Arena - GA:
Bruce Springsteen & The E Street Band
Kem, Ledisi & Musiq Soulchild
How many seats are available in State Farm Arena - GA?
The seating capacity of State Farm Arena - GA is 89262.
Can you buy event tickets at State Farm Arena - GA?
Yes, you can buy tickets at State Farm Arena - GA provided if they are available.
What are the best seats available at State Farm Arena - GA?
Just like every other venue, there are different levels at State Farm Arena - GA as well. The entire seating plan is available on our website, and you can book tickets for the section you like.
How many events are taking place at State Farm Arena - GA this week?
You can check the complete list of events taking place at State Farm Arena - GA this week and beyond by simply logging on to the venue's page on our website.Top selling event of the week is 2021-2022 Atlanta Hawks Season (Includes To All Regular Season Home Games).
All the fun seekers living in Atlanta Georgia must definitely consider the Philips Arena for at least once if they don't have any idea about it. It started the entertainment business 11 years back and now comes under the most popular event complexes in town. Round about 213.5 million dollars were spent on the construction of this big and awesome arena. Spending such huge amount of money was totally worth it. More than 21 thousand people can easily adjust in this gigantic arena. Additionally, it is also home to a couple of hockey and basketball teams such as the Atlanta Thrashers and the Atlanta Hawks. It was the world's first LEED certified NBA/NHL arena. It is ranked among the world's busiest arenas for live concerts. Thousands and millions of tickets have been sold in the previous years and people are still coming and attending various shows with the same level of enthusiasm.

The arena has a very well designed seating arrangement with general seats along with luxury boxes for people who want some privacy and a greater level of comfort. Whether it's ice hockey, basket ball, wrestling or live concerts, the arena has plenty of space for everybody to come and have some quality time. People who need a nice view, they can get the club seats that are situated in the belly of the arena and gives a clear cut view of what's going on. There is a very cool and calming atmosphere in the whole place and the arena setup is always very well managed and designed. Nothing's going to bug you during a show. Enjoy all you want!

Every year countless numbers of well known artists come and perform here; some have even made history here! The arena was also host to the WWE Royal Rumble and Backlash a couple of years back. There is still a lot to come. All you people out there should buckle up for another wave of outstanding events and live performances. Zac Brown Band and the Dave Mathews Band are also a part of the upcoming set of concerts.

As for the parking, there is plenty of space out there. So people who normally come across parking problems shouldn't be worrying anymore. Your vehicle will remain safe and sound throughout your desired show. There is also a Hawk Walk inside the arena that consists of various types of food stalls. Each has a diverse collection of food and beverage mostly including fast food items such as pizzas and different types of delicious sandwiches. There are a couple of retail stores as well for people who wish to browse for different stuff. This can also be a before or after activity for all you people out there. Enjoy the Hawk Walk shopping experience with your family after the show or dine in at one of the cafes. You just have to grab your Philips Arena Tickets before they are all sold out!


Im taking my family to Atlanta this holiday season, and Ive planned to take my family to one of the performances of Blast From the Past there. But since my trip has caused me a lot of expenses, I would really love some discounted blast from the past tickets in atlanta.
Cheap New York Islanders tickets with the best possible seats are what we deal in. Please browse through our user friendly website to find what youre looking for and feel free to compare our prices.
I and my friends are heading over for a night out in Atlanta, so weve decided to attend one of the coming events there. Since were keeping the whole experience in limits, well be needing some cheap blast from the past tickets atlanta
Worry not. Were here to take care of all your ticketing needs, as we offer quite affordable Blast from the Past Tickets.