T Mobile Arena Tickets
Load More
T Mobile Arena is one of the most popular venues in the country. If you plan on attending an event at this famous venue, then go through the T Mobile Arena Seating Chart. You can take a Virtual tour of the T Mobile Arena to get an interactive seat view. Go through the T Mobile Arena seating map, and check the T Mobile Arena parking prices, if available.

T Mobile Arena Seating Chart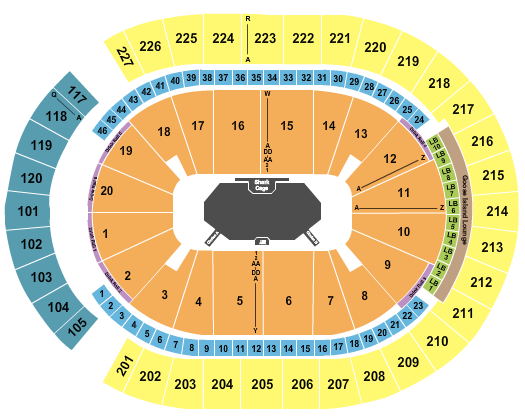 T-Mobile Arena Tickets Related Questions
Who will play at T-Mobile Arena today?
No event is happening in T-Mobile Arena tonight.
How many seats are available in T-Mobile Arena?
The seating capacity of T-Mobile Arena is 71863.
Can you buy event tickets at T-Mobile Arena?
Yes, you can buy tickets at T-Mobile Arena provided if they are available.
What are the best seats available at T-Mobile Arena?
Just like every other venue, there are different levels at T-Mobile Arena as well. The entire seating plan is available on our website, and you can book tickets for the section you like.
How many events are taking place at T-Mobile Arena this week?
You can check the complete list of events taking place at T-Mobile Arena this week and beyond by simply logging on to the venue's page on our website.Top selling event of the week is 2022 Pac 12 Mens Basketball Tournament - All Sessions Pass.
The T-Mobile Arena is all set to play host to some special events during the upcoming months. If you want to be part of the festivities, then this is your chance to book T-Mobile Arena tickets at the earliest.
A Little History
AEG and Harrah's Entertainment came together in 2007 and announced plans to construct a new stadium in Las Vegas. The initial plans were to start the construction in 2008 and finish it by 2010. Unfortunately, those plans did not materialize due to one reason or another.
In 2012, plans for the construction of the new arena began to gather pace once again. AEG and MGM formed a joint venture and made their plans public on March 1, 2013. The construction began on May 1, 2014 and the T-Mobile Arena opened its doors for the first time on April 6, 2016. The construction cost is estimated to be around $375 million. The venue is home to the Vegas Golden Knights of the National Hockey League since 2017, and to the Ultimate Fighting Championship from 2016.
A Legacy of Epic Events
The T-Mobile Arena has not only hosted NHL games or UFC events over the years. The arena has also played host to some thrilling boxing bouts, like the fight between Floyd Mayweather and Conor McGregor. On top of that, major award ceremonies like the Billboard Music Awards, Latin Grammy Awards, and the Academy of Country Music Awards have also taken place at the T-Mobile Arena.
A Long List of Concerts
Major stars from the world of music have also performed at the T-Mobile Arena over the years. Some those big names are:
Martina McBride.
Guns N' Roses.
Nicki Minaj.
George Strait.
Garth Brooks.
Barbra Streisand.
Coldplay.
The Rolling Stones.
Keith Urban.
Carrie Underwood
Bon Jovi.
Roger Waters.
Iron Maiden.
Lady Gaga.
Pink.
Def Leppard.
The Legacy Continues
Since the T-Mobile Arena is one of the most popular destinations for all sorts of different events, its calendar is full of epic shows over the next few months. Fans who buy T-Mobile Arena tickets will get to see events like:
Post Malone as part of the "Twelve Carat Tour."
Vegas Golden Knights games.
George Strait.
UFC 282.
PAC-12 Men's Basketball Tournament.
Depeche Mode.
T-Mobile Arena Covid Policy
The Covid-19 policy at the T-Mobile Arena changes as the federal and state guidelines change. To ensure compliance, please make sure you are updated about the guidelines in place when you book your tickets.