T Mobile Arena Tickets
Load More
T Mobile Arena is one of the most popular venues in the country. If you plan on attending an event at this famous venue, then go through the T Mobile Arena Seating Chart. You can take a Virtual tour of the T Mobile Arena to get an interactive seat view. Go through the T Mobile Arena seating map, and check the T Mobile Arena parking prices, if available.

T Mobile Arena 2024 TICKETS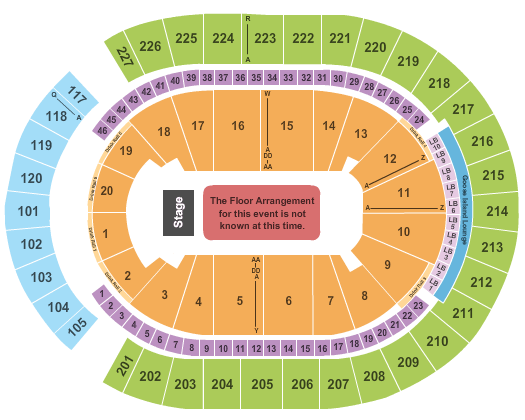 T-Mobile Arena Tickets Related Questions
Who will play at T-Mobile Arena today?
No event is happening in T-Mobile Arena tonight.
How many seats are available in T-Mobile Arena?
The seating capacity of T-Mobile Arena is 6733.
Can you buy event tickets at T-Mobile Arena?
Yes, you can buy tickets at T-Mobile Arena provided if they are available.
What are the best seats available at T-Mobile Arena?
Just like every other venue, there are different levels at T-Mobile Arena as well. The entire seating plan is available on our website, and you can book tickets for the section you like.
How many events are taking place at T-Mobile Arena this week?
You can check the complete list of events taking place at T-Mobile Arena this week and beyond by simply logging on to the venue's page on our website.
The T-Mobile Arena, located in the heart of Las Vegas, NV, is one of the most versatile and stunning entertainment venues in the world. Opened in 2016, it has since hosted an array of renowned events and performances, from blockbuster concerts to high profile boxing matches.
Featuring a wide variety of seating options and premium amenities, T-Mobile Arena allows guests to enjoy an immersive and unforgettable experience. With its ability to host over 20,000 visitors at any given time and its proximity to the world-famous Las Vegas Strip, the T-Mobile Arena has quickly become one of the most sought after destinations for sports and entertainment fans alike.
Best Seats to Buy at the T-Mobile Arena
The T-Mobile Arena in Las Vegas is a great place to watch your favorite sports or music events. To make sure you have the best experience possible, it's important to choose the right seats for the event you're attending. Here are some of the best seats to buy at the T-Mobile Arena:
Mid Court Seats: These seats offer an excellent view of all areas of the court, including both baskets and midcourt action. They also provide good access to concessions and restrooms with minimal disruption during play.
Lower Level End Zone Seats: These seats offer a close up view of one basket, allowing fans to get an up close and personal look at their favorite players as they shoot hoops or take free throws from just feet away! 
Center Balcony Seats:  The center balcony level provides a nice middle ground between lower level seating options and higher tier premium seating choices like suite boxes or loge boxes . From this vantage point, guests can enjoy unobstructed views from virtually any seat in this section without feeling too far removed from all the action on court below them .  
Suite Boxes & Loge Boxes: For those looking for luxury and convenience , Suite Boxes & Loge Boxes provide the ultimate in premium seating . These tickets offer guests an exclusive experience with access to private lounges and bars, as well as a more intimate view of all games and events.
No matter which seat you choose for your next T-Mobile Arena event, don't forget to take some time to explore the many amenities and attractions located throughout the stadium before or after the show. From delicious food options to interactive fan experiences, there is something for everyone at the T-Mobile Arena!  Enjoy your time there!
Upcoming T-Mobile Arena Live Events Tickets 2023
The T-Mobile Arena will host multiple events through the year. Some events that are experiencing big demands are:
Vegas Golden Knights games.
Muse (Will of the People tour).
Davis Vs Garcia (Premier Boxing Champions).
AEW Double or Nothing.
Drake (Its All a Blur Tour).
Places to Stay Near the T-Mobile Arena
The T-Mobile Arena is a great place for concerts, sports games, and other entertainment events. Located in the heart of the Las Vegas Strip, the T-Mobile Arena has become a popular destination for visitors looking for an unforgettable experience. Fortunately, there are plenty of places to stay near the arena that offer comfortable accommodations with easy access to all the attractions in this vibrant city. Here are some of the best places to stay near the T-Mobile Arena: 
The Cosmopolitan of Las Vegas: This luxurious resort is located directly across from the T-Mobile Arena and offers stylish suites, exclusive restaurants and bars, poolside cabanas, and world-class spas. The proximity to downtown and nearby attractions make it an ideal choice for those who want convenient access to Las Vegas' finest offerings.
MGM Grand Hotel & Casino: Just a few blocks away from the T-Mobile Arena lies one of Las Vegas' most iconic resorts – The MGM Grand Hotel & Casino. This resort boasts an impressive selection of guest rooms, restaurants, bars, pools, shopping centers, and more making it a great option for visitors who want to stay close to all that Las Vegas has to offer.
Westgate Las Vegas Resort & Casino: Situated just a few miles from the T-Mobile Arena is this luxury resort offering guests spacious accommodations with convenient access to popular attractions and amenities like golfing opportunities onsite at their championship golf course or relaxing massages at their spa facility.
Trump International Hotel Las Vegas: Guests looking for unparalleled service can choose Trump International Hotel Las Vegas which offers exceptional hospitality in a prime location across from Wynn Las Vegas and Fashion Show Mall near all major attractions including the T-Mobile Arena making it an excellent choice for anyone wanting convenience as well as luxurious comfort while they're staying in town.
Four Seasons Hotel Las Vegas: Luxury seekers who want luxury without compromising quality can choose Four Seasons Hotel located within walking distance of many restaurants and shops on The Strip including two blocks away from the T-Mobile Arena where guests can enjoy breathtaking views of The Strip while enjoying award winning cuisine at any one of their five restaurants or lounges available onsite.
T-Mobile Arena Entrances
The T-Mobile Arena offers a variety of entrances to its guests.
Main Entrance: The main entrance of the arena is located on the south side and is accessible from either Las Vegas Boulevard or Frank Sinatra Drive. This entrance features two large metal turnstiles that open into an atrium with marble floors and high ceilings. Here, you can find ticket booths and ATM machines.
VIP Entrance: The VIP entrance is located off of Frank Sinatra Drive and allows for exclusive access to private suites and lounges within the arena. This entrance also provides direct access to several restaurants, bars, and even the nightclubs available inside the arena.
North Entrance: The north entrance of T-Mobile Arena is accessible from either Las Vegas Boulevard or Harmon Avenue. It offers entry into general seating areas as well as some suite and club levels. This is also where you will find merchandise stands and concession stands offering food, beverages, and snacks before each event.
South Plaza: South Plaza is a plaza outside of the main entrance at T-Mobile Arena which opens up an hour before doors open for each event. It includes several vendors selling merchandise, souvenirs, snacks, drinks, etc., as well as live music performances before select events throughout the year. Some of these vendors even offer special experiences such as interactive games that allow fans to win prizes or take part in exclusive experiences only available at this location!
These are just some of the many entrances guests can explore when attending events at T-Mobile Arena! With so many options available for entry into this iconic venue there's something for everyone who comes through its doors!
Disabled Facilities at the T-Mobile Arena
The T-Mobile Arena is designed to be accessible for all patrons, regardless of any disabilities or physical impairments. The venue's accessibility features include:
Wheelchair access and designated seating areas throughout the arena, with easy access to concession stands, restrooms and the box office.
Accessible parking spots are located near the main entrance, with complimentary shuttle service available from nearby parking garages and lots.
Accessible ticketing services provided through Ticketmaster, including online ordering, telephone customer service and in-person at the box office.
Assistive listening systems for guests with hearing impairments are available upon request at Guest Services locations throughout the arena.
Elevators to provide easy access between levels that are both wheelchair friendly and ADA compliant.
Braille signage throughout the arena for all major areas like restrooms, elevators and concessions stands.
Service animals allowed in all areas of the facility that are open to public access. 
A variety of accessible seating options, including seats that can accommodate up to three wheelchair users and their companions.
Accessible concession stands with lowered counters and designated special needs lines.
Audio description devices available for the visually impaired upon request.
Video captioning services available on select screens throughout the arena.
Food and Drinks at the T-Mobile Arena
The T-Mobile Arena offers a wide variety of food and drinks for guests to enjoy during their visit. From classic American cuisine such as hot dogs, hamburgers and nachos to gourmet sandwiches and salads, the arena features a diverse selection of eateries. For those looking for something sweet, there are plenty of desserts including cakes, cookies and ice cream.
For those looking for a colder treat, the arena also serves up refreshing cold beverages such as soft drinks, beer, wine, mixed drinks and more. There is even an extensive range of freshly brewed coffees available throughout the arena. Whatever your tastes may be, there is something on offer at the T-Mobile Arena that will satisfy your cravings!
Suggested Events