Staples Center Tickets
Load More
Staples Center is one of the most popular venues in the country. If you plan on attending an event at this famous venue, then go through the Staples Center Seating Chart. You can take a Virtual tour of the Staples Center to get an interactive seat view. Go through the Staples Center seating map, and check the Staples Center parking prices, if available.

Staples Center 2024 TICKETS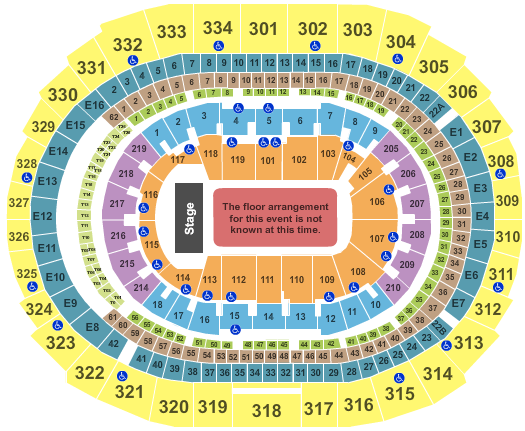 Crypto.com Arena Tickets Related Questions
Who will play at Crypto.com Arena today?
No event is happening in Crypto.com Arena tonight.
How many seats are available in Crypto.com Arena?
The seating capacity of Crypto.com Arena is 8360.
Can you buy event tickets at Crypto.com Arena?
Yes, you can buy tickets at Crypto.com Arena provided if they are available.
What are the best seats available at Crypto.com Arena?
Just like every other venue, there are different levels at Crypto.com Arena as well. The entire seating plan is available on our website, and you can book tickets for the section you like.
How many events are taking place at Crypto.com Arena this week?
You can check the complete list of events taking place at Crypto.com Arena this week and beyond by simply logging on to the venue's page on our website.Top selling event of the week is Los Angeles Lakers vs. New York Knicks.
The Staples Center has been constructed in order to serve as a multi-purpose sports arena in Downtown Los Angeles. The Staples Center is situated beside the Los Angeles Convention Center complex.

This facility is suitable for large indoor events, like basketball, ice hockey and arena football, as well as concerts. When it is used for basketball, it can house a total of 18,997 spectators. For other sports, the capacity is less because of a greater area used up in the laying area. Since stage setups tend to use less space, the capacity increases to 20,000.

The Staples Center is presently owned and managed by the L.A. Arena Company and Anschutz Entertainment Group. This sports facility is home to two NBA franchises; the Los Angeles Lakers and the Los Angeles Clippers, as well as the Los Angeles Kings of the National Hockey League (NHL). Other teams that play here include: the Los Angeles Sparks of the Women's National Basketball Association (WNBA) and the Los Angeles Avengers of the Arena Football League (AFL).

The Staples Center stands 150 feet (45.7 m) tall. The arena seats up to 20,000 for concerts, 18,997 for basketball, and 18,118 for hockey and arena football. Two-thirds of the arena's seating, including 2,500 club seats, are in the lower bowl. There are also 160 luxury suites, including 15 event suites, on three levels between the lower and upper bowls.

Staples Center opened on October 17, 1999, with a Bruce Springsteen and the E Street Band concert as its inaugural event. It is home to the Los Angeles Lakers and Los Angeles Clippers of the NBA, the Los Angeles Kings of the NHL, the Los Angeles Sparks of the WNBA, and the Los Angeles Avengers of the AFL. It is the only arena that is home to five professional sports franchises.

Staples Center was named New Major Concert Venue (2000) and Arena of the Year (2000 and 2001) by Pollstar Magazine and has been nominated each year since its 1999 opening. The arena is host to 250 events and nearly 4,000,000 visitors a year. Since its opening day, Staples Center has hosted the 2000 Democratic National Convention, the 2002 U.S. Figure Skating Championships, the 52nd NHL All-Star game, the 2004 NBA All-Star Game, the Pac-10 Basketball Finals since 2002, the WTA Tour Championships from 2002 to 2005, the first Latin Grammy Awards in 2000, the annual Grammy Awards since 2000 with the exception of 2003, the Summer X Games indoor competitions since 2003, the UFC 60 pay per view event, as well as numerous Concerts and HBO Championship Boxing matches.

In addition to hosting the attendance record setting WrestleMania 21 in 2005, Staples Center has also hosted Unforgiven 2002, Judgment Day 2004, and No Way Out 2007 as well as other World Wrestling Entertainment events.

Staples Center is only a part of a much larger 4,000,000-square-foot (371,612.2 m2) development by Anschutz Entertainment Group (AEG) adjoining Staples Center and the Los Angeles Convention Center. The development, known as L.A. Live, broke ground on September 15, 2005. L.A. Live is designed to offer entertainment, retail and residential programming in the downtown Los Angeles area.
Frequently Asked Questions (FAQs)
Is there any student discount available on clippers celtics tickets staples?
While we are not offering any special discounts on Staples Center Tickets, they can still be purchased from us at really cheap rates.
When do lakers vs trail blazers tickets go on sale?
Los Angeles Lakers tickets are now up for grabs!
How soon can I buy lady gaga staples tickets?
You can buy Lady Gaga Staples Center tickets