Kravis Center Dreyfoos Concert Hall Tickets
Load More
Kravis Center Dreyfoos Concert Hall is one of the most popular venues in the country. If you plan on attending an event at this famous venue, then go through the Kravis Center Dreyfoos Concert Hall Seating Chart. You can take a Virtual tour of the Kravis Center Dreyfoos Concert Hall to get an interactive seat view. Go through the Kravis Center Dreyfoos Concert Hall seating map, and check the Kravis Center Dreyfoos Concert Hall parking prices, if available.

Kravis Center Dreyfoos Concert Hall Seating Chart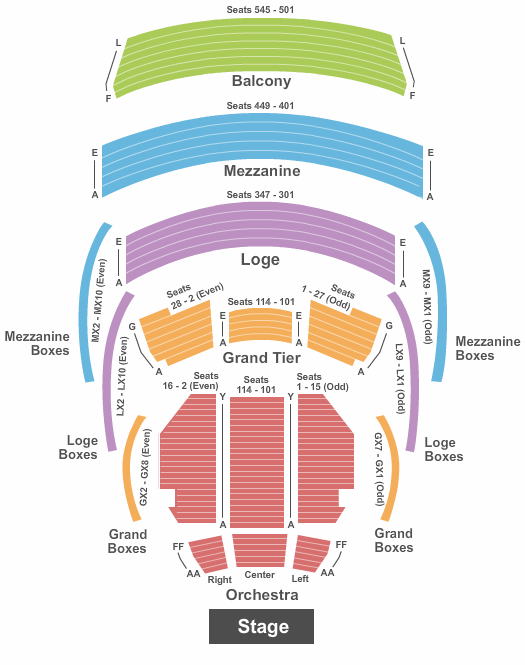 Kravis Center Dreyfoos Concert Hall
Raymond F. Kravis Center for the Performing Arts is located at 701 Okeechobee Boulevard, West Palm Beach in Florida. It was opened with the mission of providing a home to Palm Beach County local and regional organizations to showcase their works as well as presenting the diverse schedule of national and international artists for the recreation of the people.

It has also started to offer a comprehensive Arts Education programs. Ever since it has been opened it has become an economic catalyst in the revitalization of West Palm Beach by its supporting efforts to increase travel and tourism to Palm Beach County.

Kravis Center was opened to the anxiously awaited community in September of 1992. The Center hosted a dedication week on its Gala Grand Opening on November 28 and hosted a full week of free performances featuring local arts and groups like Florida Philharmonic Orchestra, Burt Reynolds, Roberta Peters, Isaac Stern, Leontyne Price, Ella Fitzgerald, Faith Prince, Lily Tomlin and The Alvin Ailey American Dance Theater.

More than 2,000 guests attended the spectacular event along with one of the largest national and foreign press corps to ever cover an arts center opening.

The center was built with the efforts of Alexander W. Dreyfoos, then chairman and president of Photo Electronics Corporation WPEC TV-12, and Judith Goodman, an executive with Mr. Dreyfoos' firm.

The funds were raised for building of the center. In 1986, came a multimillion dollar contribution that shifted fundraising efforts into high-gear. A consortium of friends of Oklahoma native Raymond F. Kravis, a prominent geologist and philanthropist who wintered with his wife Bessie in Palm Beach, agreed to raise $5 million in Mr. Kravis' honor.

The gift served as a major catalyst to the private fundraising campaign and inspired the Center's official name. By the time the center opened to the public in 1992, contributions in Mr. Kravis' honor totaled over $10 million.

Blount, Inc., the New Orleans Superdome, was chosen as the construction company that would build the Center. Blount began the 36 month construction schedule in September of 1989.

They were joined by New York-based Artec Consultants' Russell Johnson, who designed the pristine acoustics of the main concert hall.

In addition, Robert Metzger Interiors, also based in New York, brought a '40s Moderne motif to everything from the carpeting and furniture to the colors of the marble. The center was constructed at a cost of $63 million. It sits on 10.6 acres of property at the highest point in the city.

Kravis Center has an Alexander W. Dreyfoos, Jr. Concert Hall with the seating capacity of 2,193 occupants and main performance venue located in the center of the building.

There is a black box theater Rinker Playhouse with the seating capacity of 300 seats. In Kravis Center there is located an outdoor amphitheater by the name of Gosman Amphitheater.

It is a 1400-seat structure located on the northeast corner of the Center. The Cultural organizations that perform at the center include Ballet Florida, Miami City Ballet, Palm Beach Broadway Series, Palm Beach Opera and Palm Beach Pops.
Kravis Center Dreyfoos Concert Hall
was rated 
I recently had an accident and can no longer go to views of dreyfoos concert hall! Can you refund me or exchange these tickets for an event at a later date?
We are sorry about your accident. But we can not offer you a refund on Kravis Center Dreyfoos Concert Hall Tickets or exchange these tickets for an other event as we use different brokers for different events and also it would be in violation of our policy.
How can I get the discount tickets to dreyfoos hall, fl. Is there some special code or something?
Our site already holds an inventory of cheap tickets, with discount prices. in addition, we offer discount codes as well. Please refer to our Live Help service to ask for our exclusive discount code for the Kravis Center Dreyfoos Concert Hall tickets.
Can I only buy alexander dreyfoos concerts/seinfeld tickets online or can I do it over the phone?
Do it either way. TicketLuck takes special care of its customers and thus offers both facilities for their comfort. Reserve your Kravis center Dreyfoos concert Hall tickets today!
I need 4 orchestra seats for burn the floor may 8 night show kravis center. are these available?
We have a huge collection of tickets for Burn the Floor taking place at the Kravis Center Dreyfoos Concert Hall, so grab yours today!
When can I get my dreyfoos concert hall tickets?
The time that was specified when you bought the Kravis Center Dreyfoos Concert Hall Tickets, is the one that will be followed.
How can I find out about best value seats at kravis center?
Kravis Center Dreyfoos Concert Hall Tickets page will give you the seating detail and the seating chart both.
Im perhaps the biggest Joan Rivers fan, man they just Rock. Since theyre coming to my home town I just cant wait to be there. But heres the bummer, im a bit low on cash, so I need some kind of discount code or something to get some discount tickets joan rivers nyc
Worry not. You can find all kinds of Discounted Joan Rivers tickets right here at our website. Thanks.
Where can I grab a pair of palm beach paul ankara concert tickets?
Kravis Center Dreyfoos Concert Hall Tickets are available with us so click on your deals, hurry!