Giant Center Tickets
Load More
Giant Center is one of the most popular venues in the country. If you plan on attending an event at this famous venue, then go through the Giant Center Seating Chart. You can take a Virtual tour of the Giant Center to get an interactive seat view. Go through the Giant Center seating map, and check the Giant Center parking prices, if available.

Giant Center Seating Chart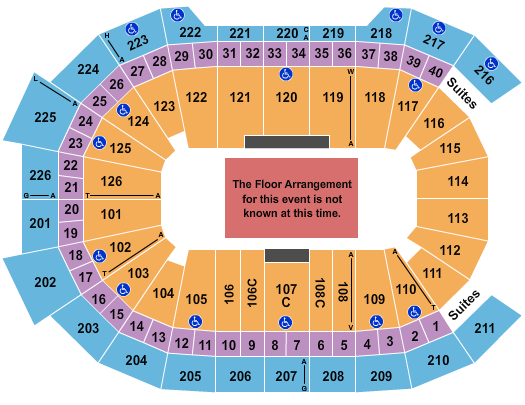 Giant Center Tickets Related Questions
Who will play at Giant Center today?
To check Giant Center for today, all you have to do is visit our website and check event listings along with available tickets. Right now, following events are happening at Giant Center:
Hershey America's Largest RV Show
How many seats are available in Giant Center?
The seating capacity of Giant Center is 8.
Can you buy event tickets at Giant Center?
Yes, you can buy tickets at Giant Center provided if they are available.
What are the best seats available at Giant Center?
Just like every other venue, there are different levels at Giant Center as well. The entire seating plan is available on our website, and you can book tickets for the section you like.
How many events are taking place at Giant Center this week?
You can check the complete list of events taking place at Giant Center this week and beyond by simply logging on to the venue's page on our website.
Hershey is a place that offers many entertainment options for its citizens and visitors. Referred to as the Chocolate town because of Hershey's Chocolate, the place gives music more than just sweetness. Located in Dauphin County in the U.S. Commonwealth of Pennsylvania, Hershey proudly hosts one of the most rocking live venues of the nation known as Giant Center. This a the perfect venue to enjoy games, live shows and concerts as it ensures good times whatever may the event be.

Located on 550 Hershey Park Drive Hershey, PA Giant Center is a premium quality concert venue and hockey arena that has been serving the town since 2002. The venue is considered hot spot for latest concerts and hockey games as it is a home to Hershey Bears ice hockey team.

Giant Center stands proud in the 306,000 total square feet in the main arena. Official ground breaking ceremony was held on November 8, 2000 for this site. The Center was designed by HOK Sport Venue Event and was constructed by Hunt Construction Group. The expensive project cost around $95 million for building and roads, parking lots and infrastructures.

It took about two years for Giant Center to get completed. Important landmarks during its construction include naming rights announcement on July 12, 2000, placement of 6-feet tall and 76-feet long GIANT Center sign on June 18, 2002, raising of the new state-of-the-art scoreboard and seat installation in August 2002. It was on October 15, 2002 when grand opening of the Giant Center was held with much fanfare.

The Giant Center is state-of-the-art venue that has revamped itself with the passage of time. The arena underwent extensive renovation in February 2004 for this purpose with installation of a basketball floor. Today, Giant Center is considered a giant venue that is fully facilitated with all modern amenities to facilitate different kind of events, be it sports or live shows.

Giant Center is a grand venue with its 10,500 capacity for hockey games and 12,500 for in-the-round concerts. There are 7,700 seats in Level 100 and 2,800 seats in Level 200 or upper level. Along with these are 40 Luxury Suites and 688 Club Seats that offers top-notch services. There are plenty of food options to explore and vast parking spaces are available in the Center where around 10,000 vehicles can park easily.

The Giant Center Hershey has been a home to the Hershey Bears ice hockey team from October 2002. Te Bears joined American Hockey League in 1938 and enjoys the status of being the longest-existing member club of AHL. Before Giant Center, they used to play in Hersheypark Arena. Now Giant Center hosts their games and the venue resounds with huge cheers in all Bear games.

If sports attract millions to the Giant Center, then music doest not leg behind either as the venue is considered topmost place to enjoy musical concerts. While Pop Diva Cher was the first act to appear in GIANT Center with her "Living Proof - The Farewell Tour" in 2002, the place later witnessed many high profile shows and concerts. Everyone from 50 Cent to the Harlem Globetrotters has played here. The Giant Center has also hosted several annual conventions as well, notably the Pennsylvania RV & Camping Show and the Antique Automobile Club of America's Fall Meet. While the citizens of Hershey still remember the showcasing of World Wrestling Entertainment's Unforgiven in 2003, the Giant Center also attracted many when it hosted Road to Victory rally for Republican Presidential candidate, John McCain, and his running-mate, Sarah Palin in 2008.

More is yet to come at this prestigious Giant Center. So while you are looking for some fun time n Hershey Pennsylvania, check out this great venue and have a time of your life.
Frequently Asked Questions (FAQs)
How are the giant center tickets delivered?
Giant Center tickets are generally delivered via FedEx to the address associated with your credit card unless specified otherwise.
Ho will I receive my jingle ball 2023 hershey tickets from you?
Giant Center tickets will be delivered to you once we are done with processing all the information on your credit card.
I am looking for promotion codes for ticketmaster giant center ringling bros circus for may 2023. Where can i get it?
Giant Center Tickets promo codes are available with our live operators. You can easily get it from them.
I want hershey bears tickets for april 9th 2023 game with seats that offer the best view, How can I make sure get what I am looking for?
Giant Center Tickets seating chart on our tickets page will give you what you are looking for.
hi am looking for hershey bears club seat ticket sales ? Do you do that?
We have a whole range of Hershey Bears tickets at Giant Center, have a look at them now!
Which mailing service is in use here for cirque du soleil wilkes barre tickets?
Giant Center Tickets with us use FedEx, the most trusted mailing service in the world.
Hey, can i get the gaint center tickets?
Sure, we have plenty of Giant Center Tickets available. Get them at ticketluck now!
Do you have cheap tickets to ringling brothers in hershey on 5 28 11 at 7 30 pm?
Giant Center Tickets are waiting to be grabbed so click on your deal now.
Will there be seat numbers written giant center hershey rush tickets?
Giant Center Tickets do not have seat numbers written on them ever!
I would like to know hershey giant center 2023 schedule,Where do I check?
Go to the Giants Center page to find out the schedule for 2023.
Will seat numbers be written on jingle ball 2023 hershey pa tickets?
Giant Center tickets do not have seat numbers written on them.
When do giant center tickets go on sale?
Giant Center tickets are up for grabs now!