Taft Theatre Tickets
Taft Theatre is one of the most popular venues in the country. If you plan on attending an event at this famous venue, then go through the Taft Theatre Seating Chart. You can take a Virtual tour of the Taft Theatre to get an interactive seat view. Go through the Taft Theatre seating map, and check the Taft Theatre parking prices, if available.

Taft Theatre Seating Chart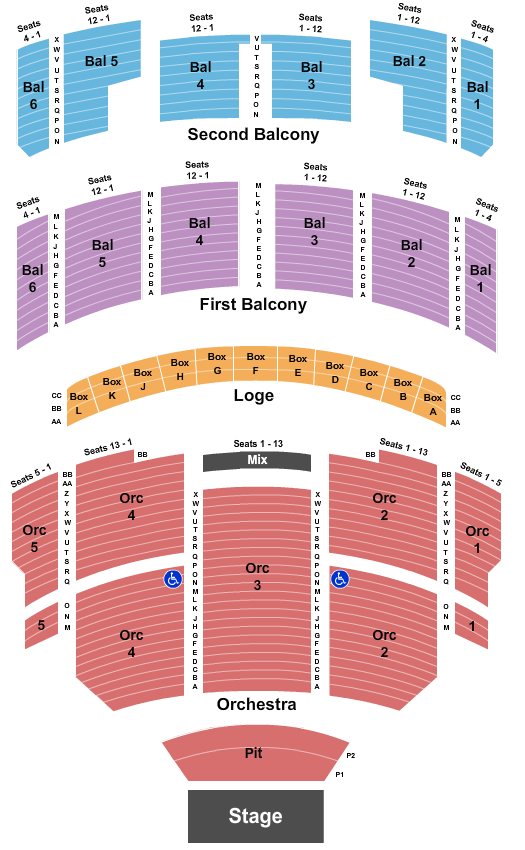 Taft Theatre Tickets Related Questions
Who will play at Taft Theatre today?
List of Events today happening in Taft Theatre
Bruce Hornsby and The Noisemakers
How many seats in Taft Theatre?
Taft Theatre, has 31109 seats available.
Can you buy tickets at Taft Theatre?
Depending upon the availability of tickets for that event, you can buy tickets on Taft Theatre.
What are the best seats available at Taft Theatre?
We have PIT for Taft Theatre available.
How many events are on sale for Taft Theatre this week?
Total 57 are taking place at Taft Theatre in this week.Top selling event of the week is Ben Folds.
Taft Theatre
Taft theatre is one of many music venues that are currently operation by the live performances promoter, Live Nation. Live Nation does not only operate venues in United States but also some international venues.

As of 2005 there were around 117 venues that fell under Live Nation"s Jurisdiction including 42 international Venues and ever since then the count has been growing. In 2006, Live Nation also acquired all the House of Blues venues as well, ultimately increasing the number of venues operated by Live Nation. Live Nation has a number of renowned musicians signed to it including Madonna, and recently Live Nation struck a deal with both Shakira and Jay Z for a decade.

Taft Theatre originally opened its gates for the audience in 1928 with the capacity of upholding 2,500 audience members and is located at 317 East 5th Street as a part of Masonic Temple Building located at the Sycamore Streets in Cincinnati, Ohio. Taft Theatre has been a fan favorite venue for performing arts due to its unobstructed view, which means there are no bad seats in the house, and also because of its astounding acoustics. Taft Theatre also provides the seating for handicapped Special persons along with listening enhancing devices.

Ever since it"s opening, a number of events including several Broadway Shows, Live Concerts, Family Shows, and Plays are staged at the Taft Theatre, every year. Equipped with its highly appreciated acoustics, Taft Theatre has been a favorite venue both for concert goers and the artists alike, for mid sized live concerts. Some of the artists who previously performed at the Theatre include the artists like Lewis Black, Sigur Ros, George Carlin, Oasis, and Umphrey"s McGee, David Grey, Widespread Panic and many others.

The upcoming event this year at the Taft Theatre includes a concert by a Gospel Band, The Collingsworth Family along with Larnelle Harris on November 13, 2009. The head"s of the Family Phil and Kim performed for the first time in August of 1986 in Petersburg, Michigan at a Church Camp, and ever since then the boundaries of the group"s music have been expanding, and as of today the entire family including Phil and Kim"s four children, Brooklyn, Courtney, Phillip Jr., and Olivia, are the members of this Gospel Group. For the first 14 year"s of their career, The Collingsworth Family mainly performed for the Church Camps as well as for the revival Campaigns.

However now the group has broken the boundaries and has performed not only across the nation, but also internationally. It was January 2000 when the Collingsworth Family started recording their music professional in a studio and started working with the producers like Wayne Haun, Roger Talley and Jason Webb, prior to that they mainly relied on live performances.
I need to know the pat metheny at the taft theatre date?
Kindly refer to the Taft Theatre page on our site for all the details.
I was wondering whats happening in taft theater these day?
Visit our Taft Theater page to see the upcoming show details.