San Diego Civic Theatre Tickets
San Diego Civic Theatre is one of the most popular venues in the country. If you plan on attending an event at this famous venue, then go through the San Diego Civic Theatre Seating Chart. You can take a Virtual tour of the San Diego Civic Theatre to get an interactive seat view. Go through the San Diego Civic Theatre seating map, and check the San Diego Civic Theatre parking prices, if available.

San Diego Civic Theatre Seating Chart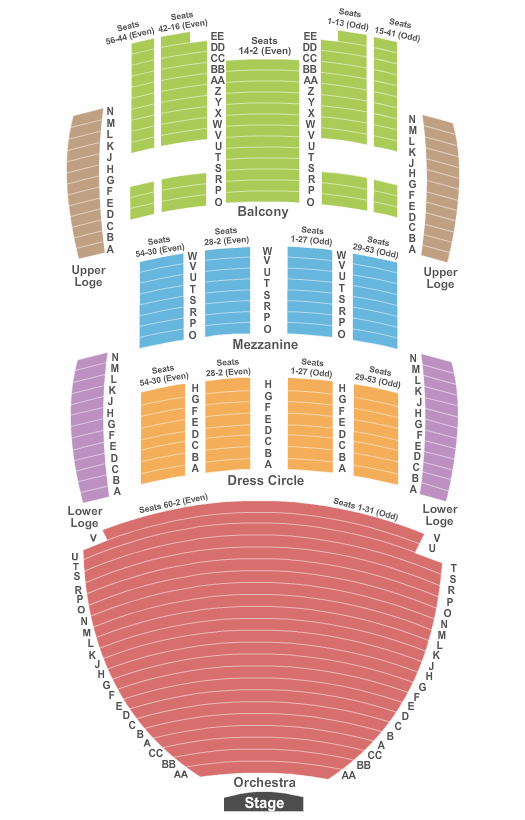 San Diego Civic Theatre Tickets Related Questions
Who will play at San Diego Civic Theatre today?
List of Events today happening in San Diego Civic Theatre
How many seats in San Diego Civic Theatre?
San Diego Civic Theatre, has 95880 seats available.
Can you buy tickets at San Diego Civic Theatre?
Depending upon the availability of tickets for that event, you can buy tickets on San Diego Civic Theatre.
What are the best seats available at San Diego Civic Theatre?
We have ORCHR for San Diego Civic Theatre available.
How many events are on sale for San Diego Civic Theatre this week?
Total 470 are taking place at San Diego Civic Theatre in this week.Top selling event of the week is 1776 - The Musical.
San Diego Civic Theatre
It would be almost impossible to try to ascertain the exact time and location of the first theatrical performance in USA. The reason is that a few centuries back, it was an age of intolerance; the playhouse was considered the road to hell and was strongly condemned.

In face of this the periodicals of the day were not encouraged to give any space in their columns. So it was up to the actors to advertise any show as was the custom at that time by distributing leaflets at the residences of the prospective theater goers.

But with an increase in the importance of Colonies, and frequency of communication between America and Europe, the milieu also changed considerably, especially in important towns. In these towns people of means and leisure naturally turned to theater for entertainment.

According to the history of San Diego, the record of the first theatrical performances in San Diego goes back to 1858 (San Diego Mission) and the credit goes to Major Blake. He commanded United States soldiers of Company D, Third Artillery at the time. He initiated a season of six popular plays of the time in the town.

He was also responsible for holding the world premiere of a comedy play set in the Franklin House in Old Town. It was called "The Smiths and the Browns of San Diego". The organization formed by the major was latter known as The American Dramatic Club which comprised mostly of the men in Company D of the US army.

Since then San Diego, especially the down town area, have remained the hub for arts and culture in the region. It has an amazing range of entertainment opportunities and special events. From Broadway play to a magnificent opera production, rock concert to world-class museums and parks, the city has it for both visitors and locals, young and old.

Furthermore, the City of San Diego Commission for Arts and Culture also made constant efforts over the past 20 years to promote the tourism of the city and its neighborhood that included the endorsement of themed itineraries. Now San Diego is considered one of the top travel destinations (domestic).

Civic Theater was built in 1966 in Downtown on 3rd and B Street as a part of the variety of projects to revitalize the downtown in the 60s. It was designed by the renowned architect Lloyd Ruocco - a graduate from the University of California at Berkeley.

During his early years, Ruocco used to work with architect Lillian Rice and the Requa & Jackson architecture firm. He got recognition when he designed houses and public buildings, including the Civic Theater and the Design Center. He was also behind the formation of Allied Artists' Council of San Diego as well as Citizen's Coordinate for Century-Three.

The San Diego Civic Theater is owned by the City of San Diego and managed by San Diego Theatres, a nonprofit organization with an aim to promote and provide world class theatre experiences to the public.

It houses magnificent Broadway and Opera productions by touring orchestras and dance companies, concerts by the top acts of music industry, film productions as well as lectures by known and famous speakers from around the world and other national acts.

San Diego Opera, La Jolla Music Society, California Ballet and Broadway/San Diego (of Nederlander) are some of the permanent residents of the San Diego Civic Theater. Popular touring Broadway shows like The Producers and Hairspray have also been hosted here. Just northeast of the theater is situated Copley Symphony Hall, which hosts different, touring musical acts.

With almost 3000 plush seats, it is the most prestigious performing arts theater in the city. The hall is equipped with state of the art visual and audio equipment. The theater is also ADA compliant and people with disabilities get all the services easily.

The seating sections categorized by floor which has orchestra and dress circle; 2nd level that includes mezzanine & lower lodge; and 3rd level comprising of upper lodge & balcony. Audiences are advised to dress well especially to an opera or the opening nights of musicals, or other plays. On the other hand, concerts require anything casual like a pair of paints or skirt.

Parking won"t be a hassle as there is an on-site parking in the upper ground 1, 100 space Concourse Parkade as well as off-site parking at a number of parking lots at nearby locations.

In the interest of public health, the Civic Theatre has a non-smoking policy however; outside there are a few areas where smoking is allowed.
San Diego Civic Theatre
was rated 
Where can I find complete san diego civic theater seating plan?
The entire seating plan is available on our website. Please go through it in detail and book your San Diego Civic Theatre Tickets as per the seats you want.
Can I order civic theatre tickets but without any surcharge?
You can order your choice of San Diego Civic Theatre Tickets from our site and for assistance in fees charged visit our check out page now!
Does my san diego civic center discount code have an expiry?
No, your discount code does not have an expiry and if not used now can be used for future San Diego Civic Theatre Tickets purchases.
Do you have civic theater san diego tickets in abundance as i need loads of them?
San Diego Civic Theatre Tickets are in great supply with us so hurry up and click on your deals now before they all get sold out.
How much would be the civic theater san diego discount tickets for locals?
We aren't offering any specific discount for locals on San Diego Civic Theatre Tickets. However, we do have general discount up.
How will I receive my the nutcracker in san diego tickets from you?
San Diego Civic Theatre Tickets will be mailed to you once we are done processing all your information on your credit card.
Can you please tell me if san diego civic theater discount tickets sold out?
No, San Diego Civic Theatre Tickets are still very much available on our site. You can easily get them now at cheap rates.
Where do i get 10 off promo code for lion king civic theatre?
Get our exclusive promo code for The Lion King San Diego Civic Theatre Tickets by contacting our LIvehelp Representative.
Can you tell me how to get cheep san diego civic center tickets?
In order to get extra discount on San Diego Civic Theatre Tickets use the discount code while placing order.
Is it possible to order san diego civic theater tickets over the phone?
Of course, it is! Call our customer center at 866-861-4784 and our rep will take care of the rest!
Can I see the san diego civic theater seating view tickets?
Yes, you can take a look at the San Diego Civic Theatre Tickets seating chart at our web page.
When is california ballet san diego suppose to start?
You can check out our San Diego Civic Theatre Tickets to find out.