Raymond James Stadium Tickets
Load More
Raymond James Stadium is one of the most popular venues in the country. If you plan on attending an event at this famous venue, then go through the Raymond James Stadium Seating Chart. You can take a Virtual tour of the Raymond James Stadium to get an interactive seat view. Go through the Raymond James Stadium seating map, and check the Raymond James Stadium parking prices, if available.

Raymond James Stadium Seating Chart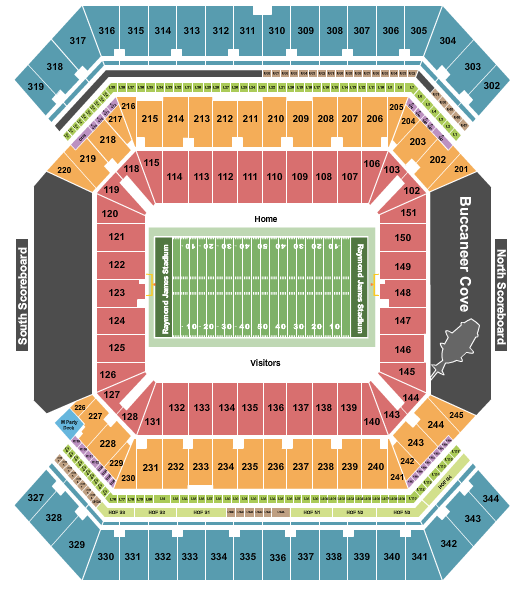 Raymond James Stadium Tickets Related Questions
Who will play at Raymond James Stadium today?
No event is happening in Raymond James Stadium tonight.
How many seats in Raymond James Stadium?
Raymond James Stadium, has 56272 seats available.
Can you buy tickets at Raymond James Stadium?
Depending upon the availability of tickets for that event, you can buy tickets on Raymond James Stadium.
What are the best seats available at Raymond James Stadium?
We have 111 for Raymond James Stadium available.
How many events are on sale for Raymond James Stadium this week?
Total 895 are taking place at Raymond James Stadium in this week.Top selling event of the week is Coldplay & H.E.R..
Saying that Raymond James Stadium is a heaven for sports fans would be an understatement as this well-designed and well-kept venue provides so much fun that you will love this place as much as those football freaks who come here again and again to watch their favorite team live in action. Often referred as the "crown jewel" of the NFL by league insiders, Raymond James Stadium is a marvelous multi-purpose football stadium in Tampa, Florida.

Raymond James Stadium is among the architectural marvels of recent times as it boosts of all the world-class facilities and offers absolutely pleasing services to its patrons. It is the home to Tampa Bay Buccaneers of NFL and South Florida Bulls of NCAA. With such amazing tenants, the stadium is bound to host some very exciting events and it rightly does so. This is the place where you can get to see action-packed games, rocking music concerts and lively fairs. This is the place to have fun with your family and friends and this is the place to get on all the rocking happenings on the field. So let us give you a sneak-peak of Raymond James Stadium.

Raymond James Stadium was opened in 1998. Owned and managed by the Tampa Sports Authority, it is named after a diversified financial services firm headquartered in St. Petersburg, Florida, Raymond James Financial, Inc. Stadium's history tracks along its tenants Tampa Bay Buccaneers. It was in early 1995 when the proposal for a new stadium was issued by the Bucs and local government leaders in order to keep the franchise in Tampa. On October 15, 1996 ground-braking ceremony was held and construction began on the new stadium. While Raymond James Financial, Inc., paid approximately $35 million over 13 years for the naming rights to the stadium in June 1998, the world witnessed the new lavish facility on September 20, 1998 when it became the battlefield between the Bucs and the Chicago Bears as they became part of the first event of the stadium.

Your visit to Raymond James Stadium will make you fall in love with the place. The stadium offers many unique attractions and fun-things for its patrons. Throughout the football stadium, the pirate theme is carried with loads of aura of old world mystique and new-age fascination. This Pirate Ship is the greatest prop in the NFL and it is created by the same company that produces props for Walt Disney World. The ship fires one cannon when the Tampa Bay Buccaneers enter the red zone. It fires again when they score and the crowd is showered with gifts. Moreover, there is an animatronic parrot that is perched on the stern of the ship. Controlled by radio and remote, it often picks fans out of the crowd. This creates a festive atmosphere in the whole atmosphere.

When it comes to customer satisfaction, Raymond James Stadium comes second to none. There are concessions stands behind the pirate ship that resemble an old sea wharf. Its Tag-A-Kid program allows parents to place a wristband on their children so that if they become lost, stadium staff can return them safely to their seats. Sound system is absolutely marvelous sound of a crow cawing is piped through the stadium sound system when the stadium is empty to prevent pigeons from roosting in the rafters. Not to forget the two huge video boards that are significantly larger than conventional NFL scoring systems.

Raymond James Stadium is known to host some of the biggest sporting events and live shows. From its first concert on March 27, 1999 by George Strait till now, the stadium has played host to many rock stars and superstars. The first Motor sports Event was held on January 1, 1999 and since then the stadium has been hosting the New Year's Outback Bowl. Finally from its first Super Bowl game in 2001 to the more recent Super Bowl XLIII, Raymond James Stadium has wonderfully kept the tradition of hosting high-profile events.

All in all, Raymond James Stadium is a magnificent place that is highly recommended to watch sports and attend live shows. The venue is now buzzing with many exciting events, so make sure to be a part of the thrill and excitement Raymond James Stadium offers to us. Go for it and have fun!
Raymond James Stadium
was rated 
Do you have the seat numbers for 2 tickets ramond james stadium?
Unfortunately, we are not provided with seat numbers by our brokers. Seat numbers can only be known once the tickets are delivered to you. Please refer to our venue map to get a better idea about seating configuration. However, please call our helpline at 866-861-4784. If possible, our rep will be able to tell you seat numbers.
I need to buy 10 tickets for ray%27s game aug 1 2020. Any available?
We have MANY in our stock! Visit TicketLuck and get your desired Raymond James Stadium tickets at our discounted prices today!
From where can I purchase cheap Raymond James Stadium tickets?
Avail our special discount offer which lets you buy cheap Raymond James Stadium tickets, only at Ticket Luck!
Ive been waiting for this match for quiet some time, so now when the time is here i need 3 tickets atlanta falcons vs tampa bay buccaneers.
Kindly visit our inventory of Raymond James Stadium tickets to find what youre looking for. Thanks
raymond james tickets needed
Please browse through our website for detailed inventory on the tickets you are looking for!
How do I know monster truck at raymond james ticket prices?
Check out our range of Raymond James Stadium tickets to find your choice of tickets now!
Do you have detailed seating chart for raymond james stadium available with you?
Yes! Check out our website for a detailed seating chart for Raymond James Stadium.
Can I get my cheap kenny chesney tampa fl concert ticets march 19th canceled right now?
Raymond James Stadium Tickets can not be canceled at any time and at any cost.
When do usf bulls raymond james stadium tickets go on sale?
The Raymond James Stadium tickets are now up for grabs.
Can i get the raymond james stadium?
yes you may get the tickets from our website!
I lost my cleveland browns tickets in tampa florida. What do i do now?
Buy new Raymond James Stadium tickets from us.