Moore Theatre Tickets
Moore Theatre is one of the most popular venues in the country. If you plan on attending an event at this famous venue, then go through the Moore Theatre Seating Chart. You can take a Virtual tour of the Moore Theatre to get an interactive seat view. Go through the Moore Theatre seating map, and check the Moore Theatre parking prices, if available.

Moore Theatre Seating Chart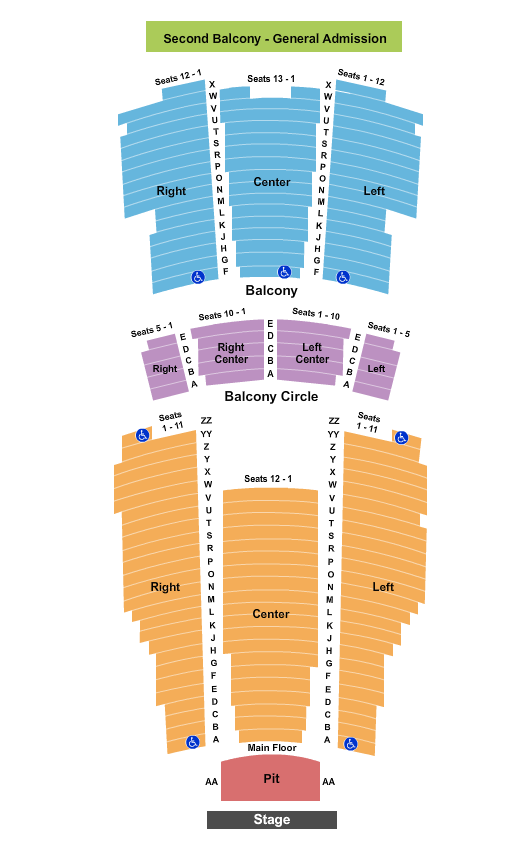 Moore Theatre - WA Tickets Related Questions
Who will play at Moore Theatre - WA today?
No event is happening in Moore Theatre - WA tonight.
How many seats in Moore Theatre - WA?
Moore Theatre - WA, has 26049 seats available.
Can you buy tickets at Moore Theatre - WA?
Depending upon the availability of tickets for that event, you can buy tickets on Moore Theatre - WA.
What are the best seats available at Moore Theatre - WA?
We have Main Floor Left for Moore Theatre - WA available.
How many events are on sale for Moore Theatre - WA this week?
Total 0 are taking place at Moore Theatre - WA in this week.Top selling event of the week is A Drag Queen Christmas.
Moore Theatre
Be it a music gala, theater fest, bright light or speed race, the City of Seattle, Washington helps you keep that festive glow. Seattle boasts different visual and performing arts scenes which include attractions like theaters, concert halls, music venues, movie houses, operas and several other performing arts venues.

But, the Moore Theater stands out distinct for putting up on stage a spectacular array of seasonal events for its audiences. Seattle"s merry-go-round people find every reason a good reason to celebrate and enjoy. Its celebrations and festivals focus primarily on heritage and history, seasonal celebrations and blues and jazz etc.

The Moore is Seattle"s oldest theater that still attracts huge crowds for rock shows and performances. It is located at the corner of 2nd Avenue and Virginia Street, two blocks from Pike Place Market in downtown Seattle.

The Moore is noted for playing host to a mix of theatrical productions, musical concerts of many varieties, and lectures. It has a capacity of around 1500 seats and boasts a grand lobby with mosaic floors, marble and stained glass. While still maintaining an old-world charm, the facility also presents contemporary events for metal heads and jazz junkies.

The history of the Seattle"s oldest still-active Moore Theatre dates back to 1907, when it opened its doors for the public. Twenty-five hundred enthusiastic Seattleites arrived for the opening night celebration at the Moore.

The facility hailed as one of the most beautiful and completely equipped playhouses in the country, which boasted a grand lobby with mosaic floors, marble, onyx, carved wood, stained glass, and metal. Its interior was resplendent with clusters of lights, rich hangings, and stained-glass paneling.

The opening night featured a locally written and produced comic-opera "The Alaskan". In its first 10 years, the new Moore Theatre presented stage plays, operas, symphonies, and musicals.

With the changing trends of times, the Moore Theater kept on featuring different acts. It hosted the famous Orpheum vaudeville circuit and became to "The Negro Ensemble". During the Great Depression Age, Moore Theater presented many of the most distinguished European and American singers, musicians, and dancers.

Artists such as Sarah Bernhardt, Lily Langtry, the Barrymores, Marie Dressier, and Anna Pavlova graced the stage. Throughout the 50"s and 60"s, the mainstay of the Moore included road shows, boxing matches, travel-films and other special events. The year 1955 saw the facility featuring local "artists-in-residence".

With its awe-inspiring acoustics and intimate settings, the Moore Theatre marked its way to the National Register of Historic Places in 1974. It also became home to the first Seattle International Film Festival and underwent renovations and cleanings.

During 80s and 90s, the Moore Theatre defined itself as a venue for both local community events, such as lectures, beauty pageants, and local dance or musical groups, and as a home for more "alternative" touring musicians and theatre. No matter what your taste is in music, the Moore will feature from the most hard-core punk to flashy funk.

Today, organizers find the Moore Theater a perfect place to hold their events, whereas audience regard it a favorite Venue to see theatrical performances live.

You may also cross street vendors, good restaurants and other interesting attractions outside the facility. So, if you haven"t visited the place recently, take a look at their schedule for upcoming events. There are surely many that you won"t want to miss!
Do you offer student's moore theatre discount tickets?
We do not offer any special student's discount on our website, however there is a general discount available on Moore Theatre Tickets.