Proctors Theatre Tickets
Load More
Proctors Theatre is one of the most popular venues in the country. If you plan on attending an event at this famous venue, then go through the Proctors Theatre Seating Chart. You can take a Virtual tour of the Proctors Theatre to get an interactive seat view. Go through the Proctors Theatre seating map, and check the Proctors Theatre parking prices, if available.

Proctors Theatre Seating Chart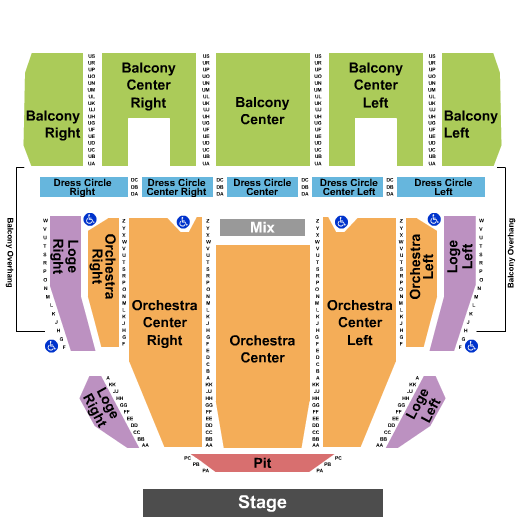 Proctors Theatre Tickets Related Questions
Who will play at Proctors Theatre today?
To check Proctors Theatre for today, all you have to do is visit our website and check event listings along with available tickets. Right now, following events are happening at Proctors Theatre:
How many seats are available in Proctors Theatre?
The seating capacity of Proctors Theatre is 8166.
Can you buy event tickets at Proctors Theatre?
Yes, you can buy tickets at Proctors Theatre provided if they are available.
What are the best seats available at Proctors Theatre?
Just like every other venue, there are different levels at Proctors Theatre as well. The entire seating plan is available on our website, and you can book tickets for the section you like.
How many events are taking place at Proctors Theatre this week?
You can check the complete list of events taking place at Proctors Theatre this week and beyond by simply logging on to the venue's page on our website.
Formerly known as Vaudeville, Proctors Theatre entertains touring Broadway musicals, opera, concerts, dance and a lot more. Located in New York, the venue is respected worldwide for bringing life to the Capital region through the magic of its live performances. Proctors Theatre tickets are a hot selling item each year for the brand new Broadway shows, exciting film festivals and all other events in between.

The theatre was built in 1926 by F.F. Proctor and earned fame for drawing huge crowds for conducting continuous live performances. Its first public demonstration was hosted with the support of General Electric in 1930 and received an encouraging response in terms of a great audience turn-up for the event.

Despite a great start, the onset of the Great Depression, led to a downfall of the theatre and it was closed for decades. It was in the late seventies that a group, Arts Center & Theatre of Schenectady took charge of its renovation and got it in running condition. With continuous improvement, it has now the most preferred venue for large Broadway productions, giant screen films and also local performances.

Proctors Theatre's stage has been graced by a number of legendary artists in the past such as Red Skelton, Graci Allen, Louis Armstrong and Duke Ellington. Recently, it has hosted entertainers including Tony Bennett, Robert Goulet and Carol Channing. Also, it has hosted graduation ceremonies, orchestras and Christmas special events.

This year an exciting mix of events will once again grace the stage of Proctor Theatre. The lineup includes the famous musical Billy Elliot that features the story of a passionate young boy who dreams of becoming a ballet dancer. Winner of a Tony Award for a creative team and Elton John's amazing music, the show is an international smash hit. Staging a brand new production at the venue, it is expecting to garner more of such accolades this time once again.

Other than this, the theatre will also celebrating the 19th year of jazz this season with well known performers like Bobbie Van Detta, Mark Foster and Peg Delany. Music and theatre are not the only categories entertained at the venue; it also conducts dancing events such as Dance Force Recital. This show is filled with several dancing styles including ballet, jazz, hip hop, lyrical and gymnastics. With special lightening effects and talented performers on board, it entertains audiences of all age groups. Other events in the list include, Ghost the musical, Derrick Brown, Mystic India and Hello, Dolly. The lineup is planned for a year and the tickets are available for all.

Proctor Theatre, over the years has received positive reviews from the visitors for its excellent ambiance, gorgeous building and a comfortable seating arrangement. Visitors have often narrated their experience in words, 'Proctor's is a historical venue in Schenectady NY. I came here to see Alice Cooper. Although I am not a fan of his music but my concert experience was enhanced by this lovely venue. It is beautiful inside out.'

Proctors Theatre tickets are up for sale. Get them as early as possible!
Proctors Theatre
was rated 
I just can not gray my hair standing in a long line outside the Venue to grab 39 steps proctors tickets. Is it possible to reserve these tickets online?
Yes, it is possible to reserve tickets online. Please logon to www.ticketluck.com and take a look through our inventory of The 39 Steps Proctors Theatre tickets. You will be happy to experience our hassle-free environment!
I want to buy cheap tickets to proctors. Do you have them available here?
Yes, we do have Proctors Theatre Tickets available at cheap prices on our website. You can look through our page and get your tickets from there.
Till when cani get discounts at proctors?
You can get Proctors Theatre Tickets on discounted rates till the date of the event. Check out the directions and place the order right away.
Do you deal in discount tickets at proctors?
Yes, we have Proctors Theatre Tickets at discounted rates available with us, check out the price list and order today!
When will I get my discount tickets proctors tickets?
Your Proctors Theatre Tickets will be at your doorstep within the given time after your order is processed.
Wheres the seating chart for proctors theatre?
To view seating map for Proctors Theatre, click on "seating" in front of your desired date.
Hi do you guys have any proctors theater tickets in your stock?
Yes we do. Please browse through our inventory of Proctors theatre. Thanks.
i need discount for proctors theater?
Get your discount code from our represenative at Live help.