Pikes Peak Center Tickets
Pikes Peak Center is one of the most popular venues in the country. If you plan on attending an event at this famous venue, then go through the Pikes Peak Center Seating Chart. You can take a Virtual tour of the Pikes Peak Center to get an interactive seat view. Go through the Pikes Peak Center seating map, and check the Pikes Peak Center parking prices, if available.

Pikes Peak Center Seating Chart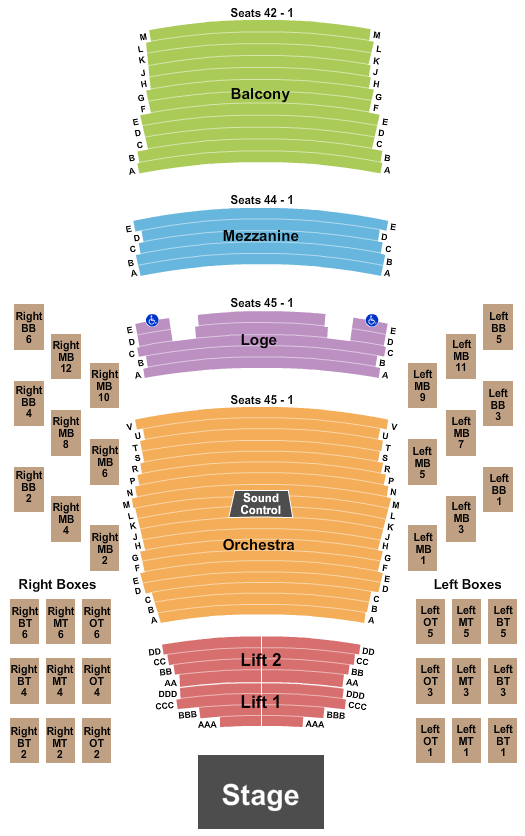 Pikes Peak Center Tickets Related Questions
Who will play at Pikes Peak Center today?
No event is happening in Pikes Peak Center tonight.
How many seats in Pikes Peak Center?
Pikes Peak Center, has 11074 seats available.
Can you buy tickets at Pikes Peak Center?
Depending upon the availability of tickets for that event, you can buy tickets on Pikes Peak Center.
What are the best seats available at Pikes Peak Center?
We have DUM for Pikes Peak Center available.
How many events are on sale for Pikes Peak Center this week?
Total 38 are taking place at Pikes Peak Center in this week.Top selling event of the week is Alton Brown: Beyond The Eats.
Colorado Spring's prime entertainment venue, the Pikes Peak Center is all set to host a string of magnificent shows in the coming season. No matter which genre of music you prefer, you can definitely expect one of your favorite artists to light up the stage soon. The facility is not only the best place for entertainment, it is also considered an educational, assembly and cultural center of the city. Artists who are all set to make their way to this venue include Arlo Guthrie, Ben Taylor, Celtic Thunder, Josh Turner, Natalie Merchant, Diana Krall and Michael McDonald. You can witness anyone of these exciting events by purchasing your Pikes Peak Center tickets today.

Constructed and opened for the public in 1892, the center has been entertaining the masses for over a century. The facility was constructed by the citizens of the El Paso County who longed for a regional cultural and entertainment venue. The place was also built to serve as part of an economic rejuvenation plan by the city of Colorado. With its grand opening, the debut showcase that took place at the center was a live orchestration by the Colorado Springs Symphony Orchestra. Ever since then the concert hall has gained repute that travels across boundaries due to its acoustic qualities and design attributes. With a yearly schedule that boasts of over two hundred performances, the Pikes Peak Center consists of a total capacity of two thousand seats. These seats aren't only present on the main floor, but also spread throughout the balcony and mezzanine.

Designed by Artec Acoustic Consultants and Russell Johnson's company, the state of the art concert venue has multiple acoustic systems that can be controlled manually as well as through automatic system. Apart from the on-stage curtains that are hung alongside the walls of the main stage, the acoustic consultants added an extra set of retractable curtains that can act as soundproof barriers. Furthermore the speakers placed over the proscenium can be set at varying angles according to the requirement. The ceiling section that is located above the orchestral sights can be moved to a height of fourteen feet or lowered as well, in accordance with the number of attendees expected at an event.

Currently owned by the El Paso County, the Pikes Peak Center is under the operational authority of the Colorado Springs World Arena. With a mission of serving premier quality of entertainment to the residents of the County, the venue serves the citizens of the Pikes Peak area and El Paso. Previous performances that took place invited entertainers such as musician John Prine, the Youth Symphony, CS Philharmonic, singer John Williams, comedian Ron White and bands Austin Young, Knight in Colors and Stray Suns. Witness an upcoming performance by purchasing your Pikes Peak Center tickets today.
Pikes Peak Center
was rated 
Are you people from ticket master of colorado springs, co?
We are Ticket Luck and we offer Andrea Bocelli tickets at discounted rates. Our tickets are 100% guaranteed, so you can shop here with complete confidence.
My promo codes for pikes peak center are not working. What do I do now?
We are extremely sorry about that. Please call us on our toll free number and we will make sure your Pikes Peak Center Tickets work like they are meant to.
Will I get tickets at pikespeak.com tickets?
Pikes Peak Center tickets are available with us so search our inventory and click on your deal.
I am looking for the gordon lightfoot tickets pikes peak center?
Our Pikes Peak Center tickets will guide you about the Gordon Light foot, check it out now.
Can I get pikes peak center discount code?
Sure, discount codes for Pikes Peak Center Tickets can be availed from our website.
How many pikes peak center tickets coupon can I book at one time?
Book as may Pikes Peak Center Tickets as you want from us.