Paycom Center
Load More
Paycom Center is one of the most popular venues in the country. If you plan on attending an event at this famous venue, then go through the Paycom Center Seating Chart. You can take a Virtual tour of the Paycom Center to get an interactive seat view. Go through the Paycom Center seating map, and check the Paycom Center parking prices, if available.

Paycom Center 2024 TICKETS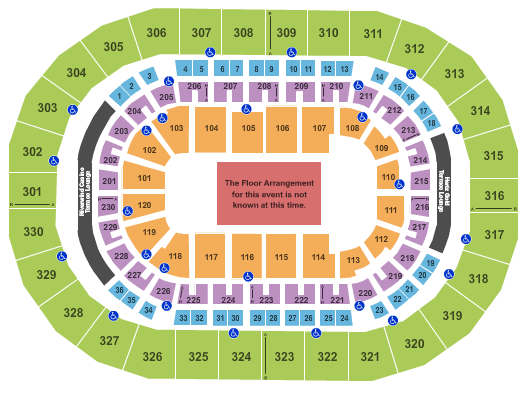 Paycom Center Tickets Related Questions
Who will play at Paycom Center today?
To check Paycom Center for today, all you have to do is visit our website and check event listings along with available tickets. Right now, following events are happening at Paycom Center:
Jason Aldean, Mitchell Tenpenny, Corey Kent & Dee Jay Silver
How many seats are available in Paycom Center?
The seating capacity of Paycom Center is 6966.
Can you buy event tickets at Paycom Center?
Yes, you can buy tickets at Paycom Center provided if they are available.
What are the best seats available at Paycom Center?
Just like every other venue, there are different levels at Paycom Center as well. The entire seating plan is available on our website, and you can book tickets for the section you like.
How many events are taking place at Paycom Center this week?
You can check the complete list of events taking place at Paycom Center this week and beyond by simply logging on to the venue's page on our website.
Certainly, here's some information about the Paycom Center:
Location: Paycom Center is located in Oklahoma City, Oklahoma, USA. Its address is 100 W Reno Ave, Oklahoma City, OK 73102.
Intro: The Paycom Center is a prominent sports and entertainment arena in Oklahoma City. It serves as the home arena for the NBA's Oklahoma City Thunder. The venue hosts a wide range of events, including basketball games, concerts, family shows, and more.
Capacity: The seating capacity of the Paycom Center can vary depending on the event. For Oklahoma City Thunder basketball games, it can hold approximately 18,200 spectators. For concerts and other events, the capacity can vary based on the seating arrangement and stage setup.
Parking: There are several parking options available around the Paycom Center. These include nearby parking garages, surface lots, and street parking. Parking availability and fees may vary depending on the event and time of day.
Opening Time: The opening time of the Paycom Center can vary depending on the event. Generally, doors open to the public a few hours before the scheduled start time of the event. It's advisable to check the event's official website or contact the venue for specific opening times.
Parking Fee: Parking fees at the Paycom Center can vary based on the parking location and event. Some parking areas may offer a flat rate, while others may charge hourly rates. It's recommended to check with the parking facility for the most up-to-date pricing information.
Bag Policy: The Paycom Center has a clear bag policy in place for security reasons. Small clutch bags, clear plastic bags, and diaper bags are typically allowed, while larger bags, backpacks, and purses exceeding certain dimensions may not be permitted. It's essential to review the specific bag policy for the event you plan to attend to ensure compliance.
Smoking Policy: Smoking, including e-cigarettes and vaping, is prohibited inside the Paycom Center. Smoking areas are designated outside the venue for those who wish to smoke.
Weather Policy: The Paycom Center is an indoor arena, so events are generally not affected by weather conditions. However, it's advisable to stay informed about any event-specific updates or announcements, especially if there are any unforeseen circumstances that might impact the event.
Suggested Events