Ovens Auditorium Tickets
Load More
Ovens Auditorium is one of the most popular venues in the country. If you plan on attending an event at this famous venue, then go through the Ovens Auditorium Seating Chart. You can take a Virtual tour of the Ovens Auditorium to get an interactive seat view. Go through the Ovens Auditorium seating map, and check the Ovens Auditorium parking prices, if available.

Ovens Auditorium 2024 TICKETS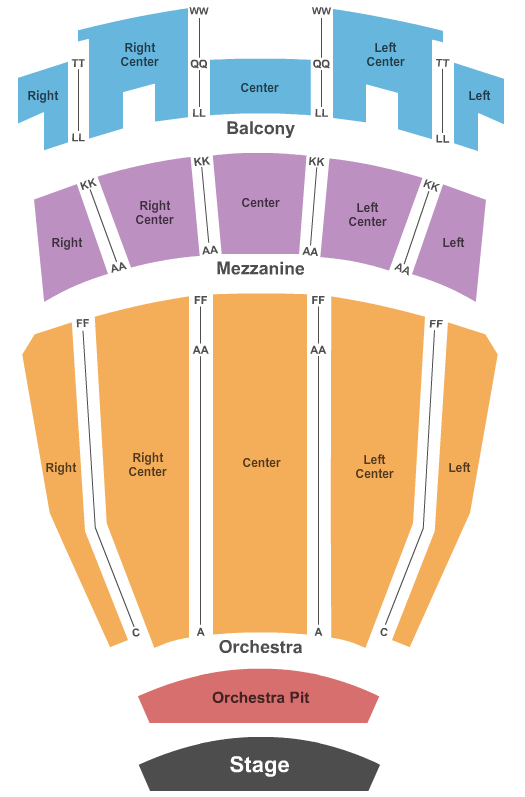 Ovens Auditorium Tickets Related Questions
Who will play at Ovens Auditorium today?
To check Ovens Auditorium for today, all you have to do is visit our website and check event listings along with available tickets. Right now, following events are happening at Ovens Auditorium:
How many seats are available in Ovens Auditorium?
The seating capacity of Ovens Auditorium is 2425.
Can you buy event tickets at Ovens Auditorium?
Yes, you can buy tickets at Ovens Auditorium provided if they are available.
What are the best seats available at Ovens Auditorium?
Just like every other venue, there are different levels at Ovens Auditorium as well. The entire seating plan is available on our website, and you can book tickets for the section you like.
How many events are taking place at Ovens Auditorium this week?
You can check the complete list of events taking place at Ovens Auditorium this week and beyond by simply logging on to the venue's page on our website.
Ovens Auditorium
Charlotte, North Carolina is a growing city with an array of options of people of all ages to enjoy. Whether you"re looking for the best eateries, restaurants, pubs, bars, live music and theater, festivals, outdoor activities, parks, museums or other attractions, you should head to Charlotte in your next holiday.

The region has a lot in store for the people of all ages and region. To cope up with the changing trends of the present time, there"s a hot new development wave going on in Charlotte. Many of the venues with the top-class amenities are noted for providing the ultimate experience to escape from the mundane.

Ovens Auditorium is one such evidence of the ongoing development in Charlotte, turning it into a complete entertainment block. To make the most of fun time, there is a range of opportunities to roll out the red carpet for the Ovens Auditorium visitors.

No matter what day of the week you"re planning to see an event, head to the Ovens Auditorium. There"s always an event taking place at the facility that appeals and you are sure to be presented with music, broadways, concerts, theaters, acts, operas and other shows.

A Charlotte"s landmark, Ovens Auditorium is located adjacent to Cricket Arena and is managed by the Charlotte Coliseum Authority. The history of Ovens Auditorium dates back to 1955, when it first opened its doors. It soon gained attention of the residents of Charlotte for featuring such events as operas, stand-up comedies, concerts and others.

Throughout its history, Ovens Auditorium has presented a spectacular array of top class events while featuring internationally acclaimed artists. As of 2005, the facility had played host to over 7,000 events.

Specials at the multi-use facility of Ovens Auditorium include Broadway shows, ballet, and symphony concerts while musical concerts, plays and other theatrical performances come under regular presentations. The facility also provides services and amenities to hold graduation ceremonies and other events.

Locals find Ovens Auditorium a great place to enjoy a music concert while event planners consider it a perfect venue to hold an event. You too make a move to Ovens Auditorium and find it out what"s making it stand distinct among the rest.

To-date, several renowned artists have graced the stage of Ovens Auditorium. These included Billy Graham, Bruce Springsteen, Jerry Seinfeld, and Bob Hope, just to name a few.

After presenting such a diverse range of performing arts acts, the Ovens Auditorium underwent five million dollar renovation. It included upgrades to the lobby exterior, auditorium and grounds, enabling the facility to effectively serve the resident and tourists with great entertainment events for years to come.

Today, the Ovens Auditorium is considered to be one of the top landmarks in Charlotte. Rose gardens and impressive fountains in its surroundings are adding more to its charm while drawing more concert-lovers and out-of-towners.

So, if you have not visited the Ovens Auditorium recently, take a look at its current schedule. It"s featuring an eclectic array of diverse events that you would not want to miss out on. So, hurry up and grab your tickets before they all run out!
Frequently Asked Questions (FAQs)
Ovens Auditorium
was rated 
I want cheap Ovens Auditorium tickets Brian Regan available to print online! Is that possible?
Yes, it is very much possible! The method of getting the tickets through Email and then printing them yourselves is called TicketFast. Ticketfast is an electronic ticket which ticketmaster issues. These tickets can be emailed and then have to be printed by the buyer. The printout can then be used at the event.
Can you provide discount tickets grease in charlotte oven s auditorium?
We have a large variety of cheap Ovens Auditorium tickets, choose now!
When do grease ovens auditorium tickets go on sale?
The Ovens Auditorium tickets are now up for grabs.