Miller Park Tickets
Load More
Miller Park is one of the most popular venues in the country. If you plan on attending an event at this famous venue, then go through the Miller Park Seating Chart. You can take a Virtual tour of the Miller Park to get an interactive seat view. Go through the Miller Park seating map, and check the Miller Park parking prices, if available.

Miller Park 2024 TICKETS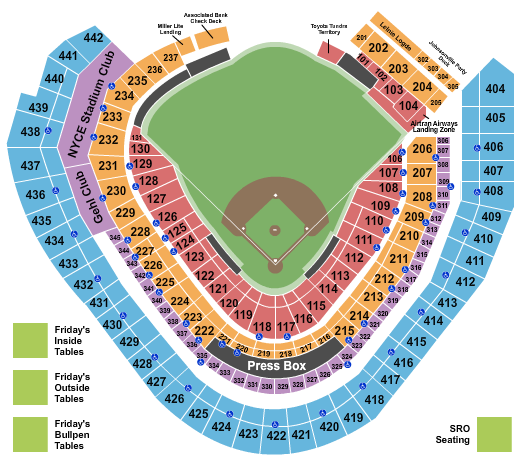 American Family Field Tickets Related Questions
Who will play at American Family Field today?
To check American Family Field for today, all you have to do is visit our website and check event listings along with available tickets. Right now, following events are happening at American Family Field:
Milwaukee Brewers vs. Chicago Cubs
How many seats are available in American Family Field?
The seating capacity of American Family Field is 308.
Can you buy event tickets at American Family Field?
Yes, you can buy tickets at American Family Field provided if they are available.
What are the best seats available at American Family Field?
Just like every other venue, there are different levels at American Family Field as well. The entire seating plan is available on our website, and you can book tickets for the section you like.
How many events are taking place at American Family Field this week?
You can check the complete list of events taking place at American Family Field this week and beyond by simply logging on to the venue's page on our website.
Miller Park
Miller Park is one of the major attractions in Milwaukee Wisconsin that draws a large number of visitors to the region each year.

Miller Park is a place where baseball fans upon encountering structural elegance feel the reincarnation of baseball"s romantic past.

Home to the Milwaukee Brewers, Miller Park is one of the largest construction projects in Wisconsin History. It features intimate proximity to the players, natural grass, and a unique configuration making Miller Park stand out distinct.

Despite reflecting local architecture, this traditional ball park maintains a contemporary feel at the same time. It has a retractable dome roof to protect against the cool weather, and large panes of glass that allow natural grass to grow.

It is centrally located in the city of Milwaukee about 2 miles west of downtown. The history of Miller Park dates back to October 22, 1996, when its construction was started.

During the following years, fans attending games at County Stadium were able to watch the new ballpark rise. After seeing several ups and downs, the Milwaukee Brewers" new state-of-the-art home was officially open for business on April 6, 2001.

It was built in what once used to the centre field parking lot of Milwaukee County Stadium. No wonder baseball"s opening day is always a day of renewal and a day of expectations and celebrations.

But Opening Day 2001 of Miller Park in Milwaukee was like nothing the city had ever seen. Featuring the brick facade and structural elegance, the facility made crowd fall in love with it.

Miller Park features North America"s only fan shaped convertible roof, which promises good conditions no matter the weather. The retractable roof can open and close in less than 10 minutes. As for seating at Miller Park, it represents a split-bowl concept where seating levels hang over others slightly.

This brings fans closer to the action on the field. The venue has 11,700 seats and 20 skyboxes on the main field level, 12,650 seats on the loge level, 4,150 seats and 50 skyboxes on the suite level and 14,500 seats on the upper terrace level.

The facility"s title sponsor is MillerCoors and its contract with the stadium will run until the year 2020. You don"t really have to be a baseball-lover to visit Miller Park.

You"ll find such amenities as a brew pub, open air patios and walkways, a Hall of Fame and a children"s area. Fans can also enjoy dinner and a ballgame at T.G.I. Friday"s Front Row Sports Grill and can watch the game directly behind the right fielder at the Mercedes Benz Field Haus.

If you"re a baseball enthusiast, you can buy your favorite Brewers merchandise at the team"s new store at the homeplate entrance at Miller Park.

People find Miller Park "Grand" and "Magnificent" that seems to garner high praise. A great atmosphere can be found here from tailgating outside before games to the action on the field inside during games.

With a ton of activities to do and attractions to see, Miller Park offers you perfect settings to see the game and cheer on your favorite team!
Frequently Asked Questions (FAQs)
Where can i get farm aid milwaukee tickets?
Miller Park Tickets are now available at Ticket Luck. Happy Buying!