Lyric Opera House Md Tickets
Lyric Opera House Md is one of the most popular venues in the country. If you plan on attending an event at this famous venue, then go through the Lyric Opera House Md Seating Chart. You can take a Virtual tour of the Lyric Opera House Md to get an interactive seat view. Go through the Lyric Opera House Md seating map, and check the Lyric Opera House Md parking prices, if available.

Lyric Opera House Md Seating Chart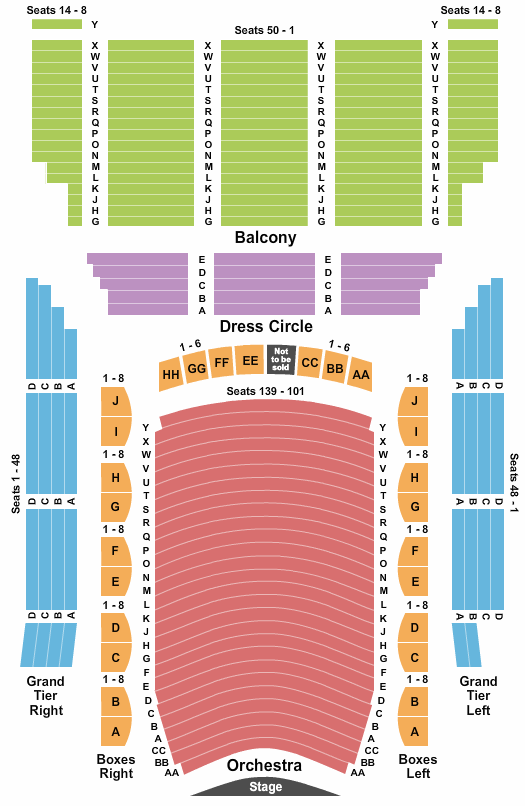 Lyric Opera House - MD Tickets Related Questions
Who will play at Lyric Opera House - MD today?
No event is happening in Lyric Opera House - MD tonight.
How many seats in Lyric Opera House - MD?
Lyric Opera House - MD, has 9817 seats available.
Can you buy tickets at Lyric Opera House - MD?
Depending upon the availability of tickets for that event, you can buy tickets on Lyric Opera House - MD.
What are the best seats available at Lyric Opera House - MD?
We have FRONT ROW VIP for Lyric Opera House - MD available.
How many events are on sale for Lyric Opera House - MD this week?
Total 0 are taking place at Lyric Opera House - MD in this week.Top selling event of the week is A Magical Cirque Christmas.
Lyric Opera House md
The widely known Lyric Opera House is one of the finest auditoriums of the world. This is generally for its exceptional acoustical system. Since its opening, varied concerts have been held in this theatre.

The opening was marked by a wonderful performance by Boston Symphony Orchestra which was led by Emil Paur in October, 1894. The building, in last seventy five years had presented some of the best performances of all times having varied artists and sounds.

Performers
Lyric Opera House had hosted many great artists of country. The long list of all these great people includes Sir Thomas Beecham, Fritz Reiner, Charles Munch, Herbert Hoover, Clarence Darrow, Calvin E. Coolidge, Richard E. Byrd, William Jennings Bryan, Erich Leinsdorf, Leopold Stokowski, Eugene Ormandy, Pierre Monteux, Will Rogers, Amelia Earhart, Charles A.

Lindbergh and Roald Amundsen. All these performers have always praised the quality of acoustics that Lyric Opera House had to provide to them. Many artists have placed it at number one in the country. There is certainly no match to Lyric Opera House when it comes to performer feedback on services being provided by any opera house of the country.

Events at Lyric Opera
Lyric Opera House hosts all sorts and kinds of events. The diversity of events makes this place a real fun house for ever one. Musicals, plays and operas are the most common features of Lyric Opera House. Magical shows, motivational talks and graduation ceremonies are also at regular intervals at this Opera house throughout the year.

Highs and Lows
In the history of Lyric Opera House, there came a lot of highs and lows. At some point of time, Marylanders collected around $250,000 to continue existence of Lyric Opera House instead of converting it to a car dealing company. Than at another point the Mayor tried to close it down because of very low turn-over of the visitors and decline in the quality of performances.

Then again in 1982, a very sad day in the history of Lyric Opera House came when the opera house lost its trademark Orchestra of Baltimore Symphony. In 984, Lyric Opera House celebrated its 100th birthday . . . very less number of opera houses meet this kind of record as usually the cultural venues are short lived and replaced with other more dynamic activities.

Another thing that stands out Lyric Opera House from rest of the cultural avenues is its dynamism. It always changed with changing times. For example, when its host Baltimore Symphony Orchestra left the scene, Lyric Opera House opted for a various different activities and shows instead of depending wholly on one Symphony; this boldness gave Lyric Opera House a new identity.

Renovations and Expansions
Since its birth, Lyric Opera House had seen a number of expansions and renovations. In 1979, a 14 million Dollar plan was prepared to uplift the Lyric Opera House to match new standards. The house was closed for this huge renovation expedition and was again opened in 1982.

Its entrance was changed along with the seating arrangement, backstage offerings, lobby, and general appearance. In 1997, a new building was constructed having three stories and it accommodates new dressing room and a new stage level, in addition to a rehearsal room, admin offices and ticket counters. The offices for managements were also incorporated into the new renovation.

Acoustics
The quality of Acoustics of Lyric Opera House is world-class. This fact has been acknowledged by all the performers that got a chance to perform in Lyric Opera House.

The best thing about all the renovations is that this acoustics was kept in mind while under taking all renovations thus resulting in a Opera house that holds best acoustic system in the world.
Lyric Opera House md
was rated 
I live in boston and have been waiting for JIM BRICKMAN to come here. Since hes about to perform here i need discount jim brickman tickets in boston.
Kindly go through our inventory of available Jim Brickman tickets to find what you want. Thanks.