Barclays Center Tickets
Load More
Barclays Center is one of the most popular venues in the country. If you plan on attending an event at this famous venue, then go through the Barclays Center Seating Chart. You can take a Virtual tour of the Barclays Center to get an interactive seat view. Go through the Barclays Center seating map, and check the Barclays Center parking prices, if available.

Barclays Center Seating Chart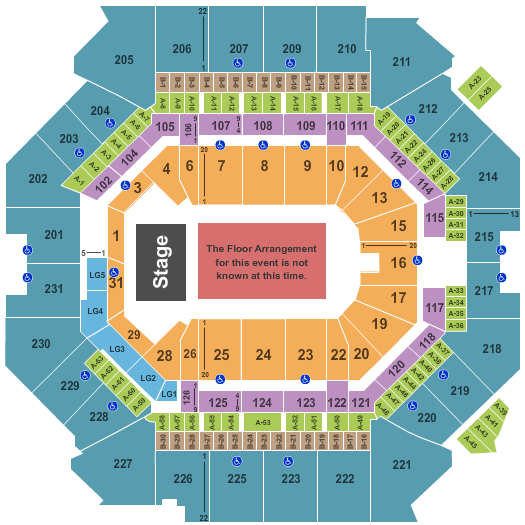 Barclays Center Tickets Related Questions
Who will play at Barclays Center today?
No event is happening in Barclays Center tonight.
How many seats are available in Barclays Center?
The seating capacity of Barclays Center is 16108.
Can you buy event tickets at Barclays Center?
Yes, you can buy tickets at Barclays Center provided if they are available.
What are the best seats available at Barclays Center?
Just like every other venue, there are different levels at Barclays Center as well. The entire seating plan is available on our website, and you can book tickets for the section you like.
How many events are taking place at Barclays Center this week?
You can check the complete list of events taking place at Barclays Center this week and beyond by simply logging on to the venue's page on our website.
In the heart of Brooklyn, nestled amidst the vibrant urban tableau of New York City, lies the Barclays Center - a prime jewel in the realm of sports and entertainment. Since its grand inauguration in 2012, the Barclays Center has evolved into a hub of culture, sports, and entertainment, serving as the home ground for the Brooklyn Nets of the NBA and the New York Liberty of the WNBA.
However, the appeal of this architectural marvel transcends the boundaries of sports. The iconic structure, with its distinctive rust-colored weathered steel façade, has played host to an impressive array of events ranging from high-profile concerts to political conventions, making it a symbol of Brooklyn's cultural and economic resurgence.
Factors to Consider When Selecting Seats at the Barclays Center
Choosing seats at the Barclays Center is a critical aspect of ensuring an optimal event experience. Here are some factors to consider when selecting your seats:
Event Type: Different events have different optimal seating arrangements. For example, courtside seats are highly coveted for basketball games, but for concerts, seats closer to the stage may be preferable.
View: Choose a seat that offers a good view of the event. Keep in mind that while lower-level seats usually provide a closer view, upper-level seats can offer a wider panorama of the action.
Access to Amenities: Consider the proximity of your seat to amenities such as restrooms, food vendors, and exits. Seats near these facilities can add convenience but also may come with more foot traffic and noise.
Price: The cost of seats can vary significantly based on their location. Courtside or near-stage seats usually come at a premium, while upper-level seats are typically more affordable. Consider your budget when choosing a seat.
Accessibility: If you or someone in your party has mobility issues, consider seats that are easily accessible, close to elevators or ramps. The Barclays Center has specific areas designed for wheelchair seating and other accessibility needs.
Comfort: Some people prefer aisle seats for the extra legroom and easier access, while others prefer to be nestled in the middle to avoid foot traffic.
Safety: In the post-pandemic era, people might also consider safety and social distancing norms. Some might prefer less crowded sections for their peace of mind.
Remember, there's no one-size-fits-all answer to the best seat at Barclays Center—it depends on your personal preferences, the nature of the event, and your budget.
Best Seats at the Barclays Center
The "best" seat at the Barclays Center will largely depend on the type of event you're attending and your personal preferences. However, there are a few areas that tend to be highly rated by visitors:
Lower Bowl: For most sporting events, the lower bowl provides a good balance between proximity to the action and a view of the entire field of play. Sections 7-9 and 23-25 are particularly sought after for Brooklyn Nets games, as they are near the center court.
Courtside Seats: If you're a basketball enthusiast, courtside seats offer an unparalleled experience, placing you just steps away from the action. However, these are the most expensive seats in the house.
Suites: If you're looking for a more luxurious experience, the Barclays Center offers numerous suites that provide an exclusive viewing experience, complete with food and beverage service.
Sections 1 and 31: For concerts, sections 1 and 31 are typically near the stage and offer excellent views, especially for end-stage performances.
Section 226: For a more budget-friendly option that still offers a good view, consider seats in the front rows of upper-level sections like 226, which is in line with the center of the arena.
Floor Seats: For concerts, floor seats can offer a very intimate experience if you're a big fan of the performer. However, keep in mind that these seats are all on one level, so your view might be blocked if someone tall is in front of you.
Remember, the "best" seat is largely subjective and will depend on your individual preferences and the specific event you're attending. It's always a good idea to check out a seating chart for the event you're attending to get a better idea of what your view will be like from different sections.
Upcoming Events at the Barclays Center
Brooklyn Nets games.
New York Islanders games.
New York Liberty games.
Straight Jokes No Chaser: Mike Epps, Cedric The Entertainer, D.L. Hughley & Earthquake.
Alicia Keys.
Snoop Dogg, Wiz Khalifa & Too Short.
50 Cent, Busta Rhymes & Jeremih.
Hot Wheels Monster Trucks Live - Glow Party.
Chance The Rapper.
Places to See Near the Barclays Center
The Barclays Center is located in the heart of Brooklyn, a borough rich with attractions, cultural institutions, and points of interest. Here are some places you might want to explore near the Barclays Center:
Brooklyn Museum: This is one of the largest and most comprehensive art museums in the country, known for its diverse collections ranging from ancient Egyptian masterpieces to contemporary art.
Brooklyn Botanic Garden: A peaceful oasis amidst the urban hustle, the Botanic Garden features a variety of plant collections and specialty gardens. Don't miss the stunning cherry blossom display if you're there in the spring!
Brooklyn Bridge Park: This waterfront park offers stunning views of the Manhattan skyline, plenty of green space for relaxation, and numerous recreational activities.
Prospect Park: Designed by the same minds behind Central Park, Prospect Park is a 526-acre urban oasis featuring a beautiful lake, a zoo, and the LeFrak Center at Lakeside for ice skating or roller skating depending on the season.
Brooklyn Academy of Music (BAM): A renowned performing arts venue, BAM offers a wide range of performances including theater, dance, music, and cinema from both national and international artists.
Brooklyn Flea: If you're there on a weekend, check out this large open-air flea market where you can find a wide range of vintage clothing, antiques, and local artisan crafts.
Brooklyn Heights Promenade: Offering stunning views of the Manhattan skyline and the Statue of Liberty, this is a perfect spot for a leisurely walk.
DUMBO: Short for "Down Under the Manhattan Bridge Overpass", this neighborhood is known for its trendy boutiques, high-end restaurants, and beautiful waterfront parks.
Grand Army Plaza: Home to the Soldiers' and Sailors' Arch, Brooklyn's own triumphal arch, and the entrance to Prospect Park. It also hosts a popular Greenmarket on Saturdays.
Places to Stay Near the Barclays Center
There are numerous accommodations near the Barclays Center, catering to various tastes and budgets. Here are some options to consider:
The Tillary Hotel: This boutique hotel is conveniently located near the Barclays Center and offers chic, modern rooms. The hotel also features a rooftop terrace, offering panoramic views of Brooklyn and Manhattan.
NU Hotel: This is a stylish, modern hotel that offers comfortable rooms and is located within walking distance of the Barclays Center.
Aloft New York Brooklyn: Part of the Marriott group, Aloft offers comfortable, modern rooms in a convenient location. It's a short walk to the Barclays Center and close to several subway lines.
Even Hotel Brooklyn: This hotel is known for its wellness-oriented amenities, such as an on-site fitness center, in-room exercise equipment, and healthy dining options.
1 Hotel Brooklyn Bridge: A bit of a walk or short ride away, this hotel offers luxury accommodations with a focus on sustainable design. Rooms offer sweeping views of the East River and Manhattan skyline.
Hotel Indigo Brooklyn: A chic boutique hotel located a short distance from the Barclays Center. The hotel offers modern amenities and is in proximity to several dining and shopping options.
Hampton Inn Brooklyn/Downtown: For a budget-friendly yet comfortable stay, consider this hotel. It offers clean, comfortable rooms and is only a few blocks from the Barclays Center.
The William Vale: Located in Williamsburg, this luxury hotel provides spacious rooms, a rooftop bar with stunning views of Manhattan, and a 60-foot pool - the longest outdoor hotel pool in New York City.
Remember to check for the latest customer reviews and any travel advisories or restrictions before making a booking. The proximity to subway stations can also be a key consideration for broader exploration in NYC.
Barclays Center Entrances
As of my knowledge cutoff in September 2021, there are several entrances to the Barclays Center, each serving a different purpose and providing access to different areas of the facility. These include:
Geico Atrium: This is the main entrance to the Barclays Center and is located at the intersection of Flatbush and Atlantic Avenues.
Calvin Klein VIP Entrance: This entrance, located on Atlantic Avenue, is reserved for suite ticket holders, VIP guests, and Brooklyn Nets premium season ticket members.
Dean Street Entrance: This entrance is on Dean Street and is mainly used for staff and service access, but can also be used for guest entrance during large events.
EmblemHealth Dean Street Entrance: This entrance is also located on Dean Street and is typically used for certain ticket holders.
Remember that entrance policies may vary depending on the event and ticket type. It's always best to check the specific instructions provided with your ticket or contact the Barclays Center directly for the most accurate and up-to-date information. Since the pandemic, additional safety protocols may be in place, so please ensure you're aware of these prior to your visit.
Facilities for the Disabled at the Barclays Center
The Barclays Center is committed to providing an accessible and enjoyable experience for all its guests, including those with disabilities.
Accessible Seating: The arena has accessible seating in various sections across different price ranges. Guests requiring such seating are advised to specify their needs at the time of ticket purchase.
Wheelchair Services: Barclays Center offers wheelchair escort services for guests with mobility impairments. It's recommended to request this service in advance, if possible.
Assistive Listening Devices: These devices are available for guests with hearing impairments at Guest Services.
Elevators: The arena is equipped with elevators to assist guests with mobility impairments.
Service Animals: Service animals are permitted inside the Barclays Center to assist guests with disabilities.
Accessible Restrooms: All public restrooms at Barclays Center are accessible to guests with disabilities.
It's always best to contact the Barclays Center directly or visit their official website for the most accurate and up-to-date information. In addition, for a smoother experience, consider communicating your needs at the time of ticket purchase and arriving early to accommodate any necessary arrangements.
Food and Drinks Options at the Barclays Center
The Barclays Center offers a wide range of food and drink options, ranging from traditional concession stand fare to more gourmet offerings. The arena has partnered with several well-known local restaurants to provide a unique dining experience that reflects the culinary diversity of Brooklyn.
Here are some options you might find:
Brooklyn Taste: This is the food program at the Barclays Center, featuring a range of vendors offering everything from pizza and hot dogs to gourmet sandwiches and sushi.
Levy Restaurants: This company manages the food and beverage services in the arena, offering a variety of food options from local Brooklyn purveyors.
40/40 CLUB & Restaurant by Tanduay Rum: This all-American sports bar and lounge offers a luxurious viewing experience with a menu featuring traditional American cuisine.
Brooklyn Bangers: Known for their artisanal sausages, Brooklyn Bangers offer a gourmet twist on the classic hot dog.
Habana: This vendor brings a taste of Cuba to the Barclays Center, offering dishes like Cuban sandwiches and grilled corn dusted with cheese.
Parm: This popular Italian-American restaurant serves classic dishes like meatball subs and chicken parmesan.
Williamsburg Pizza: For a slice of Brooklyn's finest, Williamsburg Pizza offers delicious, locally made pizza.
Numerous Bars and Concession Stands: From draft beer to craft cocktails, you'll find a wide range of beverage options throughout the arena.
Keep in mind that the availability of these vendors can change and may vary by event, and it's always a good idea to check the Barclays Center's website for the most up-to-date information. Also, be aware of any safety protocols related to the ongoing COVID-19 pandemic that may impact food and drink services.
Parking at the Barclays Center
It is worth noting that the Barclays Center encourages guests to use public transportation due to its convenient location at the crossroads of several major subway lines and the Long Island Rail Road. The arena is known for its commitment to sustainability, and public transportation is part of that ethos.
However, if you plan to drive, there are several parking options available, though they may be limited:
Barclays Center Parking Lots: The arena has partnered with ParkWhiz to provide pre-paid parking in nearby garages and lots. It's generally recommended to book your parking spot in advance to ensure availability.
Public Parking Lots and Garages: There are several public parking lots and garages within walking distance of the arena, but availability can be limited, particularly during major events.
Street Parking: Limited metered and non-metered street parking is available in the area, but finding a spot can be challenging.
It's important to note that parking in New York City can be expensive and time-consuming. Traffic in the area around the Barclays Center can also be heavy before and after events, so be sure to factor in extra time if you're driving. Always check the latest information from the Barclays Center and the city's transportation department for the most accurate and current parking information.
Guide to Barclays Center: Tickets, Events and Venue Information for 2023-2024
Barclays Center Best Seats
Barclays Center 2023
Barclays Center Tonight
No event is happening in Barclays Center tonight.
Barclays Center This Weekend
Barclays Center Sep 2023
New York Liberty vs. Connecticut Sun
New York Liberty vs. Los Angeles Sparks
New York Liberty vs. Washington Mystics
Wu-Tang Clan & Nas
Hot Wheels Monster Trucks Live - Glow Party
Barclays Center Oct 2023
Katt Williams
Depeche Mode
SZA
The Trilogy Tour: Enrique Iglesias, Pitbull & Ricky Martin
Joji & Kenny Beats
Frequently Asked Questions (FAQs)
Frequently Asked Question(s)
Q:How docaribbean fever barclays center promo get distributed online?
A:Barclays Center Tickets can easily be bought at ticketing websites, like ours. Simply type in your query in the search bar located at the top of our website. Then select the relevant event page from the list of events generated by our search engine. Once you visit that page, you will find a list of available tickets. Select the tickets you wish to get and follow a few simple steps to actually purchase them. Your tickets will be shipped to you as soon as possible, via FedEx.
Q:How do Brooklyn hoops winter festival discount codes work?
A:The discount codes for Barclays Center Tickets will help you get further discount on your purchase if you enter them.
Q:Where do you deliver Andrea Bocelli Barclays center Brooklyn tickets to the customers?
A:Barclays Center Tickets are delivered to the customers at the address provided in the credit card.