Orpheum Theatre Sioux City Tickets
Load More
Orpheum Theatre Sioux City is one of the most popular venues in the country. If you plan on attending an event at this famous venue, then go through the Orpheum Theatre Sioux City Seating Chart. You can take a Virtual tour of the Orpheum Theatre Sioux City to get an interactive seat view. Go through the Orpheum Theatre Sioux City seating map, and check the Orpheum Theatre Sioux City parking prices, if available.

Orpheum Theatre Sioux City Seating Chart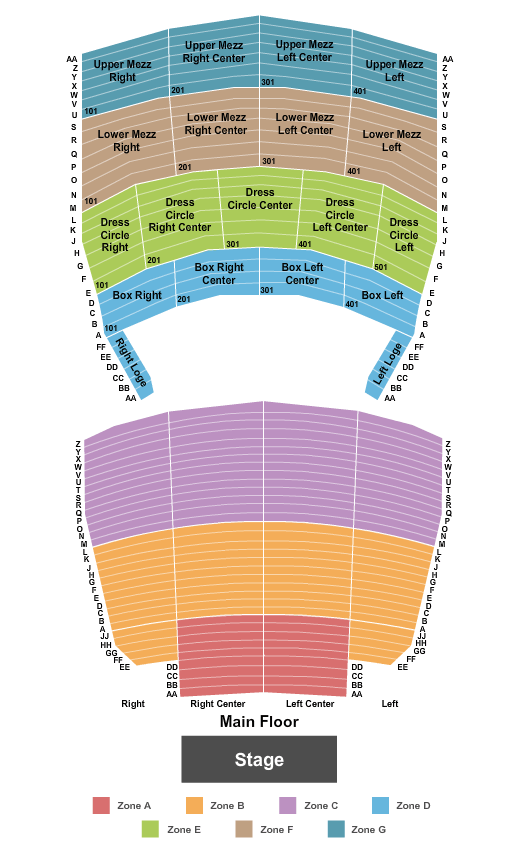 Orpheum Theatre - Sioux City Tickets Related Questions
Who will play at Orpheum Theatre - Sioux City today?
No event is happening in Orpheum Theatre - Sioux City tonight.
How many seats in Orpheum Theatre - Sioux City?
Orpheum Theatre - Sioux City, has 1869 seats available.
Can you buy tickets at Orpheum Theatre - Sioux City?
Depending upon the availability of tickets for that event, you can buy tickets on Orpheum Theatre - Sioux City.
What are the best seats available at Orpheum Theatre - Sioux City?
We have Diamond VIP for Orpheum Theatre - Sioux City available.
How many events are on sale for Orpheum Theatre - Sioux City this week?
Total 0 are taking place at Orpheum Theatre - Sioux City in this week.Top selling event of the week is Bert Kreischer.
Orpheum Theatre Sioux City
If one has to name the brightest star in the crowning glory of Iowa"s theater scene, the answer would definitely be Orpheum Theatre.

This is the largest theater in the state of Iowa that is known for its great presentations and visitors-friendly services. Located at 528 S. Pierce St. in Sioux City, Iowa; Orpheum Theatre continues the legacy of American Theater scene.

The Orpheum at Sioux City is also known as New Orpheum Theatre and Orpheum Electric Building. This theater was built way back in 1920"s as part of the Orpheum Circuit. The theater was a gift to Sioux City by a local businessman and entrepreneur Art Sanford who also introduced air conditioning in the area. He financed this expansive venture that cost around 1.75 million dollars.

The year 1927 witnessed the Sioux City welcoming the Orpheum as a vaudeville and movie venue. Designed by the nationally known Chicago based firm of Rapp & Rapp, the building and amenities of the Orpheum justified the cost spent on it. The venue became the hub of city"s cultural activities as it hosted many great events.

Over the years, Orpheum Theatre continued to revamp itself according to the needs of time. While vaudeville was at its peak during 1920"s, things changed a lot fifty years later. Hence, the decades of 1970's and 1980's saw the Orpheum adapt itself to modern needs as it was turned into movie house. Initially started as a one-story movie theatre, Orpheum was later remodeled as a two-screen theater.

In 1992, Orpheum Theatre was closed for the public in order to renovate under the Orpheum Theatre Preservation Project, Ltd or OTPP. Around 12 million dollars were spent on the remodeling of its interior and exterior and funds were raised from grants, foundations and private donations for this purpose. It was not until 1999 that OTPP started theatre restoration.

Top-notch architects from FEH in Sioux City, Cleveland based expert Ray Sheppardson from GSI Architects and officials from Glover Painting, Holtze Construction Company, Evergreen Painting Studios, New Metal Crafts and Tiffin Scenic Studios joined hands to give Orpheum Theatre a new and attractive look.

The Orpheum Theatre reopened once again after two years of extensive renovation work. September 15, 2001 witnessed the grand opening of this theatrical gem that once again became the center of Iowa"s live entertainment scene. Locals were excited to see their good old Orpheum in its original glory as much of its original grace was resorted through this renovation.

Today, Orpheum Theatre stands proud of its wonderful past and looks forward to the bright future. The luxurious theater can host up to 2,650 audiences depending upon the nature of event. Its three storied auditorium comprise of Wurlitzer pipe organ that is the premier attraction of this theatre.

Its half circle boxes are carved with the hands presenting a beautiful outcome. Adding this are gold polished decorative, crystal chandeliers and a hand painted ceiling all make Orpheum a classic live venue.

The Orpheum Theatre has played host to some of the biggest and brightest talent from the world of theater, music, dance and comedy. Great performers like Fred Astaire, Tallulah Bankhead, Katherine Hepburn, Bob Dylan, Bill Cosby, Sheryl Crow, BB King, David Copperfield, Wynton Marsalis, Willie Nelson, Jewel, Alison Kraus, Jerry Seinfeld and several others has graced its stage over the year.

In days to come, Orpheum Theatre will present many new and exciting shows and your favorite stars will entertain you here. So if you want to taste Iowa"s theater and entertainment scene then visit the historic Orpheum Theatre Sioux City and enjoy good times!
Orpheum Theatre Sioux City
was rated 
Hello, I just moved to the city and don't really know my way around yet, how do I find out the address to orpheum theatre sioux city, ia?
Please refer to the Orpheum Theatre venue page for details about the venue and cheap prices on tickets to events held there.