Ogden Theatre Tickets
Load More
Ogden Theatre is one of the most popular venues in the country. If you plan on attending an event at this famous venue, then go through the Ogden Theatre Seating Chart. You can take a Virtual tour of the Ogden Theatre to get an interactive seat view. Go through the Ogden Theatre seating map, and check the Ogden Theatre parking prices, if available.

Ogden Theatre Seating Chart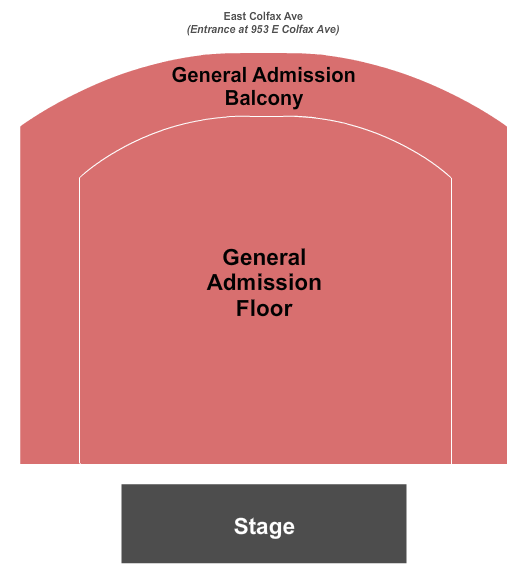 Ogden Theatre Tickets Related Questions
Who will play at Ogden Theatre today?
To check Ogden Theatre for today, all you have to do is visit our website and check event listings along with available tickets. Right now, following events are happening at Ogden Theatre:
How many seats are available in Ogden Theatre?
The seating capacity of Ogden Theatre is 4194.
Can you buy event tickets at Ogden Theatre?
Yes, you can buy tickets at Ogden Theatre provided if they are available.
What are the best seats available at Ogden Theatre?
Just like every other venue, there are different levels at Ogden Theatre as well. The entire seating plan is available on our website, and you can book tickets for the section you like.
How many events are taking place at Ogden Theatre this week?
You can check the complete list of events taking place at Ogden Theatre this week and beyond by simply logging on to the venue's page on our website.Top selling event of the week is 070 Shake.
Ogden Theatre
Being situated in the state of Colorado, U.S., which has a notable reputation for music, the Ogden Theatre is a music venue.

Major acts like Biohazard, Ministry, Green Day, and the Allman Brothers Band have played at this theater. Featuring state-of-the-art sound system, it is the nation"s prime music venue! The atmosphere is intimate and loved by all!

The Ogden Theatre is a historic site and a landmark of Denver.Built in 1919, the Ogden Theatre was originally Denver"s leading vaudeville house before it transformed into a second-run movie theater, which it remained until closing in 1990.

In 1993, Doug Kauffman of Nobody in Particular Presents (NIPP) re-opened the Ogden as a concert venue. Now Nobody in Particular has revitalized the theater to ensure it thrives for another eight decades.

The Ogden Theatre has been designed by NIPP"s Steve Schalk who spearheaded the renovation of the Gothic Theater in 1999. The new Ogden features state-of-the art architectural elements that both preserve the building"s historical integrity and reintroduce it as a world-class concert venue which is designed with the audience in mind.

The intimate wrap-around balcony, enlarged stage and improved sight lines help in increasing the capacity and ensure that there"s not a bad seat in the house after all.

The sound system was entirely rebuilt by sound engineer Bret Dowlen of Dowlen Sound; recycled materials that line the floors improve the acoustics, making this one of the best sounding rooms in town.

The new Ogden is a treat for the senses, as well, with ornamental steel rails, a beautiful, hand-crafted bar on the upper-tier balcony and a whimsical, color-saturated interior by decorative painter Karin Mirick, owner of Denver"s Create a Scene. Even the bathrooms have been remodeled.

The theater"s original proscenium remains intact, however, as do many of the design flourishes built by the original architects. As a feat of design and an investment in the revitalization of Colfax, the new Ogden is an instant classic. Still owned by NIPP, the Ogden Theatre has recently been leased to AEG Live.

Following its history of hosting rock "n" roll, pop, jazz, and other concerts, the Ogden Theatre has a great line-up of upcoming events.

The theatre which once hosted everyone from Harry Houdini to Iggy Pop, Jackson Brown to the Smashing Pumpkins, will now be re-living that feel by hosting Andrew-Bird, Bassnectar, Blue-October-Denver-CO, Brian-Jonestown-Massacre, Citizen-Cope-Denver-CO, and a lot more! Book your tickets soon and experience the Ogden Theatre all for yourself!
I am dying to get my hands on brett dennen state theater discount tickets. Please help me.
Getting discount code for Brett Dennen tickets is easy. Just get in touch with one of our Live Help Customer Care Center and let our girls take care of the discount code for you.
Hey, I live near the denver theatre, could you get me discount denver theatre tickets?
No problem at all. Please browse through our inventory of tickets for cheap prices on your discounted tickets for the Denver Theatre.
The passion pit denver ticketmaster prices are kinda high, you got cheaper tickets?
We offer great deals on all tickets, please browse through our inventory of Passion Pit Denver tickets to find the best deal for you.
Are seats in ogden theatre denver adele together?
Yes seats for any event are together, unless mentioned on your Ogden Theatre Tickets.
Can I pick up my guster tickets ogden theater denver through will call?
Ogden Theatre tickets can very well be collected through will call.