Michigan Stadium Tickets
Load More
Michigan Stadium is one of the most popular venues in the country. If you plan on attending an event at this famous venue, then go through the Michigan Stadium Seating Chart. You can take a Virtual tour of the Michigan Stadium to get an interactive seat view. Go through the Michigan Stadium seating map, and check the Michigan Stadium parking prices, if available.

Michigan Stadium Seating Chart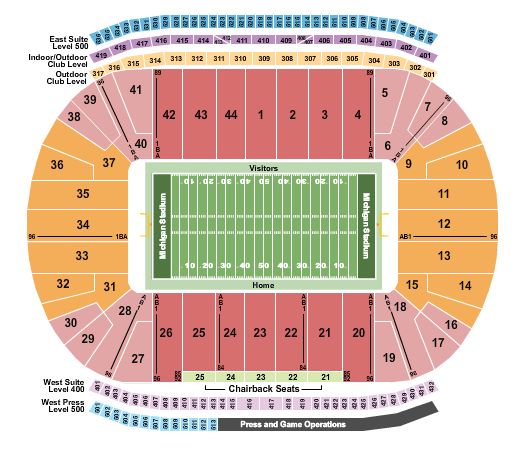 Michigan Stadium Tickets Related Questions
Who will play at Michigan Stadium today?
No event is happening in Michigan Stadium tonight.
How many seats in Michigan Stadium?
Michigan Stadium, has 18923 seats available.
Can you buy tickets at Michigan Stadium?
Depending upon the availability of tickets for that event, you can buy tickets on Michigan Stadium.
What are the best seats available at Michigan Stadium?
We have 21 for Michigan Stadium available.
How many events are on sale for Michigan Stadium this week?
Total 0 are taking place at Michigan Stadium in this week.Top selling event of the week is Michigan Wolverines vs. Indiana Hoosiers.
Michigan Stadium
The home field of the University of Michigan Wolverines football team, Michigan Stadium is the largest American football facility in the United States.

Michigan Stadium is characterized distinctly for being one of the most famous venues in American sport where Heisman Trophy winners have starred, great football drama has unfolded, and Michigan has almost always seemed to win.

Michigan Stadium has often been called "The Carnegie Hall of all Sports" and is also known as "The House that Yost built" in 1927. Over a period of 80years, the facility has undergone numerous renovations.

The history of Michigan Stadium dates back to 1926, when it was started by Fielding Yost. Yost did two things: he made it run north/south which set the standard for all fields built later and sank moorings so that if Michigan ever chooses to expand the stadium, it can go up to 200,000 seats without a great deal of trouble.

The bowl-styled stadium, fashioned after Yale"s historic Yale Bowl and sunken deep into swampy Ann Arbor soil, was completed in just over a year and opened its doors in 1927. It had the capacity of seating up to 72,000 fans.

The Wolverines football team played their first game at Michigan Stadium on October 1, 1927 and win against Ohio Wesleyan by 33-0. On October 22, 1927, the stadium dedication game was played between U-M and Ohio State.

The Big House or Michigan Stadium currently lists as the second largest in the United States due to a reduction of 1,300 seats. It will reclaim its long-held title as the largest as soon as a current renovation project is completed in 2010.

However, numerous renovations and additions over the years have increased the seating to the current capacity i.e. 102,501 seats. Another round of renovations was recently approved by the University. This project will include a new pressbox and luxury suites.

Michigan Stadium features home games which are invariably sellouts, and residents of Ann Arbor are aware of "football Saturdays" because of the influx of traffic. It also presents at least one traditional wave every game in each half.

Te second half of most games features student sections beginning a pattern of non-traditional waves. They first go in counterclockwise direction, then another counterclockwise wave in slow motion, and the wave is followed by one that that is double the normal wave speed.

At the end, the student section split the wave into to two counter-rotational waves. Michigan Stadium is also noted as the site of University of Michigan main graduation ceremonies. Fans have turned the Big House turnstiles at a record-setting pace.

The University of Michigan Wolverines football team holds both the National Collegiate Athletic Association regular season single-game and season attendance marks.

This has led the nation in season attendance the past 22 seasons. The University of Michigan has played 129 consecutive home games before the crowds of over 100,000 through the 1995 season.

A crowd of 93,857 football-lovers was on hand for the 55-7 Michigan victory. So, if you haven"t been to Michigan Stadium recently, take a look at their current schedule. Get your tickets to the sports events and be there to cheer your favorite team!
Michigan Stadium
was rated 
Where can I get the michigan wolverine stadium seating chart from?
The entire seating plan is available on our website. Please go through it in detail and book your Michigan Stadium Tickets as per the seats you want.
Which way do ticket numbers run michigan stadium?
You can contact our live help reps or look through the page of Michigan Stadium Tickets for your required information about the ticket numbers.