Ford Field Tickets
Load More
Ford Field is one of the most popular venues in the country. If you plan on attending an event at this famous venue, then go through the Ford Field Seating Chart. You can take a Virtual tour of the Ford Field to get an interactive seat view. Go through the Ford Field seating map, and check the Ford Field parking prices, if available.

Ford Field Seating Chart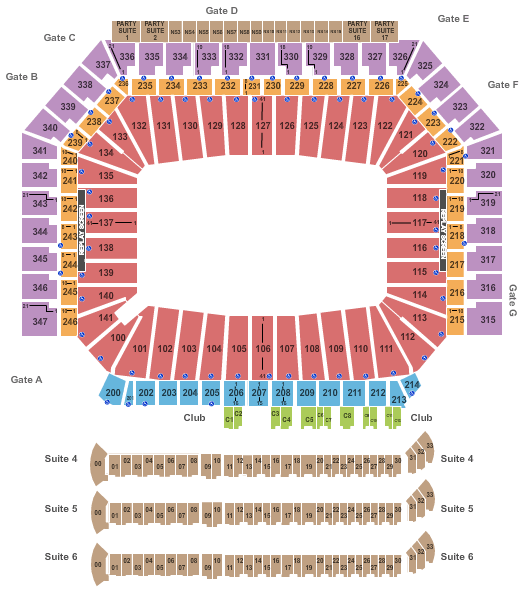 Ford Field Tickets Related Questions
Who will play at Ford Field today?
No event is happening in Ford Field tonight.
How many seats are available in Ford Field?
The seating capacity of Ford Field is 54025.
Can you buy event tickets at Ford Field?
Yes, you can buy tickets at Ford Field provided if they are available.
What are the best seats available at Ford Field?
Just like every other venue, there are different levels at Ford Field as well. The entire seating plan is available on our website, and you can book tickets for the section you like.
How many events are taking place at Ford Field this week?
You can check the complete list of events taking place at Ford Field this week and beyond by simply logging on to the venue's page on our website.Top selling event of the week is 2021 MAC Football Championship.
Detroit has received many titles over the years for it has much to see and do in its settings. Attractions, events and venues together have put Detroit on the map. Needless to say that Detroit has rich culture and recreation scene. But attractions like Ford Field have put the City on map. Noted for hosting Spectacular events at Detroit's most spectacular Venue, Ford Field is a 65,000-seat facility in the region. The 80-year-old building is a home of the Detroit Lions and draws about 1.5 million fans each year. Constructed into the Old Hudson's Warehouse portion of Detroit, the Ford Field claims the best sight lines of any football stadium in the region.

Fans at the place also receive tremendous views of the downtown Detroit's skyline. In addition to hosting Detroit Lions football games, the facility also features over 120 events ranging from sporting events to concerts to banquets to trade shows, to meetings and conventions. The spectacular Ford Field offers an array of amenities that you can rarely enjoy anywhere else in the region. These include 7,000 club seats, 140 luxury suites, a club lounge, banquet rooms, conference and convention areas, and a Lions team store. The Ford Field puts up on stage spectacular event for its valued audience where they are treated to a live and up-close experience in its awe-inspiring atmosphere.

Ford Field is a well-known indoor football stadium in Detroit, Michigan. It is the home venue of the Detroit Lions that play in the NFL. Ford Field is just opposite the Comerica Park. Ford Field can seat 65,000 viewers, and can expand its capacity to 70,000 for football and 80,000 seats for basketball. Ford paid for the naming rights, which cost them $40 million over a period of 20 years. The Ford family has control of the rights and interest in the company.

Ford Field was planned alongside the Comerica Park. The latter opened in April 2000, and was supposed to replace Tiger Stadium and the Pontiac Silverdome. Ford Field was built after the Comerica Park, and opened in 2002. The project cost around $430 million, and was financed mostly through public money and also through the sale of the naming rights.

The stadium's design includes a 6-story former Hudson's warehouse. This was built in the 1920s. Architecturally speaking, the stadium looks like its sister stadium, the Ford Center, with a multipurpose sports/concert arena that is located in downtown Oklahoma City.

Ford Field is the name every sports enthusiast raves about. This is the new home of the Detroit Lions and a perfect place for every football fan to watch thrilling matches. What more, you can even catch your favorite music acts performing live in the spacious venue. Located in the heart of downtown Detroit's entertainment district, Michigan; the famous Ford Field at Brush Street attracts millions of crowd throughout the year. The place is considered a best bet for sports and concerts; however, it also regularly hosts other types of events like banquets, tradeshows, business meetings, conventions and other events.

Ford Field is leading sports and entertainment center in America. The stadium is comprised of approximately 1.85 million square feet with four levels of suites, a level of club seating and a ground level designated for restaurants, concessions and retail. It has 65,000 seats and no seat is a bad seat at the Ford Field. The architect is simply amazing and the venue is admired for its structural grace. It is bounded by two very unique walls, one of which is an original bricked wall of an old warehouse from the 1920's and other a glass wall containing a beautiful view of Detroit's skyline. Ford Field is definitely a place worth-visiting. So go to this grand venue and enjoy the show!
Where can I find the ford field seating chart?
The entire seating chart is available at our website. Please go through it and buy Ford Field Tickets according to the seats you want. Please note, we will only be available to provide you with those seats if they are not already sold-out.
Can i, by any chance, get my hands on free ford field tennessee titans tickets?
Sorry you cant as TicketLuck doesnt feature free Ford Field Tickets. However, view our Distressed Inventory section which contains tickets listed at below face value. Check it out, you might get your hands on some REALLY cheap tickets.
Where is the arizona cardinals field old?
Please check the venue page to see the location for the Old Ford Field of Arizona Cardinals.
Are there any ford field detroit tickets to pick?
We have a variety of Ford Feild tickets to offer, check them out now!