Ford Field Tickets
Load More
Ford Field is one of the most popular venues in the country. If you plan on attending an event at this famous venue, then go through the Ford Field Seating Chart. You can take a Virtual tour of the Ford Field to get an interactive seat view. Go through the Ford Field seating map, and check the Ford Field parking prices, if available.

Ford Field Seating Chart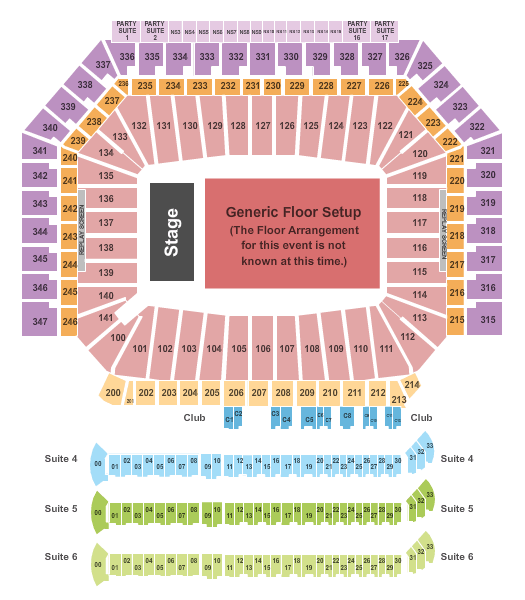 Ford Field Tickets Related Questions
Who will play at Ford Field today?
No event is happening in Ford Field tonight.
How many seats are available in Ford Field?
The seating capacity of Ford Field is 14604.
Can you buy event tickets at Ford Field?
Yes, you can buy tickets at Ford Field provided if they are available.
What are the best seats available at Ford Field?
Just like every other venue, there are different levels at Ford Field as well. The entire seating plan is available on our website, and you can book tickets for the section you like.
How many events are taking place at Ford Field this week?
You can check the complete list of events taking place at Ford Field this week and beyond by simply logging on to the venue's page on our website.
Ford Field is one of the great sports venues in America, combining modern amenities and a classic design to create an unforgettable atmosphere. Located in downtown Detroit, Ford Field has been home to some of the most memorable moments in sport history. From hosting Super Bowl XL to being the site for many legendary college football games, Ford Field has become a landmark venue that welcomes thousands of fans each year.
With its unique architecture, state-of-the-art technology and world class hospitality services, Ford Field continues to be one of the top destinations for any sports fan looking for an exciting experience. Discover what makes this amazing stadium so special with us as we explore everything that Ford Field has to offer!
Best Seats to Buy at the Ford Field
Lower Bowl Seats
The best seats to buy at Ford Field are located in the lower bowl, specifically between the 20-30 yard lines on either side of the stadium. These seats offer an excellent view of the entire field, providing fans with a great perspective for viewing live football action. Additionally, these seats are typically priced reasonably, making them a good choice for budget-conscious fans.
Club Seats
For those looking for premium seating options, club seating is available in both the 200 and 300 levels. These seats provide access to additional amenities such as private lounges and bars, as well as complimentary food and drinks. The club level also offers up close views of all the action without leaving your seat!
Suit Packages
For those who want an even better experience, Ford Field offers suite packages on both sides of the stadium. These suites come equipped with comfortable furniture and cushioned seating, providing optimal comfort while watching games. Suites also feature special features such as flat-screen TVs and sound systems.
No matter which seat you choose, Ford Field has something to offer every type of fan! With its wide variety of seating options, there is sure to be something that meets your needs and fits within your budget.
Upcoming Live Events Tickets 2023 at the Ford Field
The Ford Field will host some unforgettable events this year. Some of them are:
Detroit Lions.
Luke Combs (World Tour).
Taylor Swift (The Eras Tour).
Morgan Wallen (One Night at a Time).
Beyonce (Renaissance World Tour).
SummerSlam.
Metallica (M72 World Tour).
Hotels and Accommodations Near the Ford Field
Ford Field is a popular destination for music and entertainment events. With its central location, there are plenty of hotels and accommodations nearby, making it an ideal place to stay during your visit.
The Courtyard by Marriott Detroit Downtown
The Courtyard by Marriott Detroit Downtown is situated just a few blocks away from Ford Field and offers modern guest rooms with luxury bedding and amenities such as a fitness center and pool.
The Inn on Ferry Street
For those looking for something more unique, The Inn on Ferry Street has beautifully restored Victorian mansions that offer guests a unique experience.
Hotel St. Regis
For families or larger groups looking for a more affordable option, Hotel St. Regis provides comfortable rooms and suites at budget-friendly rates.
Upscale Options
Those seeking a little pampering can choose one of the many upscale downtown options like the Marriott Detroit Renaissance Center or The Westin Book Cadillac Hotel & Residences which feature decadent spas and wellness centers.
Bed and Breakfast Options
A short walk from Ford Field you will also find an array of cozy bed & breakfasts such as the Inn at 97 Winder, where each room has its own charm, or the Inn on Riopelle with its inviting outdoor terrace. The Dearborn Inn provides guests with access to excellent dining facilities along with well-appointed guestrooms.
Whether you are attending an event at Ford Field or simply exploring all that Detroit has to offer, there are plenty of high quality hotels and accommodations in the area that can meet any travelers needs.
Ford Field Entrances
Ford Field has a seating capacity of 65,000 and features several different entrances for fans and personnel.
For spectators entering on game days, there are four main entrances: the South Entrance, East Entrance, West Entrance and North Entrance.
South Entrance
The South Entrance is located near Gate A off of Brush Street and serves as the main entrance for all general admission ticket holders.
East Entrance
The East Entrance is located at Gate B off of St. Antoine Street and is accessible through Detroit's People Mover station on that street as well as from the city's underground tunnel system.
West Entrance
The West Entrance is located off of Witherell Street near Gate C and provides access to both Ford Field's Blue Lot parking area and its pavilion structures with additional concessions.
North Entrance
Finally, the North Entrance offers direct elevator access to Club Level seating areas at Gates D and E near Dan Gilbert Way.
In addition to these public entrances, Ford Field also has three service entry points for team personnel (Gate F), media members (Gate G) and VIPs (Gate H). Each gate has its own security checkpoint where guests must pass through metal detectors prior to entering the stadium.
Overall, Ford Field provides a convenient way for fans to get into games quickly and easily with its multiple entrances scattered throughout the downtown area.
Disabled Facilities at the Ford Field
Ford Field is committed to providing a safe and enjoyable experience for guests with disabilities. The stadium offers a range of facilities and services to ensure everyone can enjoy the game.
Accessible parking is available in several lots at Ford Field, including some with designated van-accessible spaces. Shuttle services are available from these lots to the main entrance on game days. Wheelchair escorts are also available to help guests get around the stadium.
The stadium features wider than average seating and aisles to make it easier for disabled patrons to move around. All restrooms at Ford Field are wheelchair accessible and include Braille signage for those who are visually impaired.
For hearing impaired guests, personal amplifying headsets may be obtained free of charge from Guest Services windows located near Gate A and outside Section 128 on the lower level of the stadium. Assistive Listening Devices (ALD) are also available to amplify sound for those who need it in select areas throughout Ford Field.
For visually impaired guests, large-print programs may be requested from Guest Services or purchased at kiosks by Section 127 or 129 on the lower level. Additionally, captioning devices are available upon request from Guest Services locations or concession stands throughout Ford Field so that those with hearing impairments can follow the action on screen during games.
Ford Field understands that accessibility isn't just about physical barriers – it's also about removing social stigmas by making sure everyone feels welcome and included regardless of their abilities or disabilities. The staff at Ford Field strive to provide an atmosphere where all fans can enjoy every game in comfort and safety – no matter their circumstances.
Food and Drinks at the Ford Field
Ford Field offers a wide variety of food and beverage options to suit any taste. From classic concession stand fare like hot dogs and popcorn to local favorites such as coney dogs and Better Made chips, fans can enjoy a delicious meal while cheering on the Lions.
Families looking for healthier options will appreciate the stadium's locally sourced salads, sandwiches, and fruit cups. There are also plenty of vegetarian options for individuals with dietary restrictions.
For those looking for something a bit more indulgent, Ford Field has an impressive selection of craft beers from Michigan-based breweries such as Founders Brewing Co. and Bell's Brewery Inc., as well as specialty cocktails featuring locally distilled spirits. Wine drinkers will find a number of varietals available at the stadium's bars, lounges, and restaurants.
Fans can also enjoy classic ballpark snacks throughout their visit, including peanuts, Cracker Jacks, nachos topped with chili and cheese sauce, pretzels dipped in creamy cheese sauce or warm beer cheese dip, soft serve ice cream cones and more. On non-game days visitors can stop by one of Ford Field's eateries for breakfast pastries or even gourmet donuts from local shop Daytime Donut Company.
Ford Field is dedicated to providing its visitors with top-notch dining experiences throughout their stay at the stadium - whether it's grabbing a quick bite between plays or taking time during halftime to sip on craft brews while noshing on traditional game day grub.
Frequently Asked Questions (FAQs)
Where can I find the ford field seating chart?
The entire seating chart is available at our website. Please go through it and buy Ford Field Tickets according to the seats you want. Please note, we will only be available to provide you with those seats if they are not already sold-out.
Can i, by any chance, get my hands on free ford field tennessee titans tickets?
Sorry you cant as TicketLuck doesnt feature free Ford Field Tickets. However, view our Distressed Inventory section which contains tickets listed at below face value. Check it out, you might get your hands on some REALLY cheap tickets.
Where is the arizona cardinals field old?
Please check the venue page to see the location for the Old Ford Field of Arizona Cardinals.
Are there any ford field detroit tickets to pick?
We have a variety of Ford Feild tickets to offer, check them out now!