Alerus Center Tickets
Load More
Alerus Center is one of the most popular venues in the country. If you plan on attending an event at this famous venue, then go through the Alerus Center Seating Chart. You can take a Virtual tour of the Alerus Center to get an interactive seat view. Go through the Alerus Center seating map, and check the Alerus Center parking prices, if available.

Alerus Center Seating Chart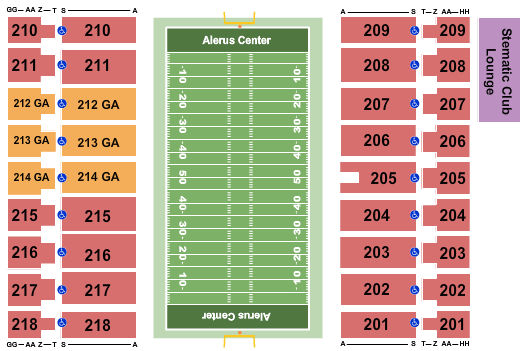 Alerus Center Tickets Related Questions
Who will play at Alerus Center today?
No event is happening in Alerus Center tonight.
How many seats in Alerus Center?
Alerus Center, has 12562 seats available.
Can you buy tickets at Alerus Center?
Depending upon the availability of tickets for that event, you can buy tickets on Alerus Center.
What are the best seats available at Alerus Center?
We have VIP MEET AND GREET for Alerus Center available.
How many events are on sale for Alerus Center this week?
Total 0 are taking place at Alerus Center in this week.
Few venues in the American state of North Dakota have gained as much fame as the Alerus Center. Known formerly as the Aurora Events Center, the center is located at 1200 S 42nd St at Grand Forks in North Dakota. It was opened to public in 2001; three years after its construction began in 1998. It is owned and managed by the City of Grand Forks, a multi-surface publicly owned venue. It seats up to twenty one thousand people for many different kinds of events for which Alerus Center tickets are often bought by people in and out of North Dakota.


The Alerus Center, in addition to playing host to concerts, also regularly stages some phenomenal theatrical productions ranging from plays to musicals. The venue is a multi-purpose center that also hosts football and basketball games. It is nearly four and a half hundred thousand square feet in size and also contains a large ballroom and an arena floor. It is home to University of North Dakota's football team which has been playing at the arena since 2001.


A popular convention center and indoor arena, the Alerus Center has gained a lot of recognition and positive reviews from the many people who have had the opportunity of seeing an event live at the center. Aside from the regular football games, often featuring the football team from the University of North Dakota, the venue also hosts seminars, parties, conferences and banquets. It is located right next to the Canad Inns Destination Center, a fabulous hotel and a water park complex that makes this a perfect venue for entertainment.


The center traces its history back to 1984 when a decision was taken to expand the existing civic center and to build a new one after sixty percent of Grand Forks citizens voted for it. The 1997 flood delayed construction of the center for a year after which the naming rights were purchased by Alerus Financial. Following the construction of the Canad Inns Hotel tower and water park, Alerus Center has become a prime entertainment destination in North Dakota. To date, the most attended event at the venue was a concert featuring famous country artist, George Strait, during his The Cowboy Rides Away tour. It was seen by twenty thousand five hundred people.


The second most attended event at the center was a concert featuring one of the best selling artists of all time and the American music icon, Cher, during her Living Proof: The Farewell Tour. The venue has also hosted WWE Smackdown and has seen both Hillary Clinton and President Barack Obama speak during the Democratic-NPL Convention in 2008. In short, Alerus Center tickets are a hot commodity in every season.
Seems like Alerus Centre is a great show, I want really cheap tickes for it, can you assist me?
Glad to, you can buy tickets to Alerus Centre by just clicking ticketluck.com and there you go.