Tarrytown Music Hall Tickets
Load More
Tarrytown Music Hall is one of the most popular venues in the country. If you plan on attending an event at this famous venue, then go through the Tarrytown Music Hall Seating Chart. You can take a Virtual tour of the Tarrytown Music Hall to get an interactive seat view. Go through the Tarrytown Music Hall seating map, and check the Tarrytown Music Hall parking prices, if available.

Tarrytown Music Hall Seating Chart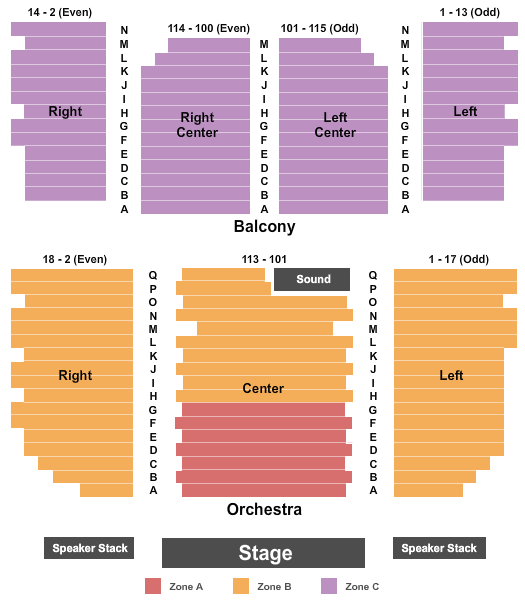 Tarrytown Music Hall Tickets Related Questions
Who will play at Tarrytown Music Hall today?
No event is happening in Tarrytown Music Hall tonight.
How many seats in Tarrytown Music Hall?
Tarrytown Music Hall, has 2828 seats available.
Can you buy tickets at Tarrytown Music Hall?
Depending upon the availability of tickets for that event, you can buy tickets on Tarrytown Music Hall.
What are the best seats available at Tarrytown Music Hall?
We have ORCH CTR for Tarrytown Music Hall available.
How many events are on sale for Tarrytown Music Hall this week?
Total 0 are taking place at Tarrytown Music Hall in this week.
Tarrytown Music Hall is one of the most important concert and live event venues in New York City. The building is constructed of red brick in Queen Anne architecture style and was built during the nineteenth century; hence it is included in the list of National Register of Historic Places. It is among Westchester County's oldest theatres. In the year 1901, Music Hall became one of the first few theatres that featured a motion picture.
 
Many legendary artists have performed on this stage, including Louis Armstrong, Dave Brubeck and Miles Davis. Every year the hall hosts a number of concerts and other events, and this year some main upcoming attractions include concerts by Rufus Wainwright, Outlaws, Justin Hayward, Ralphie May and standup comedy show by Ron White. To attend any of these shows you can now avail Tarrytown Musical Hall tickets deals online.
 
Rufus Wainwright is a pop composer, singer and songwriter belonging to New York. He has also written a number of classical operas and has set music for Shakespeare sonnets for piece by Robert Wilson. Till day, Wainwright has released seven studio albums and several other compilations and has composed soundtracks of many films. His latest studio album by the name of "Out of the Game" was released in April of 2012.
 
Outlaws, a southern rock and country rock band from Florida is visiting Tarrytown Music Hall this summer as well. The band was founded in 1967 and Hughie Thomasson's voice and unique guitar playing has become a trademark of the band. Outlaws has released twelve studio albums till date, latest being "It's About Pride" which came out in 2012. The band has also released two live albums and two compilations. Four of their tracks have made it to Billboard Hot 100 list, a couple being Hurry Sundown and There Goes Another Love Song.
 
Justin Hayward is a progressive rock musician, singer, guitarist and songwriter belonging to Wiltshire. He is famous for being the main guitarist and vocalist of The Moody Blues rock band from the 60s and 70s. Hayward has been recipient of a number of awards and recognitions such as American Society of Composers Award and Authors and Publishers Award for songwriting. He has also received the Gold Badge as a lifetime achievement award from the British Academy of Songwriters, Composers and Authors. The legendary singer continues to perform live and shall entertain his fans again at Tarrytown Music Hall.
 
Ron White is an actor and standup comedian who is going to visit Tarrytown Music Hall to fill your evening with laughter. He is famous for being a part of the Blue Collar Comedy Tour and is a writer of several bestsellers such as "I Had the Right to Remain Silent But I Didn't Have the Ability." In order to attend his live comedy show along with several other events, make sure you book Tarrytown Musical Hall tickets.
Tarrytown Music Hall
was rated 
Can i get Tarrytown Music Hall coupon code from your website?
Yes, you can get coupon code for Tarrytown Music Hall Tickets from our website. The instant discount from the code will make your tickets cheaper.
I'm in search of discount tickets tarrytown music hall, my mother loves that place, i wish to take her along. Can you help me get cheap tickets?
TicketLuck is here to help you find cheaper tickets. Select Tarrytown Music Hall from our inventory and pick you favorite seats at low price.
Is there any military tarrytown discount music hall?
There isn't any specific military discount on Tarrytown Music Hall Tickets. However, you can obtain the general discount available for all.
I wanted a cheap tarrytown music hall coupon. Do you have it?
Yes, we sure do. Browse our inventory of Tarrytown Music Hall tickets now, and select that best suits your taste!