Stephens Auditorium Tickets
Load More
Stephens Auditorium is one of the most popular venues in the country. If you plan on attending an event at this famous venue, then go through the Stephens Auditorium Seating Chart. You can take a Virtual tour of the Stephens Auditorium to get an interactive seat view. Go through the Stephens Auditorium seating map, and check the Stephens Auditorium parking prices, if available.

Stephens Auditorium Seating Chart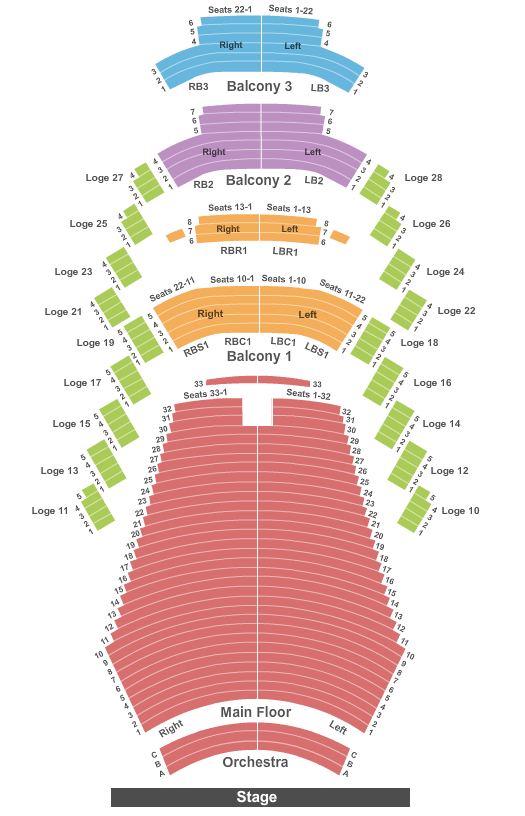 Stephens Auditorium Tickets Related Questions
Who will play at Stephens Auditorium today?
To check Stephens Auditorium for today, all you have to do is visit our website and check event listings along with available tickets. Right now, following events are happening at Stephens Auditorium:
Red Hot Chilli Pipers - Tribute
How many seats are available in Stephens Auditorium?
The seating capacity of Stephens Auditorium is 9357.
Can you buy event tickets at Stephens Auditorium?
Yes, you can buy tickets at Stephens Auditorium provided if they are available.
What are the best seats available at Stephens Auditorium?
Just like every other venue, there are different levels at Stephens Auditorium as well. The entire seating plan is available on our website, and you can book tickets for the section you like.
How many events are taking place at Stephens Auditorium this week?
You can check the complete list of events taking place at Stephens Auditorium this week and beyond by simply logging on to the venue's page on our website.
Stephens Auditorium
Stephens auditorium was constructed in 1969 and it has an area of 128,224 gsf. It is situated on the campus of Iowa State University in Central Iowa and is the project of the university.

The exact address of the auditorium is Iowa State University, Ames. Iowa 50010. The auditorium is called "Iowa Building of the Century". The auditorium is built to hold sports, concerts, theater and other events.

The building has a touch of elegance and is a symbol of beautiful architecture and is designed by Crites and McConnell and Brooks Borg and Skiles and it took 4.5 million dollars for the construction of the building.

A huge amount of money was contributed by C.Y. Stephens who also graduated from the Iowa State University in 1925. First, the building was used for the performances and events of the University but later it became internationally recognized for holding the events and can seat up to 2700 people at a time.

It has a huge space of parking. Tickets for different events are available on the site and can also be ordered online or on the phone and many different kinds of payment channels are available may it be through cash, cheque, or credit card.

Lowa State Centre is very encouraging when it comes to love the art so there is a special privilege offered by the authorities that 50% will be off on every ticket for the under 18 crowd so that the youth enjoys and gets to know more about art. Some things are not allowed to take in to the auditorium that is any kind of cameras and recording devices.

There are four floors of the auditorium. On the ground floor there are mechanical room, custodian room, central storage, assembly service, shop, central computer room, stairs, corridor, rest room, food facility service, administrative office, and office service, conference room, meeting room, vestibule and elevators.

On the first floor there are assembly service, custodian room, administrative office, rest room, corridor, vestibule and stairs. On the second floor there are assembly service, rest room, mechanical room, corridor and stairs.

On the third floor there are corridor, assembly service, rest room, mechanical room, stairs and corridor and on the fourth floor there are corridor, assembly service, rest room and stairs.

The auditorium has an extensive and state of the art cooling and heating system which is very high-quality. Also the sound system is very excellent and up to the mark.

The auditorium remains closed on Saturdays and Sundays and on the other five days it is open form 7 in the morning till 6 in the evening. Each year a number of performances are held at the auditorium and attracts audience from all states of U.S.
Stephens Auditorium
was rated 
Where can I find c y stephens schedule?
For all the information you need about Stephens Auditorium Tickets and the event's schedule, please log on to our website or call us on our toll free number in case you need any further assistance.
Are seats usually together at the mamma mia cy stephens?
Stephens Auditorium Tickets usually have seats together.