Sleep Train Amphitheatre Tickets
Load More
Sleep Train Amphitheatre is one of the most popular venues in the country. If you plan on attending an event at this famous venue, then go through the Sleep Train Amphitheatre Seating Chart. You can take a Virtual tour of the Sleep Train Amphitheatre to get an interactive seat view. Go through the Sleep Train Amphitheatre seating map, and check the Sleep Train Amphitheatre parking prices, if available.

Sleep Train Amphitheatre Seating Chart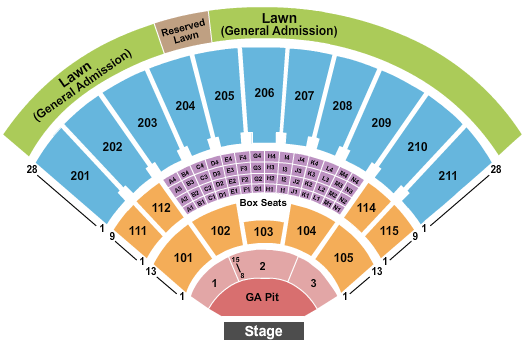 Toyota Amphitheatre Tickets Related Questions
Who will play at Toyota Amphitheatre today?
No event is happening in Toyota Amphitheatre tonight.
How many seats are available in Toyota Amphitheatre?
The seating capacity of Toyota Amphitheatre is 24580.
Can you buy event tickets at Toyota Amphitheatre?
Yes, you can buy tickets at Toyota Amphitheatre provided if they are available.
What are the best seats available at Toyota Amphitheatre?
Just like every other venue, there are different levels at Toyota Amphitheatre as well. The entire seating plan is available on our website, and you can book tickets for the section you like.
How many events are taking place at Toyota Amphitheatre this week?
You can check the complete list of events taking place at Toyota Amphitheatre this week and beyond by simply logging on to the venue's page on our website.
Sleep Train Amphitheatre
Located at the 2677 forty mile Rd in Wheatland, California, Sleep Train Amphitheatre is an ideal venue both for fans and musicians alike to hold live concerts in an outdoor ambience.

Sleep Train Amphitheatre"s seating arrangement is further divide in to two sections; one of the sections offers 8,000 reserved seats, while the open field lawn has the capacity of upholding more than 10,500 people, increasing the total capacity of the venue to 18,500 people.

Every year, the Sleep Train Amphitheatre hosts a number of live events ranging from live music concerts to stage shows and other sorts of special events. Sleep Train Amphitheatre is one of many music venues that are owned by the Live Nation. Live Nation is basically a California based live events organizing company that was formed back in 2005.

Live Nation was further expanded the following year in 2006, when it also acquired House of Blues, a corporate chain of over 100 music venues across United States. Although Live Nation signs the artists as if signing a record deal, but the only thing Live Nation does it to promote their artists instead of owning the artists" music.

Initially when the Amphitheatre opened, it was named the Sacramento Valley Amphitheatre, and later on the naming rights were sold off to AutoWest hence renaming the venue to AutoWest Amphitheatre. As the naming contract with AutoWest expired, the owners of the amphitheatre started off looking for a new sponsor.

A Mattress Company, Sleep Train, was the next one to purchase the naming rights consequently ever since then the amphitheatre is named Sleep Train Amphitheatre. The construction of the amphitheatre was completed after incurring the construction cost of $25 Million.

Every year, the Sleep Train Amphitheatre hosts the live performances by the top notch musicians in the industry. Over the years, the artists that have performed at the Amphitheatre include Dave Mathews Band, Coldplay, Aerosmith, Eminem & 50 Cent on their Anger Management Tour, Rascal Flatts, Tom Petty and the Heart Breakers, 3 Doors Down, Earth Wind and Fire with Chicago, Brooks & Dunn, Back Street Boys and many more.

Even this year"s schedule at the Sleep Train Amphitheatre is sure to provide the concert goers with the thrills and excite packed line up of live performances by Coldplay on July 14, Rockstar Energy Mayhem Festival on July 10, No Doubt on July 24, The Fray on July 31, Judas Priest on August 01, Vans Warped Tour on August 21, Nickelback on August 31, Def Leppard on September 03, Brad Paisley on September 26 and many others.
Frequently Asked Questions (FAQs)
Sleep Train Amphitheatre
was rated 
How will I get my Toby Keith tickets sleeptrain ampitheater from you?
Sleep Train Amphitheatre Tickets will me mailed to you after we have processed all the information on your credit card.
Do you have sleep train amphitheatre wheatland, ca tickets?
Yes we have a few Sleep Train Amphitheatre tickets with us but hurry up before they all get sold out.
Will toby keith tickets sleep train be priced differently for children and adults?
No Toby and Keith Sleep Train tickets will not be priced differently for children and adults.
Where can i grab my sleep train amphitheatre tickets from?
Buy your Sleep Train Amphitheatre tickets from us.
Do you have any offer with 50 % off brad paisley tickets wheatland?
All Brad Paisley Wheatland tickets are sold out.