Saint Andrews Hall Tickets
Load More
Saint Andrews Hall is one of the most popular venues in the country. If you plan on attending an event at this famous venue, then go through the Saint Andrews Hall Seating Chart. You can take a Virtual tour of the Saint Andrews Hall to get an interactive seat view. Go through the Saint Andrews Hall seating map, and check the Saint Andrews Hall parking prices, if available.

Saint Andrews Hall Seating Chart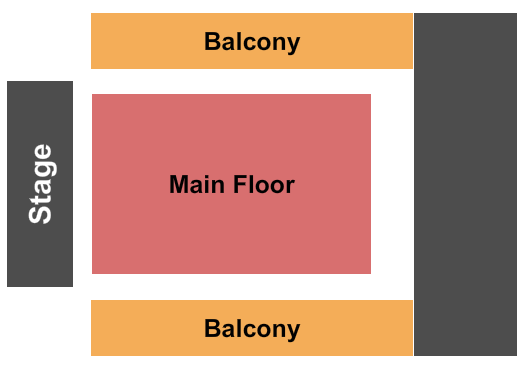 Saint Andrews Hall - Detroit Tickets Related Questions
Who will play at Saint Andrews Hall - Detroit today?
List of Events today happening in Saint Andrews Hall - Detroit
Emo Night Brooklyn
Gimme Gimme Disco
How many seats in Saint Andrews Hall - Detroit?
Saint Andrews Hall - Detroit, has 5415 seats available.
Can you buy tickets at Saint Andrews Hall - Detroit?
Depending upon the availability of tickets for that event, you can buy tickets on Saint Andrews Hall - Detroit.
What are the best seats available at Saint Andrews Hall - Detroit?
We have GA1 for Saint Andrews Hall - Detroit available.
How many events are on sale for Saint Andrews Hall - Detroit this week?
Total 28 are taking place at Saint Andrews Hall - Detroit in this week.Top selling event of the week is A Night Out On Earth Tour: Waterparks.
Saint Andrews Hall
The party goers and music lovers in Detroit, Michigan flock together to Saint Andrews Hall whenever they need a heavy dose of music and fun.

This is non-arguably one of the best live venues of the city as it attracts the most happening bands and artists from all over the country.

The music legend of Detroit, Saint Andrews Hall is a place for all the live music enthusiasts. This converted church now hosts live bands and DJs in its inmate settings. Located in the busy area of Detroit, Michigan; this serves as the hub of Detroit's mushrooming music scene, with hip-hop music more visible than any other.

The Saint Andrews Hall is a two-in-one music venue. The hall houses live music venue while a nightclub, the Shelter, located at its lower-level is a thriving party place that hosts various live music acts and DJs. It is said to be one of the first stages where Eminem performed quite early in their career.

A truly legendary live music venue, Saint Andrews Hall deserves a thumps up for its services and facilities. The downtown concert hall has a capacity of 1,000 patrons. This makes it slightly small venue but this intimation is what scores the most for it.

Watching a concert at Saint Andrews Hall is an experience of a lifetime. The venue is small but utterly comfortable. It is a standing room only venue ensuring that you dance hard during the concert. Visibility is good no matter where one stands. There are two levels on the balcony, thus doubling the joy and musical madness.

If acoustics make a concert venue good or bad, then Saint Andrews is a clear winner. The venue boosts of state-of-the-art sound system. The speakers cover floor to ceiling on either sides of the stages, and music is can be heard loud and clear from every nook and corner of the hall. Lighting also boosts the energetic atmosphere of the place.

If music does not satisfy the party lovers alone, they can always for the bar and indulge in the extensive and fine range of beer and wineries. Saint Andrews Hall offers great services and its administration takes special care of the visitors comfort and security matters. Parking is also available quite easily and all other amenities also add to the grandeur of the music hall.

Music performances are the most tempting part of Saint Andrews" attraction. It had been remained a hip place throughout the late '80s and in the early '90s. Many breakthrough artists perform here during those times. Even after this, the venues hosted many super-stars and rockstars-to-be.

While it s not easy to sum up the performance history of St. Andrews Hall in a sentence or two, you can be assured that this is the place where legends of music world had performed in the past. Be it Eminem or Nirvana, Red Hot Chili Peppers or Soundgarden, Pearl Jam or any other band; St. Andrews Hall has played to all with style.

Check this: The Cure, Adele, Depeche Mode, New Order, REM, Janes Addiction, Smashing Pumpkins, Nine Inch Nails, Alice in Chains, Green, Finch, All Time Low, Ladytron, Sam Roberts, Katt Williams, Bayside, Circle Jerks, Rise Against, Catherine Wheel, Oasis and many more.

This is what St. Andrews Hall has presented and will present for you. It is not for nothing that St. Andrews has been winning awards for best venue of Detroit year after year. Its facilities and fantastic concerts truly make it the most happening concert place of the city.

So while you are in a mood to treat your ears and move your legs to the exciting live music, then rush to St. Andrews Hall, Detroit as this is the right place for your entertainment related needs.
Saint Andrews Hall
was rated 
I want saint andrews hall alice and chains DC tickets, but I do not want them delivered on my address, as I want the tickets for my son, who lives in a different state than mine. What should I do?
While purchasing the tickets, you would have to enter your own address in Billing/Address line, as you would be the one paying for the tickets through your credit card. Then, you must remember to write the address on which you would want the tickets to be delivered at in the "Special Instruction Box", below shipping method option. The tickets will then be delivered to your desired destination.