Merriweather Post Pavilion Tickets
Load More
Merriweather Post Pavilion is one of the most popular venues in the country. If you plan on attending an event at this famous venue, then go through the Merriweather Post Pavilion Seating Chart. You can take a Virtual tour of the Merriweather Post Pavilion to get an interactive seat view. Go through the Merriweather Post Pavilion seating map, and check the Merriweather Post Pavilion parking prices, if available.

Merriweather Post Pavilion 2024 TICKETS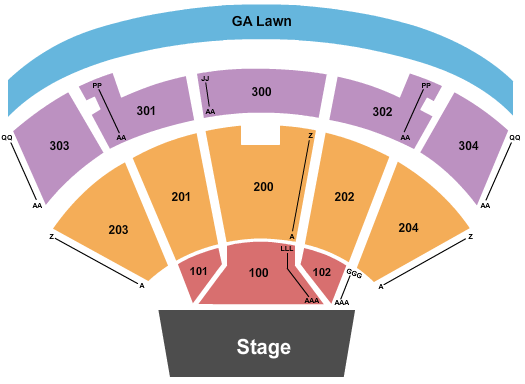 Merriweather Post Pavilion Tickets Related Questions
Who will play at Merriweather Post Pavilion today?
To check Merriweather Post Pavilion for today, all you have to do is visit our website and check event listings along with available tickets. Right now, following events are happening at Merriweather Post Pavilion:
Zac Brown Band, King Calaway & Tenille Townes
How many seats are available in Merriweather Post Pavilion?
The seating capacity of Merriweather Post Pavilion is 869.
Can you buy event tickets at Merriweather Post Pavilion?
Yes, you can buy tickets at Merriweather Post Pavilion provided if they are available.
What are the best seats available at Merriweather Post Pavilion?
Just like every other venue, there are different levels at Merriweather Post Pavilion as well. The entire seating plan is available on our website, and you can book tickets for the section you like.
How many events are taking place at Merriweather Post Pavilion this week?
You can check the complete list of events taking place at Merriweather Post Pavilion this week and beyond by simply logging on to the venue's page on our website.
Merriweather Post Pavilion
What better way to spend a day picnicking in the woods and enjoying your favorite band live? It seems like a dream come true. That"s exactly what Merriweather Post Pavilion offers.

Merriweather has in its account a music venue nestled in natural woods of Maryland with excellent acoustics and the fresh and vibrant air. Many of the trees on the property are tagged and numbered to preserve the natural beauty of the site.

Located among Symphony Woods, Merriweather Post Pavilion has in its Hall of Fame such names as Britney Spears, Led Zeppelin, Jackson Browne, and Genesis and many more. With the addition of video screens, mash pit area, and sculpture garden, Merriweather has been nominated "Best Outdoor Venue" by Poll star for the second year in row.

In 1969, The Who played there with Led Zeppelin, the only time these two bands have appeared on the same bill. Jackson Browne recorded portions of his Running on Empty album, including the title track and "The Load-Out". Genesis filmed a promotional video for "Many Too Many" from their ?And Then There Were Three? album in the afternoon of July 26, 1978.

Jimmy Buffett has performed at Merriweather more than any other artist?over 40 times. The Kinks recorded portions of Live: The Road at the venue. In 1990, the Grateful Dead and the Jerry Garcia Band were banned from the venue due to police requests, prompted by drug arrests of fans.

On June 20, 2000, Britney Spears opened her Oops!... I Did It Again World Tour at the venue. Animal Collective named their 2009 album, Merriweather Post Pavilion, after the venue.

Conveniently located in the Baltimore/Washington corridor off Route 29 in Columbia, the natural, outdoor concert setting is one that simply can't be matched courtesy it"s designing architect. Merriweather was designed by the world renowned architect Frank Gehry, who is best known for defying architectural conventions.

In the early 1960's, he accepted the challenge of developing a design that would least disturb the natural landscape of the Merriweather site. He succeeded splendidly and the pavilion opened up for patrons in 1967. Its acoustics were considered by many in the industry to be the best among outdoor venues.

Covering a 40-acre (162,000-m?) expanse of preserved land that sits nestled in the hub of the planned community of Columbia, Maryland, Merriweather Post Pavilion (MPP) was named for cereal heiress Marjorie Merriweather Post and was originally intended to be a summer home for the National Symphony Orchestra.

It later became a venue for more popular music concerts. Merriweather is known for its astounding acoustics which are ranked in the top of outdoor amphitheaters. It was designed by award-winning architect Frank Gehry and opened in 1967. Currently it can hold up to 16,500 music patrons.

For more than 35 years, Merriweather has hosted a diverse range of artists and events, offering the area's absolute best in contemporary entertainment.

Merriweather is committed to delivering a concert experience that is the best in every way. It is an absolute heaven creating an experience that will last forever.
Frequently Asked Questions (FAQs)
Merriweather Post Pavilion
was rated 
Is it possible to have my+meriweather post pavillion - summer concert tickets delivered to a different address?
We have an agreement with credit card companies to deliver tickets to the address being used at credit card. Please refer to our Livehelp Representative for further assistance!
Can i still get vampire weekend tickets baltimore september 11?
You sure can. Please visit Merriweather Post Pavilion Tickets page on our site Ticket Luck and buy the ticket of your desired date. It couldn't be more simpler and efficient.
Where can i find jason aldean merriweather face value?
The price break up for Merriweather Post Pavilion Tickets can be found on our webpage in detail for you to be sure before buying tickets form us.
My discount codes from merriweather post pavillion are not working. What do I do?>
Please call us on our toll free number and we will make sure your Merriweather Post Pavilion Tickets discount codes work like they should.
Does Ticket Luck offer cheap tickets for John Legen at Merriweather Post Pavillion?
Ticket Luck offers really cheap John Legen tickets at Merriweather Post Pavillion to all its valued customers! Grab yours soon!
Are there any alan jackson buy one get one free promotion merriweather tickets?
Sorry, we are not running such special that offers free tickets upon buying Alan Jackson Merriweather Post Pavilion Tickets.
Can I get the code that works for ticketmaster paramore merriweather tickets from you guys?
We only have Merriweather Post Pavilion discount codes that work on Ticket Luck and sister sites for Paramore tickets.
I am looking for the sunday in the country tickets at merriweather. Can you help me with that?
Kindly take a look at our Merriweather Post Pavilion tickets section for the availability of tickets.
How do I get vampire weekend at merriweather post pavilion tickets?
You can pick your desired Merriweather Post Pavilion tickets from our offered list of tickets now.
I need to get some arcade fire merriweather ticket?
We have loads of Merriweather Post Pavilion tickets for you to get, try it our now!
How do I get the alan jackson tickets meriweather pavilion?
Get the tickets from our Alan Jackson Merriwether Post Pavilion Page right now!
Tell me a place to get the bnl meriweather tickets.
Get the Merriweather Post Pavilion tickets at ticketluck.