Martinsville Speedway Tickets
Load More
Martinsville Speedway is one of the most popular venues in the country. If you plan on attending an event at this famous venue, then go through the Martinsville Speedway Seating Chart. You can take a Virtual tour of the Martinsville Speedway to get an interactive seat view. Go through the Martinsville Speedway seating map, and check the Martinsville Speedway parking prices, if available.

Martinsville Speedway Seating Chart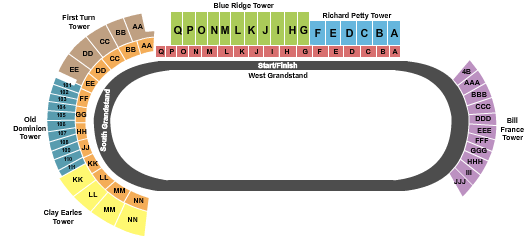 Martinsville Speedway Tickets Related Questions
Who will play at Martinsville Speedway today?
No event is happening in Martinsville Speedway tonight.
How many seats are available in Martinsville Speedway?
The seating capacity of Martinsville Speedway is 1370.
Can you buy event tickets at Martinsville Speedway?
Yes, you can buy tickets at Martinsville Speedway provided if they are available.
What are the best seats available at Martinsville Speedway?
Just like every other venue, there are different levels at Martinsville Speedway as well. The entire seating plan is available on our website, and you can book tickets for the section you like.
How many events are taking place at Martinsville Speedway this week?
You can check the complete list of events taking place at Martinsville Speedway this week and beyond by simply logging on to the venue's page on our website.
For all the car racing lovers in particular and car lovers in general, Martinsville Speedway is just the place for their ultimate entertainment. Martinsville Speedway tickets can be a blessing for car racing lovers as it provides adrenaline pumping races and events that are heaven for the fans.

Martinsville Speedway is a race track for cars located in Martinsville, Ridgeway, near Virginia. It is owned by International Speedway Corporation and is a project of NASCAR, National Association for Stock Car Auto Racing, and a venture which holds auto racing events all over the world. Martinsville Speedway is the shortest track in the Sprint Cup Series of NASCAR and is the first one to be in an oval shape. It was designed by H. Clay Earles and was opened in 1947. The bleachers around the track can hold 65,000 spectators and presents a splendid view of the zooming cars from every seat.

Tracks of Martinsville Speedway are work of perfection, made from asphalt and concrete and often termed as shaped like a paper clip which allows smooth rolling and turning for the cars. Over the years, the quality of the tracks have been improved to provide better tracks for the racers and regular maintenance have been made to reduce and repair the wear of the tracks.

The first event held at Martinsville Speedway was in the very next year of its opening and it was a car racing event held by NASCAR. 1951 was the year which was not very good for the tracks as only a few car races were held there. The honor of most winnings at Martinsville goes to Richard Petty who has won 15 times at the tracks, has been in the top 5s 30 times and in top 10s 37 times. While Richard Petty was also the youngest racing winner at Martinsville, Harry Grant is the oldest racer to have a winning record at Martinsville Speedway. Events like NASCAR Sprint Cup Series under which two events are held every year which are TUMS QuikPak 500 and Goody's Cool Orange 500, Busch Series, NASCAR Nationwide Series, NASCAR Camping World Truck Series, NASCAR Whelen Modified Tour and NASCAR combined Modified Race are some of the most famous racing events held at Martinsville Speedway.

Martinsville Speedway tickets have always been the center of attraction for the young and old alike and the crowd always gets spectacular view. You can always see an exciting anticipation for the events at Martinsville Speedway as every racing fan finds it a good way for perfect entertainment and thrill. Watching the car races live is a completely different and fantastic experience then watching it on T.V. So keep an looking for the Martinsville Speedway tickets and you will be overjoyed at the fun it will provide. Some really spectacular car racing is up there this year and many exciting events are scheduled in times to come. So buckle up and get ready to be driven crazy by the thrill!


Martinsville Speedway
was rated 
I want the best seats at martinsville speedway. Can I please have the exact seat numbers?
Sorry, we are not provided with the exact seat numbers by the brokers; however, we have put up a venue map on the top right of the page for your convenience. Please refer to it and book the appropriate Martinsville Speedway tickets for yourself NOW!