Jordan Hare Stadium Tickets
Load More
Jordan Hare Stadium is one of the most popular venues in the country. If you plan on attending an event at this famous venue, then go through the Jordan Hare Stadium Seating Chart. You can take a Virtual tour of the Jordan Hare Stadium to get an interactive seat view. Go through the Jordan Hare Stadium seating map, and check the Jordan Hare Stadium parking prices, if available.

Jordan Hare Stadium Seating Chart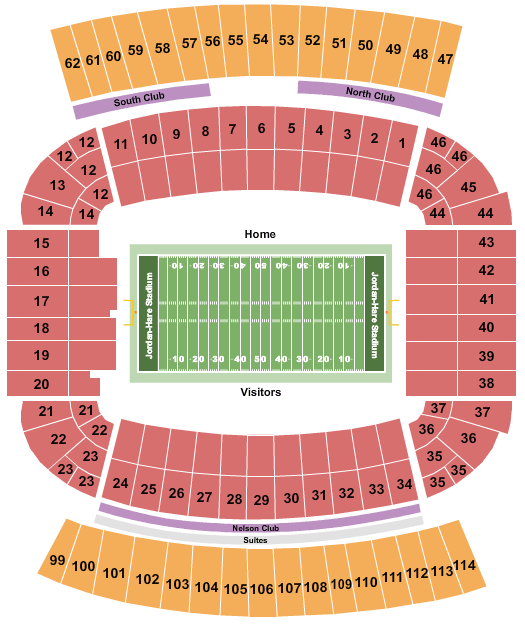 Jordan-Hare Stadium Tickets Related Questions
Who will play at Jordan-Hare Stadium today?
No event is happening in Jordan-Hare Stadium tonight.
How many seats are available in Jordan-Hare Stadium?
The seating capacity of Jordan-Hare Stadium is 8513.
Can you buy event tickets at Jordan-Hare Stadium?
Yes, you can buy tickets at Jordan-Hare Stadium provided if they are available.
What are the best seats available at Jordan-Hare Stadium?
Just like every other venue, there are different levels at Jordan-Hare Stadium as well. The entire seating plan is available on our website, and you can book tickets for the section you like.
How many events are taking place at Jordan-Hare Stadium this week?
You can check the complete list of events taking place at Jordan-Hare Stadium this week and beyond by simply logging on to the venue's page on our website.Top selling event of the week is Auburn Tigers vs. Alabama Crimson Tide.
Jordan hare Stadium
Jordan Hare Stadium is for football fans what food is for thought; what medicine is for the sick. It"s their lifeblood. It is their temple where their favorite god resides - Auburn.

An on campus playing venue for Auburn University's football team in Auburn, Alabama, USA, the stadium was erected in 1939.

The stadium, then called Auburn Stadium with 7,290 seats, hosted its first game on November 9, 1939, between Auburn High School and Dadeville High School.

About one month later, the stadium was dedicated and the first college football game was played against the University of Florida on November 30, 1939.

In 1949 the seating capacity was increased to 21,500 and the stadium was renamed Cliff Hare Stadium, in honor of Clifford Leroy Hare, a member of Auburn's first football team, president of the old Southern Conference and longtime chairman of Auburn's Faculty Athletic Committee.

Cliff Hare Stadium was renamed Jordan-Hare Stadium in 1973 after Ralph Jordan , the University's football coach and became the first stadium in the country to be named for an active coach.

On November 19, 2005, the playing field at the stadium was named Pat Dye Field in honor of former Auburn coach and athletic director Pat Dye.

In 1998, artist Michael Taylor was contracted to paint ten large murals on the east-side exterior of the stadium. The paintings depicted the greatest players, teams, and moments from Auburn's football history to that date. In 2006, these murals were updated, including images that recognized great moments in Auburn football history up to 2006.

The first stadium held over 7,500 seats that now constitute the bottom part of the lower west stands. When the stadium was renamed "Cliff Hare Stadium" in 1949, 14,000 seats?the present lower east stands?were added, boosting capacity to 21,500.

Jordan became head coach in 1951 and the stadium that was destined to bear his name underwent three major expansions in a span of 15 years. The top half of the lower west stands and the north and south end zone seats were added during his reign.

With the addition of the west upper deck in 1980 and the east upper deck in 1987, the stadium became the largest in the state of Alabama until the 2006 expansion of Bryant-Denny Stadium at the University of Alabama.

The stadium underwent another expansion in 2004 that extended the east upper deck by an additional section on each end, adding more luxury suites and additional general seating to reach the current capacity of 87,451.

In addition to the deck of seats, more than a thousand scholarship donor seats and seventy-one luxury executive suites were built.

These skyboxes were expected to be leased by corporations entertaining clients. Sixty-five of them are sufficient to hold twelve people and rented (in 1987) for $24,000 a season. Four can accommodate eighteen guests and rent for $36,000 per year. One can hold thirty people and rent for $48,000 a year.

The suites are carpeted, with theater seats, a kitchenette, bathrooms, heat and air conditioning, and a closed-circuit television. Food and alcoholic beverages are available in the suites as well.

A football attendance record for the state of Alabama was set in the very first game of the "new" stadium when 80,000 fans came to see the season opener.

Two more 80,000-plus crowds came to Auburn that season and within two seasons Jordan-Hare Stadium - and Auburn - acquired every major football attendance record in the state of Alabama. In 1990, for the second year in a row, Auburn experienced another season sellout without the added "hook" of a home Alabama game and turned away still more applicants.

In totality, Auburn has played 255 games in Jordan-Hare Stadium, winning 205, losing 43 and tying seven for a winning percentage of 81.8% against some of the nation"s best teams in college football.

The Florida game in 1989 hosted the commemoration of Jordan-Hare's fiftieth anniversary. Florida was chosen because it had been the very first opponent, way back in 1939, to play in Auburn Stadium.

Jordan-Hare's success story has been one of constant growth and expansion since its inception. Until the 1990s, the stadium averaged an expansion every eight years, and is now among the top ten on-campus facilities of its kind.

Between the 2006 and 2007 seasons, a major renovation of the walkways and related facilities underneath the stadium was set to overhaul the appearance and capacity of the pedestrian areas. A major portion of this project was to include the addition of many new, and much-needed, women's restrooms.
Jordan hare Stadium
was rated 
Do you have the seat numbers for auburn university jordan hare stadium sky boxes seating?
We are not provided with exact numbers by the brokers. However, you can be assured that all the seats will be together, as this is the standard of ticket-selling websites.
What are the number of rows in upper deck of jordan hare?
You can check out the Jardon Hare Stadium Tickets seating plan from the relevant page.
Where can I find cheap 2022 jordan hare stadium sky boxes tickets?
Get cheap Jordan hare Stadium tickets only at Ticket Luck!