Johnny Mercer Theatre Tickets
Load More
Johnny Mercer Theatre is one of the most popular venues in the country. If you plan on attending an event at this famous venue, then go through the Johnny Mercer Theatre Seating Chart. You can take a Virtual tour of the Johnny Mercer Theatre to get an interactive seat view. Go through the Johnny Mercer Theatre seating map, and check the Johnny Mercer Theatre parking prices, if available.

Johnny Mercer Theatre Seating Chart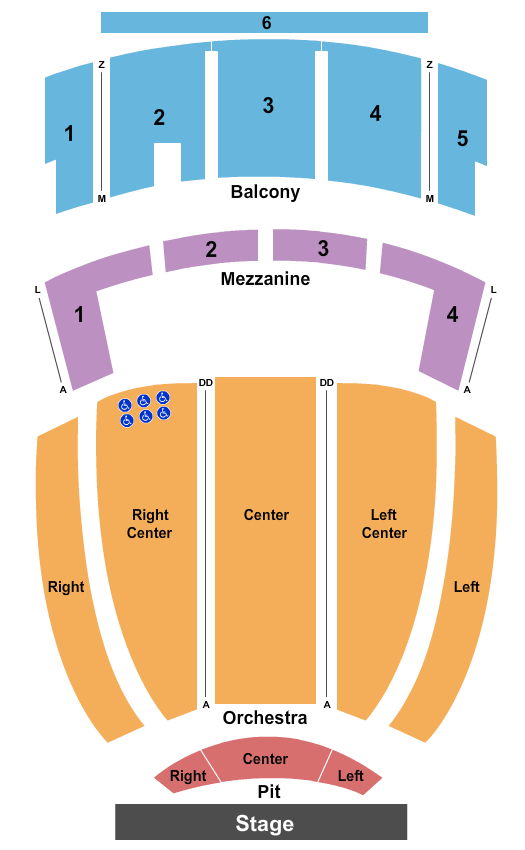 Johnny Mercer Theatre Tickets Related Questions
Who will play at Johnny Mercer Theatre today?
No event is happening in Johnny Mercer Theatre tonight.
How many seats are available in Johnny Mercer Theatre?
The seating capacity of Johnny Mercer Theatre is 1678.
Can you buy event tickets at Johnny Mercer Theatre?
Yes, you can buy tickets at Johnny Mercer Theatre provided if they are available.
What are the best seats available at Johnny Mercer Theatre?
Just like every other venue, there are different levels at Johnny Mercer Theatre as well. The entire seating plan is available on our website, and you can book tickets for the section you like.
How many events are taking place at Johnny Mercer Theatre this week?
You can check the complete list of events taking place at Johnny Mercer Theatre this week and beyond by simply logging on to the venue's page on our website.
Located in Savannah, Georgia, the Johnny Mercer Theatre is a part of the famous multi-purpose facility, the Savannah Civic Center. The Mercer Theatre is named after the eminent award winning musician John Herndon Mercer. The Theatre stages hundreds of performances every year that attract thousands of theatre lovers from across the country. This season, the Johnny Mercer Theatre will be bringing a wide variety of entertaining shows to its stages including live performances by Joe Bonamassa, Ashley Monroe, Hunter Hayes and Bill Cosby along with the staging of another new production by Disney Junior Live. The audience can witness all these events and more by getting their hands on the Johnny Mercer Theatre tickets.
 
The Savanna Civic Center was initially established in 1974. The multi-purpose facility houses four main venues including the Civic Center Grand Ballroom, West & East Promenades, Martin Luther King Area and the Johnny Mercer Theatre. Every year the Civic Center hosts various events including comedy acts, ballet performances, theatre events, trade shows, exhibitions, conventions and musical concerts. Over nine hundred events takes place at the Center annually including major crowd pullers such as Men's Basketball Tournaments and the Savannah Tire Hockey Classic Cup. The thirty seven million dollar facility has evolved over the years and now features state of the art technology and advance systems that allow the visitors to enjoy any kind of event comfortably. The Savannah Civic Center stages have been embraced by several popular artists of the past decade such as R. Kelly, Bon Jovi, Darius Rucker, Brian McKnight, Trick Daddy, Trace Adkins, Brad Paisley, The Moody Blues and Elton John.
 
The Johnny Mercer Theatre has a capacity of over two thousand and four hundred seats. The Theater also has one of the largest areas surrounding the stage opening in the Southwest. The venue was named after the Capitol Record founder, Johnny Mercer. Johnny composed and wrote over fifteen hundred songs during his career. Some of his songs were a major hit during the fifties and still continue to fascinate his fans. He won several major awards and accolades throughout his career including four Academy Awards.  
 
The Johnny Mercer Theatre will be hosting the popular blues rock musician Joe Bonamassa live this season. Hailing from New York, the American singer-songwriter shot to success with the release of his Top 10 debut album 'A New Day Yesterday'. Since then the artist has produced chart topping albums that have sold millions of units around the world. He frequently tours throughout Europe and North America, attracting millions of fans.
 
The Savannah Civic Center continues to bring top quality events and recreational activities to the viewers every season. The Center's modern venues allow the perfect opportunity to enjoy various events along with friends and family. The audience can catch highly exciting live shows at the Savannah Civic Center by availing Johnny Mercer Theatre tickets for a memorable experience.
 
Frequently Asked Questions (FAQs)
Johnny Mercer Theatre
was rated 
Looking for johnny mercer theatre tickets, what deals are available for a first-time online tickets buyer?
Ticketluck boasts best deals on almost all major events. Buy Johnny Mercer Theatre tickets from us, enjoy our low prices and avail our discount. Should you require any help, please contact our Livehelp Representative!
What if I don't get my johnny mercer theater tickets on time?
Please call us on our toll free number if you don't get your Johnny Mercer Theatre Tickets atleast a week before the event and we will make sure you don't miss out on your favorite event.