Heinz Field Tickets
Load More
Heinz Field is one of the most popular venues in the country. If you plan on attending an event at this famous venue, then go through the Heinz Field Seating Chart. You can take a Virtual tour of the Heinz Field to get an interactive seat view. Go through the Heinz Field seating map, and check the Heinz Field parking prices, if available.

Heinz Field Seating Chart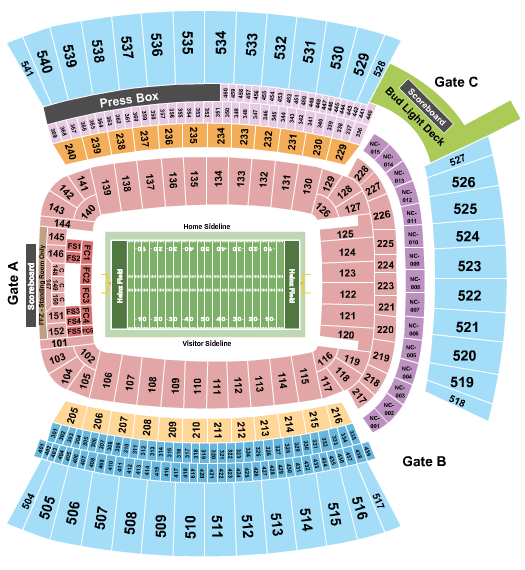 Acrisure Stadium Tickets Related Questions
Who will play at Acrisure Stadium today?
No event is happening in Acrisure Stadium tonight.
How many seats are available in Acrisure Stadium?
The seating capacity of Acrisure Stadium is 13994.
Can you buy event tickets at Acrisure Stadium?
Yes, you can buy tickets at Acrisure Stadium provided if they are available.
What are the best seats available at Acrisure Stadium?
Just like every other venue, there are different levels at Acrisure Stadium as well. The entire seating plan is available on our website, and you can book tickets for the section you like.
How many events are taking place at Acrisure Stadium this week?
You can check the complete list of events taking place at Acrisure Stadium this week and beyond by simply logging on to the venue's page on our website.
Heinz Field
Heinz Hall for the Performing Arts is located with in the cultural district in Pittsburgh PA and is home to Pittsburgh's Symphony Orchestra. The hall opened up as a movie palace in 1927, and was called Loew's Penn Theatre back then. The movie palace was designed by the architectural firm named Rapp & Rapp. The salient feature of the design of the hall is its grand lobby that is equipped with marble staircase, silk drapes, Venetian Ceiling, chandeliers made out of bronze and crystals and massive columns.

By 1960s, the movie palace came very close to being demolished as the theatre was shut down in 1964 because of the financial losses bore by the theatre. Not just that, television and suburban theatres also took away substantial amount of viewers from the theatre, further convincing the owners to shut it down and eventually, demolish it. However Pittsburgh Symphony Society proved out to be the saving grace for the building, as the president of the Pittsburgh Symphony along with Henry J. Heinz, Andrew Mellon Foundation, the Urban Redevelopment Authority and the Allegheny Conference, bought the theatre and turned it in to the new home for Pittsburgh Symphony.

Keeping the basic design of the building unchanged, the hall under went extensive renovations and was reopened as the Heinz Hall on September 10, 1971. The renovations of the hall included a newly built crystal chandelier, polychrome decor changed to white and gold design etc. One the major renovations included, the turning of movie theatre into a concert hall. Heinz Hall's reopening was celebrated with a concert by Pittsburgh Symphony Orchestra, which was conducted by William Steinberg and following the concert was a dedication speech by H. J. Heinz II. Four-Storey Heinz Hall Plaza was also added up to the hall later in 1982. Following this addition, Heinz Hall was once again renovated in 1995, and after incurring the cost of $6.5 million, several alterations were made which included acoustical risers, improved air conditioning, new wall papers, new orchestra shell etc.

Every year, Pittsburgh Symphony Orchestra, holds a number of classical, and pop concerts along with special concerts for children, Symphony with a Splash and Fiddlesticks, at the Heinz Hall. A number of Broadway Tours are also staged at the Heinz Hall every year.

Upcoming events at the Heinz Hall for this year include, 7 performances of Tony Award winning Broadway musical "Sleep Awakening", from May 27, till May 31. Following Sleep Awakening would be a series of concerts by Pittsburgh Symphony Orchestra starting from June 04 and lasting up till June 27. Heinz Hall would also be hosting concerts by Diana Krall and The Machine on July 08 and July 10, respectively followed by Video Games Live on July 11 and many others.


Frequently Asked Questions (FAQs)
What is your policy on greenbay and pitsburg game tickets exchange?
Tickets can not be exchanged once purchased (unless otherwise specifically stated in the listed ticket description). Or read our FAQs to learn about our policy on Ticket Exchange before buying AGreenbay and Pittsburgh game Tickets.
Are all pittsburgh browns heinz feild tickets listed at discount prices?
Yes, all tickets at TicketLuck are listed at discounted prices for our loyal customers. Browse through us for Heinz Field tickets and get them reserved before they get sold.
Can i exchange Taylor Swift Pittsburgh PA June 18th tickets for some other date?
Heinz Field tickets for Taylor Swift concert once booked cannot be replaced with any other date or event as it is against our company's policy.
I'm confused! How do I find out the prices for pittsburgh heinz tickets?
Please click on the Pittsburgh Heinz tickets you would like to inquire about and all details including price will be displayed.
Do you feature ticket master nfl preseason tickets?
We feature tickets from the trusted brokers of Ticket Network, hence you can shop here with complete confidence.
I am browsing for afc championship game pittsburgh steelers tickets and cant find them anywhere? What about you guys?
We are down to a few Pittsburgh Steelers Afc Championship Game tickets for Heinz Field, Get hold of them now!
Is this the right place to get buffalo bills cheap tickets?
Yes, you are at right place as Ticket Luck offers some very cheap sports tickets in town. Grab your now!
Can i have +steelers tickets hienz field emailed to me?
Only ticketfast/e-tickets are emailable. Please browse us and buy e-tickets to Heinz Field.
Checking in to see Minnesota Viking TV Schedule for Games. Any information available?
Please visit our webpage for Minnesota Viking Tickets to obtain your desired information.
Can I find the baltimre ravens preseason tickets here?
Yes, you can. Please, book your Heinz Field tickets today, and avail our specials!
Do you have taylor swift tickets pittsburgh?
Heinz Field tickets are not available with us as they all got sold out!
Will there be seat numbers on u2 tickets heinz feild?
Heinz Field Tickets never have seat numbers on them.