Grand Sierra Theatre Tickets
Load More
Grand Sierra Theatre is one of the most popular venues in the country. If you plan on attending an event at this famous venue, then go through the Grand Sierra Theatre Seating Chart. You can take a Virtual tour of the Grand Sierra Theatre to get an interactive seat view. Go through the Grand Sierra Theatre seating map, and check the Grand Sierra Theatre parking prices, if available.

Grand Sierra Theatre Seating Chart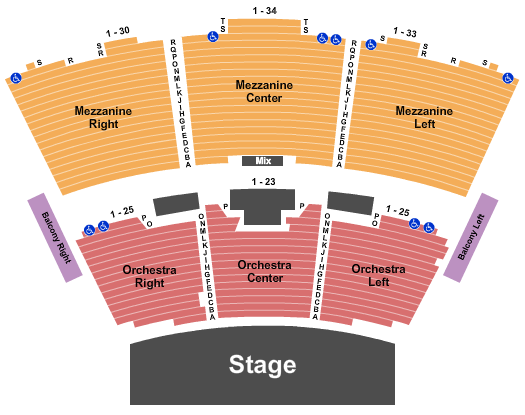 Grand Sierra Theatre Tickets Related Questions
Who will play at Grand Sierra Theatre today?
To check Grand Sierra Theatre for today, all you have to do is visit our website and check event listings along with available tickets. Right now, following events are happening at Grand Sierra Theatre:
Banda MS de Sergio Lizzarraga
How many seats are available in Grand Sierra Theatre?
The seating capacity of Grand Sierra Theatre is 1588.
Can you buy event tickets at Grand Sierra Theatre?
Yes, you can buy tickets at Grand Sierra Theatre provided if they are available.
What are the best seats available at Grand Sierra Theatre?
Just like every other venue, there are different levels at Grand Sierra Theatre as well. The entire seating plan is available on our website, and you can book tickets for the section you like.
How many events are taking place at Grand Sierra Theatre this week?
You can check the complete list of events taking place at Grand Sierra Theatre this week and beyond by simply logging on to the venue's page on our website.
Grand Sierra Theatre
Located inside the Grand Sierra Resort, the Grand Sierra Theatre provides is audience the privilege to enjoy some of the world"s most lavish musicals, stage plays, concerts, and comedy show productions.

The Grand regularly presents entertainments and show business" biggest names, such as, Jerry Seinfeld, Dolly Parton, Keith Urban and Billy Idol. The facility has claimed the title to the world"s largest stage.

It's also home to the world's biggest indoor stage over a full acre of usable space! Don"t miss the fun and excitement taking place at this amazing theater in the coming months!

The Grand Sierra Resort is a resort hotel situated approximately two miles east of Downtown Reno, Nevada. The Resort opened in 1978 as the MGM Grand and follows a theme of Luxury Lifestyle. It was the world"s largest hotel casino at that time, with a twenty-six stories, 1,015 rooms on a 145-acre site.

In 1978, an expansion project was implemented that increased the rooms to 2,001. The property"s ownership had changed several hands, until it was acquired by Harrah"s Entertainment in the 2005 acquisition of Caesars Entertainment.

However, on May 11, 2005, an agreement was announced by Caesars Entertainment to sell the Reno Hilton to PLANT worldwide DBA Grand Sierra Resort Corp for $150 million. The sale got completed the same year in June, thus the name of the property was changed to The Grand Sierra Resort.

The Grand Sierra Resort consists of many attractions and services which include an executive business center, pool, crystal class, spa health club, rv park, wedding chapel, a huge range of casino games, like poker, keno and table games and more, a great list of various restaurants, and countless more services and facilities which are being rendered by this resort.

Among these facilities is the famous Grand Sierra Theatre which is equipped with state-of-the-art sound system and visual effects that assist in making the event being performed an unforgettable one. Grand Sierra Theatre has the capacity to seat 2,000 people.

It is sometimes reserved seating with booths, tables and chairs, and sometimes general admission with an open front floor. The theater only invites the top caliber of talent to perform.

It is soon going to be hosting a concert by the famous band Devotchka, on 29th of January, 2009, which will be followed by the event Tesla on the 31st of Jan.

A lot more is in store for you here at the Grand Sierra Theatre, as events like LMFAO, Brandy, Yes, Lynne Koplitz & Iliza Schlesinger are headed to hit the theater stage pretty soon! If you don"t want to miss the entire fun taking place at this venue, then you better get your tickets to them as soon as possible! Otherwise, you"ll run out of time plus the tickets!!!
Frequently Asked Questions (FAQs)
Grand Sierra Theatre
was rated 
Will viva le circa at gsr be a sell-out event?
If Grand Sierra Theatre Tickets sales are anything to go by then it certainly looks as if it will be a sold-out event.
Will there be seat numbers written on devotcha paramont tickets?
Devotchka Paramount Theatre WA Tickets do not have seat numbers written on them ever.