Civic Opera House Tickets
Load More
Civic Opera House is one of the most popular venues in the country. If you plan on attending an event at this famous venue, then go through the Civic Opera House Seating Chart. You can take a Virtual tour of the Civic Opera House to get an interactive seat view. Go through the Civic Opera House seating map, and check the Civic Opera House parking prices, if available.

Civic Opera House Seating Chart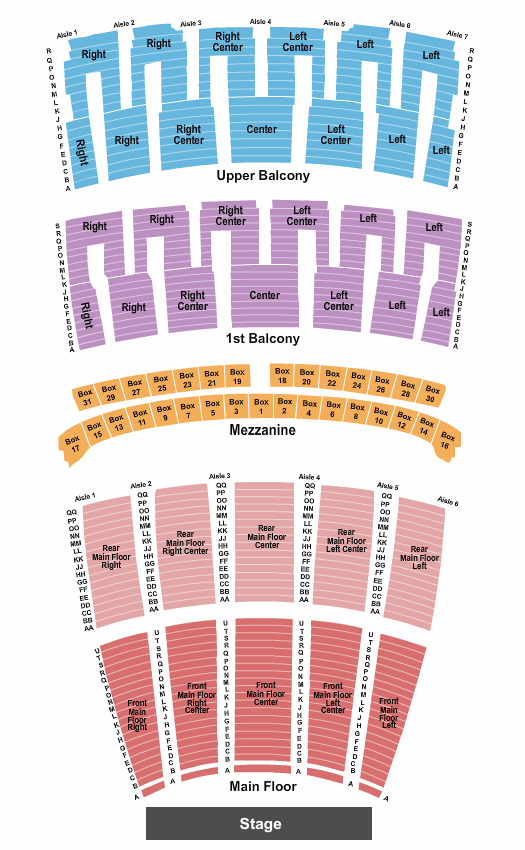 Civic Opera House Tickets Related Questions
Who will play at Civic Opera House today?
To check Civic Opera House for today, all you have to do is visit our website and check event listings along with available tickets. Right now, following events are happening at Civic Opera House:
How many seats are available in Civic Opera House?
The seating capacity of Civic Opera House is 6325.
Can you buy event tickets at Civic Opera House?
Yes, you can buy tickets at Civic Opera House provided if they are available.
What are the best seats available at Civic Opera House?
Just like every other venue, there are different levels at Civic Opera House as well. The entire seating plan is available on our website, and you can book tickets for the section you like.
How many events are taking place at Civic Opera House this week?
You can check the complete list of events taking place at Civic Opera House this week and beyond by simply logging on to the venue's page on our website.Top selling event of the week is Joffrey Ballet: Don Quixote.
Civic Opera House
Opened to the public at 20 North Wacker Drive; the major street in Chicago, Illinois, United States, running along Chicago River, on November 4, 1929 was an amazing piece of art infused with the amalgam of popular design movements of Roaring Twenties; Art Deco and Art Nouveau.

It was a 45-story limestone skyscraper bordered by two 22-story wings; the Civic Opera House reveals its beauty diffidently at the street level with the ornate bronze fixtures around its entry doors hidden behind a modest colonnade.

The interior speaks for itself with the breathtaking foyer, Roman travertine marble columns rise to gilded capitals, and the floor and wainscot, of gray and pink Tennessee marble, which glows with the brilliant light shed by Austrian crystal chandeliers.

The building was designed by the architectural firm Graham, Anderson, Probst, & White responsible for the erection of other structures like Merchandise Mart and Field Museum in Chicago, Bryant Building and Federal Reserve Bank of Kansas City.

The architectural sculpture for the building was designed by Henry Hering. The interior of the opera house featuring a lavish lobby and fire curtain are detailed by noted designer Jules Guerin.

Civic Opera House is the home to both Civic Theater and Lyric Opera of Chicago which is one of the leading opera companies in the United States founded in1952.

Due to the fact that the building resembles a gigantic throne when seen from the West, it was mockingly known as "Insull's Throne" for the utility tycoon and then president of the Chicago Civic Opera Association; Samuel Insull.

It has been rumored that Insull designed the building in the shape of a throne for his daughter: who was rejected at New York Metropolitan Opera, to sit on it as star of the opera.

The main auditorium of the Civic Opera House was named the Ardis Krainik Theater in honor of its longtime general director and guiding spirit, Ardis Krainik who was an American mezzo-soprano opera singer and spent her entire career at the Lyric Opera of Chicago, from 1982 until her death in 1997 marking the end of an era.

This auditorium contains one of the largest stages in Chicago, boasting six floors of seating for up to 3,600 occupants making it the second largest auditorium in North America after the Metropolitan Opera House in New York City.

It has been the ground of spectacle to numerous Broadway shows including Sunset Boulevard and The Phantom of the Opera, as well as celebrated musical artists ranging from Bj?rk to Frank Sinatra other than the grand private events.

There are Private Salons like Graham Room and Malott Room for private events, corporate meetings and intimate gatherings in Civic Opera House. The opera house underwent a major renovation in 1993 worth $ 100 million, when it was purchased by the Chicago Lyric Opera, which had previously rented the space.

This building is acclaimed as one of the beautiful structures and holds the gaze of passer bys with its unique armchair look. Time-honored classics of the art form are mounted here, as well as new works in daring productions for both experts and novices.
Civic Opera House
was rated 
If I buy civic opera house tickets from your website will that transaction be safe?
Yes, if you buy Civic Opera House Tickets from us your transaction will be completely secure because we have made sure our systems are protected as per international standards and guidelines.
How shall i pay for my civic opera house tickets?
You can buy Civic Opera House Tickets by American Express, Visa, Master Card and Discover.
I just wanted to know if you've got tickets of swan lake lyric opera chicago. i wanna buy them online?
Yes, we have got loads of Civic Opera House tickets available. Buy your tickets NOW!
Can you produce some main floor lady gaga tickets in chicago seats for me?
You have to look into our list of offered tickets to find the ones of your choice.
Do you guys have a christmas carol chicago lyric opera house?
Sorry, we do not have the lyrics for A Christmas Carol Chicago Opera House.
Do you have lady gaga floor seats, chicago tickets?
Civic Opera House Tickets are right here with us so grab them.