Center Stage Theatre Tickets
Load More
Center Stage Theatre is one of the most popular venues in the country. If you plan on attending an event at this famous venue, then go through the Center Stage Theatre Seating Chart. You can take a Virtual tour of the Center Stage Theatre to get an interactive seat view. Go through the Center Stage Theatre seating map, and check the Center Stage Theatre parking prices, if available.

Center Stage Theatre Seating Chart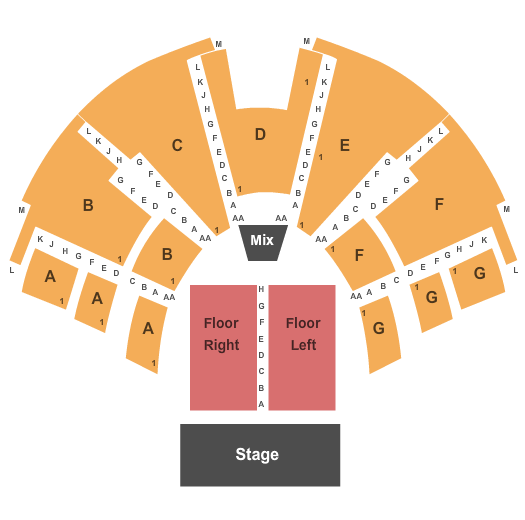 Center Stage Theatre Tickets Related Questions
Who will play at Center Stage Theatre today?
No event is happening in Center Stage Theatre tonight.
How many seats are available in Center Stage Theatre?
The seating capacity of Center Stage Theatre is 11032.
Can you buy event tickets at Center Stage Theatre?
Yes, you can buy tickets at Center Stage Theatre provided if they are available.
What are the best seats available at Center Stage Theatre?
Just like every other venue, there are different levels at Center Stage Theatre as well. The entire seating plan is available on our website, and you can book tickets for the section you like.
How many events are taking place at Center Stage Theatre this week?
You can check the complete list of events taking place at Center Stage Theatre this week and beyond by simply logging on to the venue's page on our website.
Center Stage Atlanta, located in Midtown Atlanta, Georgia, is medium-sized concert complex consisting of three individual venues differing in style and size: Center Stage Theatre, The Loft, and Vinyl. The former most is a famous Ticketmaster venue with a seating capacity of nearly one thousand and fifty, which is the largest of venues in the complex. While all three venues feature different varieties of comedy shows, theatrical performances and musical acts, this  particular venue is best known for having hosted such notable performances as Widespread Panic, The Weeknd, Sunny Day Real Estate, Young the Giant, Odd Future, Chris Cornell, Katy Perry, Duran Duran, and Queens of Stone Age. Given how often the venue holds sellout shows, it's no surprise why theatre-goers are always trying to grab their share of Center Stage Theatre tickets earlier in time.
Center Stage Atlanta was initially called Theatre Atlanta and was designated as a concert hall that was built as a memorial to a very young theater enthusiast. When it opened in 1966, it functioned primarily as a theatre for performing arts, which later began hosting concerts in particular. The building has had many titles in the years that include names like Theatre Atlanta, Center Stage Atlanta, CW Midtown Music Complex, Earthlink Live, and Center Stage.
The complex opened with its earliest production, The Royal Hunt for the Sun, with a seating capacity of about seventy-seven with a sixty-eight feet thrust stage. It also housed a triple-tier parking garage that is still operational. Its features extravagant cocktail lounges, gourmet restaurant, space for designing of costumes, as well as a couple of classrooms for Atlanta Theatre's Institute of Voice and Speech. The complex has been used for a broad spectrum of performing art activities including being used for cable broadcasting in the early eighties. Then in the late eighties and early nineties, when cable TV and Ted Turner became popular, the complex became host to World Championship Wrestling, when the show moved to Atlanta. Here it was renamed WCW Saturday Night and featured memorable fights like Diamond Dallas Page v. Craig Pittman, and Scott Armstrong v. Champion Konnan.
Center Stage Theatre has been described as an icon in Atlanta Performing Arts and Music Community. It is a rather intimate theatre where each seat has been called a 'winner' for having access to premier lighting and sound systems, with a warm lounge portion and an incredible location right in the cener of Midtown. The theater houses up to seven hundred and fifty permanent stadium seats alongside standing room in front of stage. The Theatre's upcoming shows include an EMA Music Presentation Hoodie Allen; Rival Entertainment Presentation of The Rebellious Soul Tour alongside K. Michelle, Chance the Rapper, Chris Cornell, and Jonny Lang; Accountants One Presentation of Funniest Accountant;  Manchester Orchestra Presentation of The Stuffing- Day 1 & Day 2; Bowery Presentation of Queensryche and much more. Make sure to grab some Center Stage Theatre tickets to unwind with your favorite music, comedy or other theatrical acts.
 
Center Stage Theatre
was rated 
I was checking tickets to see lauryn hill in atlanta and there are so many sites that now I am confused. Can you please tell me if you have any special offers?
Unlike other websites, we offer a discount on all tickets including Center Stage Theatre Tickets. This reduces the original price to a substantial degree.
How can I avail the will call option at derek trucks atlanta tickets?
Center Stage Theatre Tickets at will call can be availed after booking them with us and collecting them yourself from the venue on the day of the event.
Where can I get the tickets for Mastodon center stage theatre for a show this weekend?
The tickets for Mastodon center stage theatre are up for sales. Just browse our website ticketluck.com and seek help online from our Live person.
For how long will the validity of promo code centerstage ticketing last?
Center Stage Theatre Tickets on codes last till the day of the event.
How will my tickets to chris cornell atlanta be delivered?
Your Center Stage Theatre Tickets will be delivered through FedEx.
Are lauren hill tickets atlanta out on sale?
Center Stage Theatre Tickets are out on sale.