Cedar Park Center Tickets
Load More
Cedar Park Center is one of the most popular venues in the country. If you plan on attending an event at this famous venue, then go through the Cedar Park Center Seating Chart. You can take a Virtual tour of the Cedar Park Center to get an interactive seat view. Go through the Cedar Park Center seating map, and check the Cedar Park Center parking prices, if available.

Cedar Park Center Seating Chart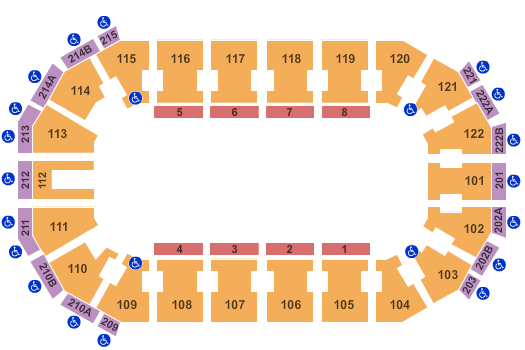 HEB Center at Cedar Park Tickets Related Questions
Who will play at HEB Center at Cedar Park today?
No event is happening in HEB Center at Cedar Park tonight.
How many seats are available in HEB Center at Cedar Park?
The seating capacity of HEB Center at Cedar Park is 97688.
Can you buy event tickets at HEB Center at Cedar Park?
Yes, you can buy tickets at HEB Center at Cedar Park provided if they are available.
What are the best seats available at HEB Center at Cedar Park?
Just like every other venue, there are different levels at HEB Center at Cedar Park as well. The entire seating plan is available on our website, and you can book tickets for the section you like.
How many events are taking place at HEB Center at Cedar Park this week?
You can check the complete list of events taking place at HEB Center at Cedar Park this week and beyond by simply logging on to the venue's page on our website.Top selling event of the week is A Very Electric Christmas.
Located in the Cedar Park, Texas, Cedar Park Centre has been the home stadium for 'Texas Stars' of the AHL (American Hockey League). It was originally built after the Dallas Stars' farm team relocated to Cedar Park in 2009. The arena has also been home to the NBA Development League team 'Austin Toros'. However, the park also started to be used for other events than sports, like concerts etc. Even today Cedar Park Center tickets are bought and sold in great numbers as it is still one of the most preferred areas by event organizers as well as the attendees.
Spread over an area of 31 acres, the Cedar Park Center has the capacity to comfortably have visitors numbering in thousands. Construction of the Park began in 2008 and its cost amounted around 55 million U.S. dollars. The first concert that took place in Cedar Park Center was by the country musician George Strait, in 2009. The park is actually an indoor arena, near Austin whose naming rights are not owned by any of the corporate sponsors. Although it is used for various forms of events, primarily the identity of the Park remains to be sports related. The 6800-seat showground is considered most suitable for home games as well as certain championships.
Recent events that took place at the Cedar Park Center include the "ShoMMA" 14, it is a Strikeforce MMA televised event, in 2011. Last year's highlight was the basketball game held in January, between Austin Toros- one of the permanent tenets of the sports arena- and Rio Grande Valley Vipers. This year also there are various irresistible attractions scheduled to be held at the Cedar Park Centre. One of the forthcoming events is the captivating live concert by the R&B artist 'The Weeknd'. As part of the Fall Tour, The Weeknd will be appearing on stage along with a special appearance by the composer and multi-instrumentalist 'Banks'. Pierce The Veil and All Time Low are also scheduled to appear on stage with the A Day to Remember's House Party Festival.
On the sports side, there is the pre-season game between Texas Stars and Oklahoma City Barons. Fans of all these events are already hastening to buy their Cedar Park Center tickets because there is a great chance of tickets stock to run out.
In a nutshell Cedar Park Centre offers just the right ambience and appropriate setting for multi-use entertainment in central Texas. With a repertoire of more than 130 events held every year, including concerts, sports, family shows etc, the arena is indeed one of the best suited for hosting o huge gatherings. Availability of onsite Valet Parking for all events is an additional benefit to the visitors. Fifteen restrooms, four public bar areas, six concession stands and three main entrances to the place ensures compete comfort to the attendees and removes the possibility of any trouble or inconvenience in movement in and out the Park. Hence the popularity of Cedar Park Center tickets seems well justified.
Cedar Park Center
was rated 
Do you sell toy story 3 on ice cedar park tickets without service fee?
No, you we don't offer Cedar Park Center Tickets without service fee.
Do you sell free toy story 3 on ice at cedar park tickets?
No, we don't sell Cedar Park Center Tickets for free.