Wesbanco Arena Tickets
Load More
Wesbanco Arena is one of the most popular venues in the country. If you plan on attending an event at this famous venue, then go through the Wesbanco Arena Seating Chart. You can take a Virtual tour of the Wesbanco Arena to get an interactive seat view. Go through the Wesbanco Arena seating map, and check the Wesbanco Arena parking prices, if available.

Wesbanco Arena 2024 TICKETS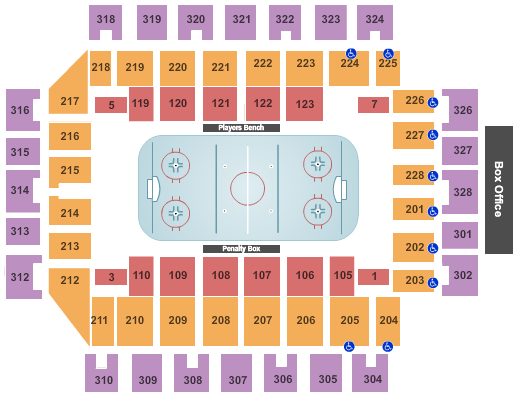 Wesbanco Arena Tickets Related Questions
Who will play at Wesbanco Arena today?
To check Wesbanco Arena for today, all you have to do is visit our website and check event listings along with available tickets. Right now, following events are happening at Wesbanco Arena:
How many seats are available in Wesbanco Arena?
The seating capacity of Wesbanco Arena is 322.
Can you buy event tickets at Wesbanco Arena?
Yes, you can buy tickets at Wesbanco Arena provided if they are available.
What are the best seats available at Wesbanco Arena?
Just like every other venue, there are different levels at Wesbanco Arena as well. The entire seating plan is available on our website, and you can book tickets for the section you like.
How many events are taking place at Wesbanco Arena this week?
You can check the complete list of events taking place at Wesbanco Arena this week and beyond by simply logging on to the venue's page on our website.
What was formerly known as Wheeling Civic Center is today called WesBanco Arena. It is a multi-purpose facility, situated in the City of Wheeling, in counties Marshall and Ohio, in the West Virginia U.S. State. Wheeling has always been rich in culture and features a diverse variety of venues, along with historical places to visit. WesBanco Arena is one of the most top-notch venues located in the region.

WesBanco Arena is beautifully, rather picturesquely, located next to the streamside of the Ohio River. This multipurpose arena is the first of its kind in the region known as the Upper Ohio Valley. A diverse range of events are hosted by the WesBanco Arena, including, meetings, reception, wedding ceremonies, concerts, trade shows, conventions, exhibitions, Broadway musicals, sporting events, and many more. The facility broke ground on 1976 and finally opened its doors, to the audience and patrons alike, a year later, in 1977. It opened with a former name Wheeling Civic Center, which later got changed its current name ? WesBanco Arena. The total construction cost of the building was seven-million U.S. Dollars. Other than hosting a large number of events, all diverse in nature, the facility is home to the Ohio Valley Athletic Conference wrestling tournament and the Wheeling Nailers ice hockey team, who is also the oldest WesBanco Arena's tenants. The second and the latest tenant is Wheeling Wildcats.

The arena features a floor space of 22,800 square feet, and a total 7,600 of seats, where 5,400 seats of them are permanent and 2,200 seats are portable. The arena also comprises areas that can easily accommodate any kind of event. One such area is the arena's meeting rooms. There are basically two meeting rooms, entitled as The Club and the West Meeting Room, whereas, The Club is the chief meeting room. The construction process of The Club was complete with the aid of Project Best. It provides room for the meetings of Wheeling Nailers and Ohio Valley Greyhounds supporters, which is used as a 'members only' lounge during hockey games. The Club also features a complete bar, as well as a kitchen. The second meeting room, called West Meeting Room, is flexible enough as it can be partitioned into four separate meeting rooms. Overall, The Club can hold a maximum amount of 320 people and the West Meeting Room can hold up to 300 people. However, audio-visual facilities for both the rooms are provided and made available according to the requirements of the event.

The arena also provides exclusive catering services for dining events. Options like buffet and sit-down-dinners are also available at the WesBanco Arena. WesBanco Arena was host to the WWF Superstars TV taping in the past years, along with many other most memorable events. Now, continuing with its tradition of hosting the top caliber events and artists, this year to the arena will be housing the best. Get your WesBanco Arena Tickets soon, before they are all sold out!
Frequently Asked Questions (FAQs)
We want to attend lord of the dance wesbanco arena wheeling show. What are the best available deals for this event?
We are offering amazing deals on Lord of the Dance tickets for all dance lovers. Take a look through our inventory for premium Lord of the Dance Wesbanco Arena Wheeling tickets, buy them at most affordable prices and enjoy our discount!
i cant drive to get wesbanco arena tickets? please help!
You can now book your tickets online, so you dont need to come all the way down here to get your tickets.