Tsongas Arena Tickets
Load More
Tsongas Arena is one of the most popular venues in the country. If you plan on attending an event at this famous venue, then go through the Tsongas Arena Seating Chart. You can take a Virtual tour of the Tsongas Arena to get an interactive seat view. Go through the Tsongas Arena seating map, and check the Tsongas Arena parking prices, if available.

Tsongas Arena Seating Chart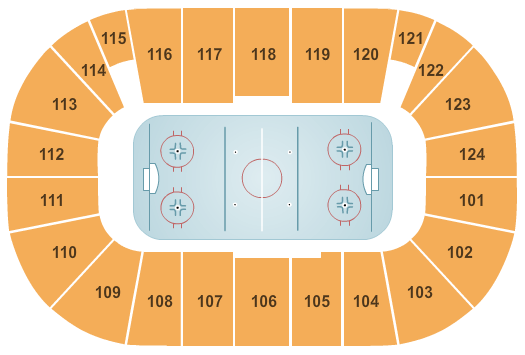 Tsongas Center Tickets Related Questions
Who will play at Tsongas Center today?
No event is happening in Tsongas Center tonight.
How many seats are available in Tsongas Center?
The seating capacity of Tsongas Center is 4647.
Can you buy event tickets at Tsongas Center?
Yes, you can buy tickets at Tsongas Center provided if they are available.
What are the best seats available at Tsongas Center?
Just like every other venue, there are different levels at Tsongas Center as well. The entire seating plan is available on our website, and you can book tickets for the section you like.
How many events are taking place at Tsongas Center this week?
You can check the complete list of events taking place at Tsongas Center this week and beyond by simply logging on to the venue's page on our website.Top selling event of the week is A Boogie Wit Da Hoodie.
Tsongas Arena
The indoor versatile sport and concert venue, Paul E. Tsongas Arena in Lowell, Massachusetts, was opened and dedicated to the memory of well-known local and national politician Paul Tsongas on January 27, 1998.

Apart from sports, the arena hosts concerts, family shows, sporting events, tradeshows and conferences. Interestingly, this arena is famous for having some of the world's biggest stars performances here in front of a massive capacity crowds. It accommodates up to 6,500 spectators for hockey and up to 7,800 for concerts, making the event, whatsoever, a memorable one!

The Tsongas Arena is the only full service, versatile, mid-sized venue, featuring a brilliantly landscaped outdoor area, function rooms from where once can view the picturesque beauty of the Merrimack River and a spacious lobby. The arena is hardly at a few minutes drive from Boston or New Hampshire. Providing an affordable parking facility, apart from a wide range of uplifting concessions, clear sight lines and professional service, it sure is captivating enough to make people visit over an over again!

SMG, a leading facility management industry, manages the Tsongas Arena on behalf of the city of Lowell. Based in Philadelphia, SMG provides administration and other possible services for arenas, stadiums and wide-reaching convention centers.
I and my friends would like to get 4 tickets for fallout boy tsongas arena but at a cheaper price. Can you help?
Ticketluck is running a special this month so you could get 4 tickets for Fallout Boy at Tsongas Arena at a discounted price.