Sun Devil Stadium Tickets
Load More
Sun Devil Stadium is one of the most popular venues in the country. If you plan on attending an event at this famous venue, then go through the Sun Devil Stadium Seating Chart. You can take a Virtual tour of the Sun Devil Stadium to get an interactive seat view. Go through the Sun Devil Stadium seating map, and check the Sun Devil Stadium parking prices, if available.

Sun Devil Stadium Seating Chart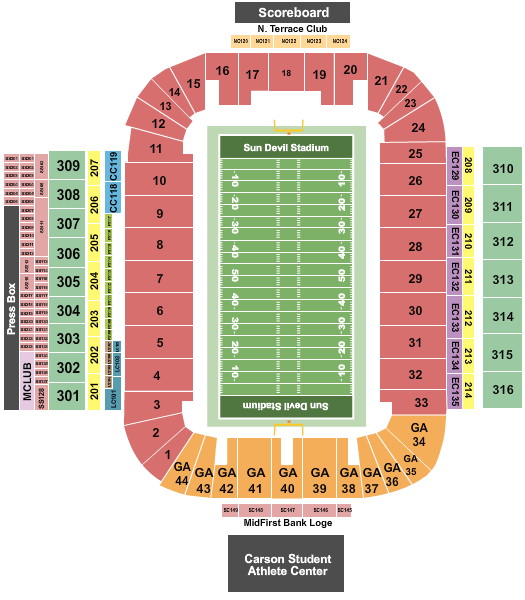 Sun Devil Stadium Tickets Related Questions
Who will play at Sun Devil Stadium today?
No event is happening in Sun Devil Stadium tonight.
How many seats in Sun Devil Stadium?
Sun Devil Stadium, has 23539 seats available.
Can you buy tickets at Sun Devil Stadium?
Depending upon the availability of tickets for that event, you can buy tickets on Sun Devil Stadium.
What are the best seats available at Sun Devil Stadium?
We have 29 for Sun Devil Stadium available.
How many events are on sale for Sun Devil Stadium this week?
Total 0 are taking place at Sun Devil Stadium in this week.Top selling event of the week is Arizona State Sun Devils vs. Arizona Wildcats.
Sun Devil Stadium
The Sun Devil Stadium was opened in 1958 and is located at 500 E. Veterans Way, Tempe, Arizona, 85281, United States of America.

The stadium can be reached by a number of routes that includes the routes from the West, from Scottsdale, from North, from the East Valley and from the Sky harbor Airport. The stadium is owned and operated by Arizona State University.

The stadium was built with a cost of 1 million dollars with a playing surface of Bermuda grass and has the capacity of 73,379 people. This outdoor football stadium was previously the home to NFL"s Arizona Cardinals and from 2006 till now it"s the home to Arizona State Sun devils.

The stadium has passed through four renovations since its opening. The first renovation to the stadium was done in 1976 which enlarged its seating capacity. Then the second renovation was done in 1977 when its seating capacity was again enlarged.

Another renovation was done ten years later in 1988 to enlarge its seating capacity again. In 1958, Arizona State played the first football game against West Texas State in the stadium.

In 1996, the name of the stadium was changed to Sun Devil Stadium, Frank Kush Field in the honor of a former football coach, Frank Kush. In 1987, Pope John Paul 2 visited United States of America and addressed a crowd of 75,000 people in the stadium.

The stadium made a number of television and film appearances namely, Jerry Maguire, the Amazing Race 4, rattle and Hum, Let"s Spend the Night Together and Raising Arizona. Some renovations are needed at the stadium currently and the engineers have estimated that the renovations will cost 45 million dollars.

All the events held at the stadium are entertaining and thrilling. People form far off places come to watch the games being played here and take away with them happy memories of a good sport.
Sun Devil Stadium
was rated 
Is it possible to collect 1976 california vs. arizona state football game tickets from the Venue?
Yes, it is possible! Please choose tickets with description ?ô?ç??Will Call/Local Pick up Available and our broker will manage to leave them at the Venue.
Hey guys, ive been searching all over but cant seem to find cheap arizona state sun devils tickets, can you help me?
Certainly. Please browse through our inventory to get cheap tickets for all Arizona State at Sun Devil Stadium events.
Are all the seats at the arizona state football tickets together?
Yes all the seats at the Sun Devil Stadium are together. So make your purchase now!