Show Me Center Tickets
Load More
Show Me Center is one of the most popular venues in the country. If you plan on attending an event at this famous venue, then go through the Show Me Center Seating Chart. You can take a Virtual tour of the Show Me Center to get an interactive seat view. Go through the Show Me Center seating map, and check the Show Me Center parking prices, if available.

Show Me Center 2024 TICKETS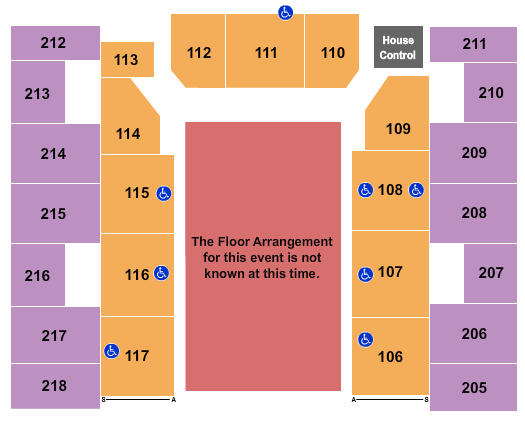 Show Me Center Tickets Related Questions
Who will play at Show Me Center today?
To check Show Me Center for today, all you have to do is visit our website and check event listings along with available tickets. Right now, following events are happening at Show Me Center:
How many seats are available in Show Me Center?
The seating capacity of Show Me Center is 773.
Can you buy event tickets at Show Me Center?
Yes, you can buy tickets at Show Me Center provided if they are available.
What are the best seats available at Show Me Center?
Just like every other venue, there are different levels at Show Me Center as well. The entire seating plan is available on our website, and you can book tickets for the section you like.
How many events are taking place at Show Me Center this week?
You can check the complete list of events taking place at Show Me Center this week and beyond by simply logging on to the venue's page on our website.
Cape Girardeau is possibly one of the most beautiful towns in the United States! It is home to Southeast Missouri State University. It would not be wrong to suggest that the town's life revolves around the students and their various social and academic activities. In short, Cape Girardeau is a university-town. But the students' life in itself revolves around various athletic and social activities going on inside one of the best multipurpose arenas, the Show Me Center!

Situated on campus, it is home to the University's 13 varsity teams, collectively called the Redhawks. It would not be wrong to suggest that if you have been to Cape Girardeau and not visited the Show Me Center, you have missed out on one of a kind arena! The Center was built in 1987 after two years of hard work. It was jointly built by the city of Cape Girardeau and the Southeast Missouri State University. Today, while it is operated by the University, it is however owned by the city. Built with a large sum of almost $17 million, the arena has a multi-surface and it can accommodate almost as many as 7,000 screaming and yelling fans of the Southeast Missouri State University Redhawks. In short, the Show Me Center has been the epicenter of all sports activities in the town of Cape Girardeau!
 
As mentioned earlier, the arena is home to one of the best college sports teams in the country. These teams represent both the male and the female sports like volleyball, track and field, tennis, softball, soccer, gymnastics, cross country, basketball, football, and baseball. These athletic teams compete in the Ohio Valley Conference of NCAA Division 1. However, it is worth remembering that the Redhawks were not always called by this name and that the teams were segregated along gender lines. The women sports teams were known as "Otahkians" and the men were called, "Indians". With the change of name came a changed mascot as well. The University's previous mascot was "Chief Sagamore", however the present mascot is known by the name of "Rowdy Redhawk". You can now watch him by buying the Show Me Center tickets today!

In 1991, the Show Me Center also hosted the NCAA Women's Division II Basketball Championship. As much as the Center is the epicenter of all athletic activities in the town, it would be unfair to suggest that it is nothing more than that. It also hosts over 160 arena and 250 meeting room events. The Center is also often used for the yearly convocation ceremonies. So in a way, it also brings American and international families together! Therefore, in short, whatever your passion, be it basketball, baseball, football, track and field, or any other sports or non-sport event, the Center is your place for the finest moments that money could ever buy! And speaking of money, you need to buy your Show Me Center tickets today for the upcoming super-exciting summer events of the year!

Frequently Asked Questions (FAQs)
Where can I find your terms and conditions before buying show me center tickets?
Our entire list of terms and conditions is available on our website. Please go through it in detail before buying your Show Me Center Tickets.