Reser Stadium Tickets
Load More
Reser Stadium is one of the most popular venues in the country. If you plan on attending an event at this famous venue, then go through the Reser Stadium Seating Chart. You can take a Virtual tour of the Reser Stadium to get an interactive seat view. Go through the Reser Stadium seating map, and check the Reser Stadium parking prices, if available.

Reser Stadium Seating Chart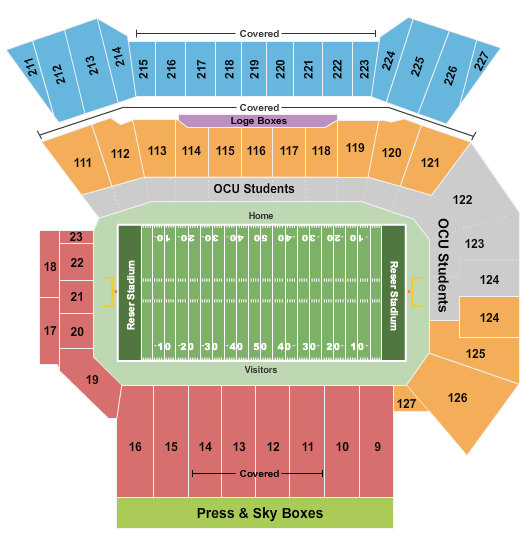 Reser Stadium Tickets Related Questions
Who will play at Reser Stadium today?
No event is happening in Reser Stadium tonight.
How many seats are available in Reser Stadium?
The seating capacity of Reser Stadium is 377.
Can you buy event tickets at Reser Stadium?
Yes, you can buy tickets at Reser Stadium provided if they are available.
What are the best seats available at Reser Stadium?
Just like every other venue, there are different levels at Reser Stadium as well. The entire seating plan is available on our website, and you can book tickets for the section you like.
How many events are taking place at Reser Stadium this week?
You can check the complete list of events taking place at Reser Stadium this week and beyond by simply logging on to the venue's page on our website.Top selling event of the week is Oregon State Beavers vs. Arizona State Sun Devils.
Reser Stadium
Reser Stadium is the most favorite sports venue of the citizens of Oregon and fans of Oregon State Beavers from all over the world. The football stadium personifies the love and passion Oregon has it for sports and recreation.

Considered as one of the most well-equipped and modern stadiums of USA, the magnificent Reser brings great pride for Beavers" Football, Oregon State University and the State of Oregon, and many exciting football moments for sporty creatures.

Located on the southwest corner of the campus of Oregon State University in Corvallis, Oregon, United States, Reser Stadium is an outdoor football stadium that serves as a home of Oregon State University football team of the Pacific-10 Conference named Oregon State Beavers.

The stadium has been buzzing with exciting Beavers games and resounding with laud cheers from football fans for more than fifty years, and it is getting better and better with the passage of time.

The Reser Stadium was originally built in 1953 as Parker Stadium. It was named after Portland businessman Charles T. Parker who played a major financial role in its construction. The stadium was funded entirely by donations and was aimed at providing world-class playing opportunity to the Beavers and brining football fans to Corvallis from the nearby areas.

The day of November 14, 1953 witnessed the first ever game at the Reser Stadium. The Oregon State Beavers faced the Washington State and won the game by an impressive 7-0. This marked the beginning of long lasting association between the stadium and its tenants that still continues with full force.

They have witnessed both good and hard times. From making the most wins here in 1955 to under-performing on some occasions; Oregon State Beavers has spent the most memorable times of their history on this field.

The Stadium, on the other hand, has also travelled a long journey and gone through many renovations and several modifications during all these years.

It got its current name in 1999 in the honor of OSU graduates Al and Pat Reser who made a significant monetary donation to the athletic department of Oregon State University. It also witnessed great support from sports lovers of the county as they regularly support the stadium quite diligently.

The Reser has also seen considerable growth in terms of facilitation. While its original hosting capacity was 28,000; it can now accommodate about 45,674 spectators. Around 5000 more seats were added after the first ten years while 9,000 seats were added in 1967.

The addition of the Valley Football Center raised the seating capacity to 35,362 but now it can accommodate even more forty-five observers at one time.

The playing surface at the Reser Stadium is FieldTurf that sits at an elevation of 240 feet above sea level. Grass was first planted here on September 11, 1953. From then till now, the facility is known for having one of the best playing fields in the region.

Prior to the 2005 season, Reser Stadium was provided with a new east side section and south end zone sections. This $80 million renovation equipped the stadium with new improved concessions and restrooms, a restaurant or club area, meeting rooms, club and loge seating, and 20 private suites.

Today, Reser Stadium stands tall as one of the shining football fields. The Club and Loge levels provide good view while other seats are equally good. The grand structure houses numerous state-of-the-art amenities and is well-equipped with all the required facilities. The outstanding sound and lighting system makes the venue suitable for both day and night games.

Reser Stadium plays an important role in bringing top-notch football team in Oregon. The residents of this area have sentimental attachment with the venue as it holds a strong presence in its student life and demonstrates its sporting culture.

Whether it is the impressive crowd attendance in 1980 or consecutive 23 sellout home games in September 2000, Reser Stadium is can always be seen full of Beavers fans and other football enthusiasts.

You should also visit this first-class facility and enjoy thrilling games there in a completely charged up environment.