Pacific Amphitheatre Tickets
Pacific Amphitheatre Tickets & Upcoming Events
Load More
Pacific Amphitheatre is one of the most popular venues in the country. If you plan on attending an event at this famous venue, then go through the Pacific Amphitheatre Seating Chart. You can take a Virtual tour of the Pacific Amphitheatre to get an interactive seat view. Go through the Pacific Amphitheatre seating map, and check the Pacific Amphitheatre parking prices, if available.

Pacific Amphitheatre Seating Chart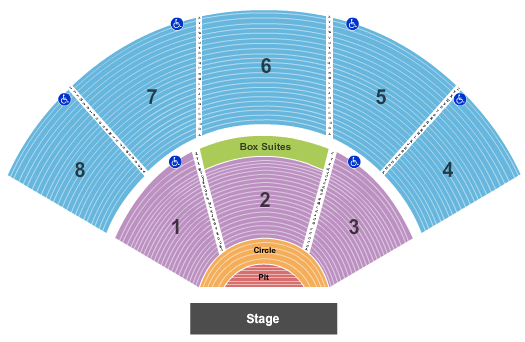 Pacific Amphitheatre Tickets Related Questions
Who will play at Pacific Amphitheatre today?
No event is happening in Pacific Amphitheatre tonight.
How many seats are available in Pacific Amphitheatre?
The seating capacity of Pacific Amphitheatre is 796.
Can you buy event tickets at Pacific Amphitheatre?
Yes, you can buy tickets at Pacific Amphitheatre provided if they are available.
What are the best seats available at Pacific Amphitheatre?
Just like every other venue, there are different levels at Pacific Amphitheatre as well. The entire seating plan is available on our website, and you can book tickets for the section you like.
How many events are taking place at Pacific Amphitheatre this week?
You can check the complete list of events taking place at Pacific Amphitheatre this week and beyond by simply logging on to the venue's page on our website.
Located in the third most populous county in California, the Pacific Amphitheater is situated in Costa Mesa, a city in Orange County.  The venue is renowned for being home to enormous events such as the fashionable OC Fair & Event Centre that occupies the facility annually for about a quarter of a year. Get your hands on the Pacific Amphitheater tickets now to avail great packages of entertainment.
Costa Mesa has evolved from being a countryside farming community to an essentially sub urban city over time with a vast increase in residential areas. It was in 1983, when the Nederlander Organization created the facility and opened its door to various title acts of time.
The amphitheater soon became the center of attention for copious noise complaints since it was quintessentially encircled by dense residential areas. Due to lawsuits being filed against the organization in 1993, Nederlander dropped their ownership and shut down the Pacific. In a union with the Orange County Fair, the venue reopened in 2003, as part of accordance with the locals regarding concerts only being held in tandem with the fair. Purchase the new season's Pacific Amphitheater tickets today.
The venue offers a hospitable and clean environment for all patrons with an easy to navigate location. With great sound, well-designed layout, fairly clear projection screens, and with a brilliant venue staff the Pacific presents an experience that you would not like to let pass. So view Pacific Theater dates and tickets for more information.
 
Pacific Amphitheatre
was rated 
Is there any promotional code for moody blues costa mesa tickets?
Yes, there is a special promo code for Moody blues Costa Mesa tickets on Ticketluck which will get Moody Blues fans a decent discount. Please refer to our Livehelp Representative to know our exclusive discount code and enjoy bigger savings!
Can i get access to pacific amphitheater seating chart?
Yes, the seating chart for the event is placed on our page. Choose your preferred place and order Pacific Amphitheatre Tickets right away.
Can I print out pacific amphitheatre tickets and use them to get in at the event?
Pacific Amphitheatre Tickets should not be printed out as it is a crime.