Orpheum Theatre Wi Tickets
Load More
Orpheum Theatre Wi is one of the most popular venues in the country. If you plan on attending an event at this famous venue, then go through the Orpheum Theatre Wi Seating Chart. You can take a Virtual tour of the Orpheum Theatre Wi to get an interactive seat view. Go through the Orpheum Theatre Wi seating map, and check the Orpheum Theatre Wi parking prices, if available.

Orpheum Theatre Wi Seating Chart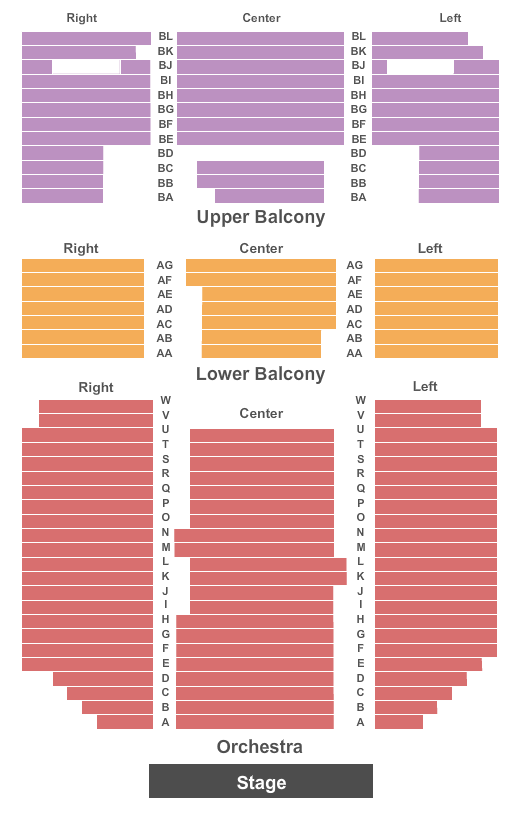 Orpheum Theatre - Wichita Tickets Related Questions
Who will play at Orpheum Theatre - Wichita today?
No event is happening in Orpheum Theatre - Wichita tonight.
How many seats in Orpheum Theatre - Wichita?
Orpheum Theatre - Wichita, has 4167 seats available.
Can you buy tickets at Orpheum Theatre - Wichita?
Depending upon the availability of tickets for that event, you can buy tickets on Orpheum Theatre - Wichita.
What are the best seats available at Orpheum Theatre - Wichita?
We have AB for Orpheum Theatre - Wichita available.
How many events are on sale for Orpheum Theatre - Wichita this week?
Total 0 are taking place at Orpheum Theatre - Wichita in this week.
Orpheum Theatre wi
A shining gem in the crowning jewel of Madison's vibrant cultural scene, Orpheum Theatre is a place for all those who value arts and entertainment.

This live venue is one-stop destination of the residents of Madison, WI for everything fun as it presents quality-oriented theater productions, rocking music concerts, great movies or any other kind of live events.

The service and atmosphere of the Orpheum also compel patrons to flock here in big numbers. Located in 216 State Street Madison, WI; Orpheum Theatre symbolizes the rich heritage and cultural legacy of Madison city.

This grand theatre was built in downtown Madison in 1927, the prime era for the rise of motion picture entertainment. Orpheum was an opulent and expensive theater that cost around $750,000 to construct. A local dentist William Beecroft or Mr. Theater, as he was famously known, financed the theatre partially.

Although the citizens of Madison had been enjoying a taste of arts and theaters from Capitol Theater, but Orpheum took this even further when it opened across the street.

It became the hub of town"s cultural scene in no time and started showcasing top-notch orchestras, stage stars and many first run movies. Also, Orpheum"s Art Deco styled fa?ade with a glitzy Orpheum and its captivating French Renaissance interior became the talk of the town.

Fortunately, after many decades of Orpheum"s opening, the theater holds the same charm and magic as before. Although, regularly equipped with new-age facilities, much of the interior and exterior remained the same. This adds to the surrealism and charisma of the Live venue.

Today, with seating capacity of 1,700 or more depending on the nature of event, the theater can host any kind of stage event and live concerts. Orpheum Theatre WI is one of the leading theaters of the region attracting thousands of patrons every year.

Still serving as a glorious first run movie theater besides showcasing live performances, Orpheum Theatre has not lost its character in the dust of times. Besides the main venue, it houses an additional theater for live concerts and art house films. It stands high on acoustics, lighting and service.

There a restaurant in its lobby that is used for special events and catering. All this ensure that as a visitor, your Orpheum Theater experience will be completely pleasing and wonderful. Performance history of Orpheum Theatre WI is as impressive as the venue itself.

Over the years, it has hosted the biggest names of entertainment world. Legends like Frank Sinatra, Artie Shaw, Buddy Holly and Louis Armstrong have graced the stage of Orpheum. Sonny & Cher, Liberace, Johnny Cash, Elvis Costello, Bob Marley and others have also entertained their fans here.

Moving on with Orpheum"s performances, it shows many first run independent films that can rarely be sees in large chain movie venues.

In music acts, it has hosted the likes of Ween, The Decemberists, The Bangles, Modest Mouse, Feist, Bela Fleck, Frank Caliendo, The Guess Who, Keller Williams, Ben Fold, Against Me!, Seven Dust, Carlos Mencia, Jim White and Sing It Loud in the past few years. The list goes on so as the magic of this beautiful entertainment spot in Downtown Madison.

The Orpheum Theatre WI ahs planned a whole plethora of entertainment for the upcoming season. So while you are looking out for world-class entrainment, come to the Orpheum and experience quality presentations!