Notre Dame Stadium Tickets
Load More
Notre Dame Stadium is one of the most popular venues in the country. If you plan on attending an event at this famous venue, then go through the Notre Dame Stadium Seating Chart. You can take a Virtual tour of the Notre Dame Stadium to get an interactive seat view. Go through the Notre Dame Stadium seating map, and check the Notre Dame Stadium parking prices, if available.

Notre Dame Stadium Seating Chart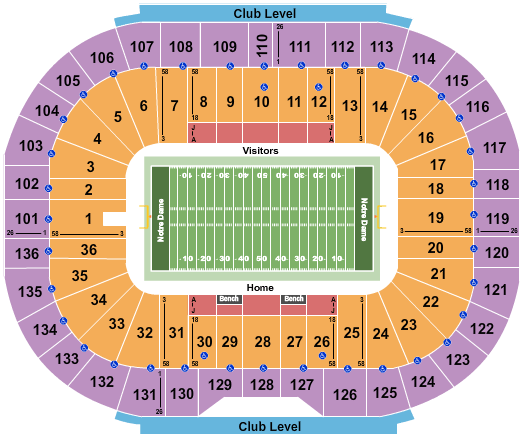 Notre Dame Stadium Tickets Related Questions
Who will play at Notre Dame Stadium today?
No event is happening in Notre Dame Stadium tonight.
How many seats are available in Notre Dame Stadium?
The seating capacity of Notre Dame Stadium is 12365.
Can you buy event tickets at Notre Dame Stadium?
Yes, you can buy tickets at Notre Dame Stadium provided if they are available.
What are the best seats available at Notre Dame Stadium?
Just like every other venue, there are different levels at Notre Dame Stadium as well. The entire seating plan is available on our website, and you can book tickets for the section you like.
How many events are taking place at Notre Dame Stadium this week?
You can check the complete list of events taking place at Notre Dame Stadium this week and beyond by simply logging on to the venue's page on our website.
Notre Dame Stadium
Opening its gates in the 1930s, the Notre Dame Stadium replaced the old stadium Cartier Field.

It is the home football stadium for the University of Notre Dame Fighting Irish football team.

Located on the campus of the University Of Notre Dame at Notre Dame, Indiana, just north of the city of South Bend, Indiana, USA, the total cost of construction was more than $750,000.

Today, the Notre Dame Stadium is the most renowned college football facility in the nation, and due to some major renovations that boosted its capacity to more than 80,000, the Stadium now qualifies as one of the most up to date as well.

The Irish first played their games on Cartier Field, located at that time just north of the current stadium site. When the University's national football reputation expanded due to the coaching of Knute Rockne, the need for a new home for the Irish was voiced.

Thus, Notre Dame Stadium was built in 1930 at the direction of Rockne. He coached for one season in it before passing away in a plane crash in 1931.

The initial architecture of Notre Dame Stadium was patterned on a smaller scale, after the University of Michigan's mammoth stadium. The original stadium held 59,075 people, measured a half-mile in circumference, stood 45 feet high, and featured a glass-enclosed press box rising 60 feet above ground level.

Then in the mid-1990s, Notre Dame's red-bricked arena underwent a $50 million expansion and renovation that added more than 21,000 seats.

Other improvements included a new natural grass field, two new scoreboards, permanent lights, and a three-tier press box. The lights were paid for by NBC, which has held the exclusive television rights to all home games since 1991.

The permanent lights were added primarily to ensure sufficient lighting for mid-afternoon games in November; the university's agreement with NBC stipulates that there be no home night games.

The Stadium with a current seating capacity of 80,795 people is widely known as for its view of "Touchdown Jesus", a nickname given to the large mural by Millard Sheets of the resurrected Jesus entitled "The Word of Life", located on Hesburgh Library, which looms over the stadium mirroring the raised arms of a referee signifying a touchdown.

Notre Dame's largest crowd ever to witness a game, at the time, in the Stadium was 61,296 in a 24-6 loss to Purdue on October 6, 1962. However, attendance figures since 1966 have been based on paid admissions, rather than total in the house, thus accounting for the familiar 59,075 figure every week.

Since that 1966 season every Irish home game has been a sellout, with the exception of a Thanksgiving Day matchup with Air Force in 1973. That game, won by the Irish 48-15, had been changed to the holiday to accommodate national TV and was played with students absent from campus.

The first hero in the folklore of Notre Dame's $750,000 stadium is none other than the renowned hod carrier from Three Oaks, Michigan, Galloping Joe Savoldi.

Due to all the legendary players and memorable moments that have graced its bluegrass turf over the years, Notre Dame Stadium has unquestionably developed a lore all its own. The stadium continues to be one of the most recognizable and revered structures in the world of sport.

Notre Dame Stadium is a building that engages the culture with a culture of its own. It is a building where people and ideas and traditions come together.

The Notre Dame Stadium does not just deserve a respectful preservation, but it embodies it! If you want to experience this marvelous stadium then get your tickets for its upcoming events and re-live the sports spirit!
Notre Dame Stadium
was rated 
When will you charge me for my notre dame tickets if the nexr day is a holiday?
In that case you will be charged for your Notre Dame Stadium Tickets on the first working day after the holiday(s).
Can i book my extra person in a row in notre dame stadium tickets with you in advance?
Yes you can book your Notre Dame Stadium tickets from us any time you want.