Keller Auditorium Tickets
Load More
Keller Auditorium is one of the most popular venues in the country. If you plan on attending an event at this famous venue, then go through the Keller Auditorium Seating Chart. You can take a Virtual tour of the Keller Auditorium to get an interactive seat view. Go through the Keller Auditorium seating map, and check the Keller Auditorium parking prices, if available.

Keller Auditorium Seating Chart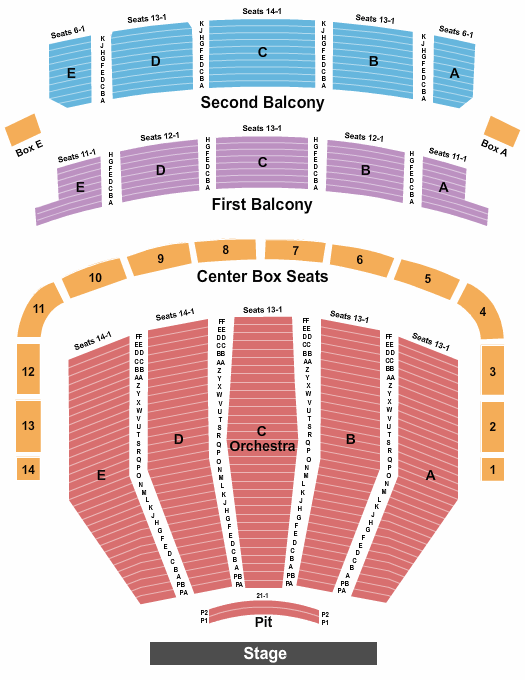 Keller Auditorium Tickets Related Questions
Who will play at Keller Auditorium today?
To check Keller Auditorium for today, all you have to do is visit our website and check event listings along with available tickets. Right now, following events are happening at Keller Auditorium:
How many seats are available in Keller Auditorium?
The seating capacity of Keller Auditorium is 29638.
Can you buy event tickets at Keller Auditorium?
Yes, you can buy tickets at Keller Auditorium provided if they are available.
What are the best seats available at Keller Auditorium?
Just like every other venue, there are different levels at Keller Auditorium as well. The entire seating plan is available on our website, and you can book tickets for the section you like.
How many events are taking place at Keller Auditorium this week?
You can check the complete list of events taking place at Keller Auditorium this week and beyond by simply logging on to the venue's page on our website.Top selling event of the week is Anastasia.
Keller Auditorium
The Portland Center for the Performing Arts consists of three separate buildings, the Keller Auditorium, the Arlene Schnitzer Concert Hall, and Antoinette Hatfield Hall (formerly called the New Theatre Building) which houses the New mark and Dolores Winnings tad theatres, and Brunish Hall.

One of the three auditoriums constituting the Portland Center for Performing arts, Keller Auditorium is theatre par excellence.The Keller Auditorium is the place for cultural rejuvenation.

The 91-year-old theater is located on Clay Street in Portland, Oregon, United States, seven blocks southeast of the other theatres. The Keller Auditorium hosts events as varied as grand opera, rock, western and jazz concerts, ballet and modern dance performances, national tours of Broadway musicals and dramatic plays.

The original building was constructed in 1917. It was totally renovated in 1968 with considerable technical improvements made in 1993. The venue first changed names in 1968, being renamed again in 2000 in honor of a $1.5 million renovation donation by Richard B. Keller.

Throughout the years, it has been the 'workhorse' theater for the Portland, hosting many performing arts events each year.

Keller Auditorium features: ?Seating for 2,992 on orchestra level and two balconies. ?107 x 41-foot stage with 60 x 30-foot traditional proscenium. ?Excellent acoustics and sight lines. ?Orchestra pit for 70 musicians. ?Dressing rooms to accommodate 250 people. ?A 38 x 45-foot rehearsal room.

A floor to ceiling glass wall sanctions spectacular views of the Ira C. Keller Fountain (designed by Lawrence Halprin) from the lobbies on all three levels; original artwork adorns the public spaces; the International-style veneer easily intermingles with the surrounding office and residential buildings.

The building is home to the Portland Opera, The Oregon Ballet Theatre, and Oregon Children's Theatre. It also hosts many national acts and traveling Broadway shows.

Formerly known as Portland Municipal Auditorium, the Portland Public Auditorium, and the Portland Civic Auditorium, Keller auditorium is the city's nucleus for performing arts and music.

The unparalleled production house seats 2,992, although it was originally designed to hold 4500 people. The capacity was reduced following the coziness and intimacy that is the Auditorium"s trademark.

The Auditorium provides for concession stands on both the levels - the main level and the first balcony. The concession stands offer fresh cookies, coffee, and other small fare. Full service bar locations are also open during most events.

Concession stands are also located on both ends of the lobby with view to facilitating the attendees and food can be preordered for intermission.

The Keller Auditorium Box Office on site is open 2 hours prior to performances for day-of-show sales and will-call tickets.

For season holders and first time attendees there is an enigmatic sense of companionship within these walls. Nowhere else can the freshies collectively laugh, cry, and gasp and do it without hesitation. The arts breathe life back into the people"s routine lives.
Keller Auditorium
was rated 
Do you offer student discounts at keller auditorium tickets?
No, we don't offer student discounts on Keller Auditorium Tickets. However we do offer general discounts which are the best in the market. Simply log on to our website for details and book your tickets now.
my seat number is not mentioned on Stomp Portland Oregon tickets. how would i know on the event day?
ticket brokers do not allow us to have the seat numbers of the Keller Auditorium tickets. however, you will be given the seat number before the event.
nutcracker tickets for portland, oregon with you at the moment?
Keller Auditorium tickets are available with us right now but they won't last long so hurry up and book the deals now!
Where can I get the floor plan of keller auditorium?
To get the complete floor plan for the event and Keller Auditorium Tickets prices, please log on to our website.
Hi, i am interested in getting the promo code for riverdance portland oregon tickets, do you have one for me?
For discount code to make Keller Auditorium Tickets cheaper, please talk to the help lady.
What are the accepted forms of payment for grease portland oregon tickets?
Keller Auditorium tickets can be purchased via a Master, Visa or credit card.
Are priority offer riverdance keller auditorium tickets open for advance bookings?
Keller Auditorium Tickets are very much open for advance bookings.
When is the yanni, portland oregon show?
Yanni is scheduled for March 04 2023 at the Keller Auditorium.