Jiffy Lube Live Tickets
Load More
Jiffy Lube Live is one of the most popular venues in the country. If you plan on attending an event at this famous venue, then go through the Jiffy Lube Live Seating Chart. You can take a Virtual tour of the Jiffy Lube Live to get an interactive seat view. Go through the Jiffy Lube Live seating map, and check the Jiffy Lube Live parking prices, if available.

Jiffy Lube Live Seating Chart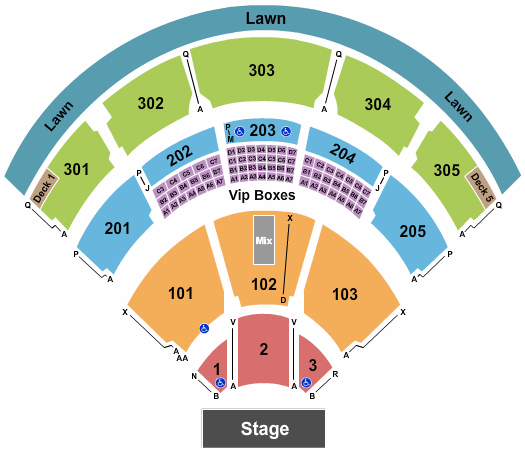 Jiffy Lube Live Tickets Related Questions
Who will play at Jiffy Lube Live today?
List of Events today happening in Jiffy Lube Live
How many seats in Jiffy Lube Live?
Jiffy Lube Live, has 20293 seats available.
Can you buy tickets at Jiffy Lube Live?
Depending upon the availability of tickets for that event, you can buy tickets on Jiffy Lube Live.
What are the best seats available at Jiffy Lube Live?
We have ORCH2 for Jiffy Lube Live available.
How many events are on sale for Jiffy Lube Live this week?
Total 745 are taking place at Jiffy Lube Live in this week.
The city of Bristow, Virginia is lucky to have one of the best outdoor live performance amphitheaters known as the Jiffy Lube Live. This place has been up and running for over a decade and is known for proving its attendees with a huge variety of entertainment based programs. If you haven't been here, then this venue surely is worth a shot. Make sure to get your Jiffy Lube Live tickets before the good ones are gone.

The Jiffy Lube Live amphitheater previously known as the Nissan Pavilion at Stone Age was opened in 1995 with the help of a prominent concert promoter, Cellar Door Productions.  In 2010, an American entertainment company, Live Nation and a huge business chain, Jiffy Lube joined hands and changed the name from Nissan Pavilion to Jiffy Lube Live. The opening concert of the venue included bands such as The Village and KC and the Sunshine Band. Since its inaugural, Jiffy Lube Live has earned a lot of popularity especially for its annual events including the Mayhem Festival, WMZQfest and I, Farm Aid, Ozzfest among others.

Unlike many other venues, the Jiffy Lube Live has got the best parking area for everybody's convenience. In 2011, the venue owners teamed up with the Prince William County Police Department and created a perfect parking plan for all. Live Nation, the owner of the venue is one of the world's leading live entertainment and ecommerce Company.  It produces 22,000 shows annually for over 2300 artists globally. Since the early 90s, Jiffy Lube Live continues to amaze its audience. Don't forget to attend the upcoming set of events.

Jiffy Lube Live is a massive amphitheater that can accommodate 25000 people in 10,000 reserved seats and 15000 on the lawn. Because of their structure, amphitheaters are said to give the best experience, especially in terms of sound. Secondly, the attendees also get to enjoy the cold breezes of the weather which is way better than sitting in an air tight theater. Jiffy Lube Live has been made in such a way that you get to have the best view from wherever you're sitting and are also able to hear each and everything that's happening on the stage very clearly. The incredible light projections, elaborate stage design and indoor snack bars are some of the additional things that might make your trip even more entertaining. Once you're in the vicinity of this place, you can count on having the ultimate entertainment experience.

Many well-known solo artists and bands including Kiss, Dave Mathews Band, Linkin Park, Widespread Panic, LeRoi Moore and Phish have given memorable performances at the Jiffy Lube Live. The musicians lined-up for the upcoming months consist of Brad Paisley, Black Sabbath, Miranda Lambert, Kid Rock, Jason Bonham, Big Time Rush, Matchbox Twenty, Blake Shelton and the list goes on. Whichever band or solo artist you would like to listen to in a live atmosphere, you can now get your Jiffy Lube Live tickets and be there.
Jiffy Lube Live is an amphitheater which is situated in Virginia. It is an outdoor venue that can accommodate twenty five thousand people at one time.  It is owned and organized by Live Nation and has become one of the largest venue that showcases musicians from all parts of the country. Tickets to Buy For Jiffy Lube Nissan are available for you and they will enable you to be a part of this amazing place.

The Jiffy Lube Live amphitheater opened its gates for the general public in the year 1995 and the first performance was given by The Village People. It has hosted the performances of many notable musicians including Roger Waters, Avenged Sevenfold, Mötley Crüe, Yes, Rob Zombie, Ozzy Osbourne and Megadeth. Apart from hosting individual performance the amphitheater is big enough to organize many important festivals within its boundaries. Every year festivals like Mayhem, Ozzfest, Vans Warped Tour, IDENTITY Festival and American Idol Live become an important part of the Jiffy Lube Live amphitheater. The Jiffy Lube Live seating Chart tickets will prove to be your gateway for entering a venue that provides both comfort and exciting music to all those who walk through its gates. With such a huge line up of events taking place each year, Jiffy Lube Live tickets is surely a good deal to buy!
 
 
 
Jiffy Lube Live
was rated 
Where can I Nissan Pavilion Seating Chart View tickets from?
You can visit our website and find the seating map for Jiffy Lube Live Tickets but cannot choose your seats as our brokers don't allow that.